MILLS v. PATE, 225 S.W. 3d 277 (2006)
by Amalia Williams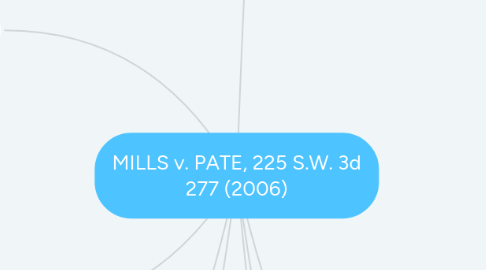 1. Facts
1.1. Parties Involved
1.1.1. Ms. Joyceline Mills - Plantiff
1.1.2. John Pate, MD -Defendent
1.2. What Occured
1.2.1. September 1999: Ms. Mills makes appointment for consultation with Dr. Pate regarding Liposuction in order to remove the fat bulges she had on her abdomen, hips, and thighs.
1.2.2. Dr. Pate promises Ms. Mills a good outcome claiming she was going to be beautiful after liposuction.
1.2.3. Ms. Mills claims that Dr. Pate failed to explain the risks of the procedure and the potential need for future procedures or the potential for skin irregularities.
1.2.4. Dr. Pate however explains that he provided the consent document which included the risks, benefits, and potential need for an abdominal and thigh tuck in the future. He also conceded that the form does not address the potential that quality of the patients skin may change and have indentations and abdominal irregularities.
1.2.5. November 1999: Ms. Mills signed the informed consent form and Dr. Pate proceeded with the liposuction procedure in December 1999.
1.2.6. After the procedure, Ms. Pate followed all of Dr. Pate's post-operative instructions but noticed bruising, discomfort, swelling, and irregularities with her skin pigmentation. After about six months, Ms. Mills complained to Dr. Pate's staff.
1.2.7. According to Ms. Mills, Dr. Pate assured Ms. Mills that this was swelling and was nothing to be concerned about. He explained that these issues would subside with time.
1.2.8. January 2001: Ms. Mills signed an informed consent form for the second surgery in which Dr. Pate performed lower abdominal bilateral hip flank liposuction and a thigh lift.
1.2.9. At the time of the second surgery, informed consent was signed which included the risks as well as a specification that the second surgery was scheduled because the patient was dissatisfied with the first surgery's cosmetic results.
1.2.10. After the second surgery, Ms. Mills was still unhappy as the procedure did not resolve her bagging and sagging skin.
1.2.11. Ms. Mills maintained her dissatisfaction with the outcomes of her surgeries done by Dr. Pate and consulted Dr. Miller who recommended Dr. Gilliland.
1.2.12. Dr. Gilliland performed an abdominoplasty and body lift on Ms. Mills after telling Ms. Mills that Dr. Pate's care and treatment of her had been inadequate.
1.2.13. Ms. Mills underwent surgery with Dr. Gilliland and was satisfied with the outcome of her procedure.
1.2.14. Ms. Mills sued Dr. Pate for medical malpractice specifically alleging negligence by failing to properly warn and obtain informed consent. She later included breach of express warranty claim in her suit as well.
1.2.15. January 2002: Ms. Mills notified Dr. Pate of her intent to sue under the Medical Liability and Insurance Improvement Act.
2. Issues Brought Before the Court
2.1. Appellate Court to determine whether or not the District Court ruled correctly when granting Dr. Pate Summary Judgement.
2.1.1. Did Dr. Pate make claims regarding the outcomes of the procedures that were incorrect/false? Did he fulfill all of his duties with regards to the procedure or did he breach express warranty?
2.1.2. Did Dr. Pate receive a valid signed informed consent document outlining clearly that Ms. Mills understood all of the risks associated with this procedure?
2.1.3. Did Dr. Pate fail to provide informed consent and properly explain the risks and side effects of the procedure to Ms. Mills?
3. Rule of Law
3.1. Negligence- Informed Consent
3.1.1. Duty of Care- did Dr. Pate have an obligation to care for and act in the best interests of Ms. Mills?
3.1.2. Breach of Duty- Did Dr. pate consider breach of his duty?
3.1.3. Injury- Was Ms. Mills injured as a result of Dr. Pate's breach of duty?
3.1.4. Causation- Was the negligence the cause of Ms. Mills injury and would the injury have occurred if Dr. Pate was not negligent?
3.2. Breach of Express Warranty
3.2.1. Did Dr. Pate mentioned a warranty or a promise regarding how Ms. Mills would look post operation?
4. Impact
4.1. Other Cases Citing Mills v. Pate
4.1.1. Hunsucker v. Fustok
4.1.1.1. Patient Hunsucker brought suit against Dr. Fustok for negligence and fraud. Mills v. Pate was cited when arguing breach of implied warranties and misrepresentations.
4.1.2. Key v. Viera
4.1.2.1. Ms. Key went to Dr. Viera for a facelift and liposuction. Ms. Key was dissatisfied with the result of the surgeries. Dr. Viera had promised no scars on her face as well as smooth and beautiful skin. Ms. Key urged the court to consider Mills v. Pate when determining validity of informed consent.
5. Influence
5.1. Doctors must include all details regarding risks, benefits, side effects, and alternativeds to procedure when discussing procedures with patients.
5.2. Doctors are to ensure they do not exaggerate outcomes or promise specific outcomes they cannot deliver on.
5.3. Doctors shall not provide information regarding unnecessary treatments or procedures when consulting with a patient. Doctors must also gain informed consent with regards to follow-up procedures and informing patients of potential needs for multiple procedures.
6. Conclusion
6.1. Trial court's judgement regarding informed consent affirmed.
6.2. Trial court's judgement regarding breach of express warranty reversed and remanded for further proceedings.
7. Importance
7.1. This case is important to Health Care Professionals because there is the issue of informed consent and whether or not standard of care is considered when obtaining informed consent. This is also an important case because it touches on breach of express warranty which can ultimately set precedent in future cases.
8. Analysis/Application
8.1. Ms. Mills claimed the defendant did not make mention of potential risks for skin abnormalities and therefore she was unable to make an informed decision regarding the procedure.
8.2. With both surgeries, Dr. Pate provided Ms. Mills with informed consent which included risks and potential side effects of liposuction.
8.3. Ms. Mills signed all necessary documents for both procedures acknowledging that she understood the risks and benefits of the procedure.
8.4. Although Ms. Mills claims developed out of a contract with her Dr. the court states that amending the breach of warranty claim did not require her to provide evidence that Dr. Pate failed to meet the accepted standard of care.