Critical Review of an article by Umar Zarif & Kailash Kumar
by Umar Zarif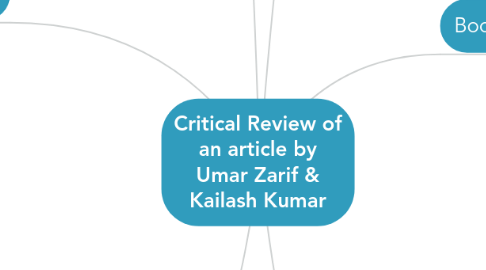 1. References
1.1. Sources :- Statista 2018. Retrieved May 3, 2018 from https://www.statista.com/statistics/272014/global-social-networks-ranked-by-number-of-users/ Pew Research Centre 2015 Retrieved May 3, 2018 from http://www.pewinternet.org/2015/08/06/teens-technology-and-friendships/ Facebook–Cambridge Analytica data scandal wikipedia 2018 Retrieved May 3, 2018 from https://en.wikipedia.org/wiki/Facebook%E2%80%93Cambridge_Analytica_data_scandal What procedure must the police follow while making an arrest n.d. Retrieved May 3, 2018 from https://criminal.findlaw.com/criminal-procedure/what-procedures-must-the-police-follow-while-making-an-arrest.html
2. Conclusion
2.1. In a nutshell, making connection is somewhat essential in the 21st century and is made easy by using social networking sites. However, society should be cautious when using social networking sites as identity theft is one of the biggest problem that arises from social networking sites. The chances of getting out of jail by means of social networking sites is slim to none. So one should not rely on social networking sites to get out of jail. Parents should always monitor the usage of social networking sites by their kids very carefully as there are many dangers when not being cautious. In my opinion, social networking sites have many benefits to the modern day people and can provide many opportunities. However, these opportunities can be taken by bad people to do bad things.
3. Introductory paragraph
3.1. The article entitled "What are the pros and cons of social networking sites?" written by Strickland J. describes the advantages and disadvantages of social networking sites. Firstly, the pro of social networking sites is that it allows users to make connections with other people. Besides that, social networking sites also allow society to network professionally. In addition, it makes organizing events and inviting friends easier. Furthermore, these sites can be used to promote an artiste's or actor's work. Moreover, the sites also act as an application platform. Lastly, these sites can help a person get out of jail. The drawback of social networking sites is it makes identity theft easier and more common. Along with that, scammers may use social networking sites to trick people into downloading malicious software. Last but not least, social networking sites can be very overwhelming and addictive at the same time.
4. Body paragraph 1
4.1. According to Strickland, social networking sites let its users to make connections with other people. I strongly agree with this point due to many different reasons. No matter who you are searching for, whether it being your distant family members, former classmates or even your previous teachers from your previous schools, it is always an easy way to make connections using social networking sites. The society may use social networking sites such as Facebook, Twitter and also Instagram to stay connected with each other. Besides that, social networking sites allows users to find old friends and make new ones easily. On these sites, users can find their old friends whom they have not contacted for a long time. This is made easy as the sites helps users track down old friends that they have studied and worked with. Social networking sites also allows users to make new friends by suggesting people that have the same interest, hobby or even love the same music genre as the user. As an evidence, the number of active Facebook users that use the site to stay connected with family and friends monthly is 2.2 billion (Statista 2018). Also, studies shows that 57% of teens in America have made new friends online (Pew Research Center 2015). This is a solid proof that shows social networking sites does let its users to make connections with other people
5. Body paragraph 2
5.1. Identity theft is one of the bad effects of social networking sites as prepared by Strickland. Almost all social networking sites require personal information for algorithm for better suggestions and interests. Personal information such as name, birthdates, email addresses are some of the most common data that is used for identity thefts. These data's are then used for scams and phishing. The more data that is shared, the easier it is for the scammer to be more convincing and trustworthy. Nearly 60 million Americans have been affected by scams in social networking sites according to a study carried out by The Harris Poll in 2018. This means that the amount of identity thefts increased by an approximate of 45 million from the previous year. On a more important note, the Cambridge Analytica data scandal is one of the most recent scandals that involves identity theft. Over 87 million Facebook users had their data taken since 2014 ( Facebook – Cambridge Analytica data scandal 2018).
6. Body paragraph 3
6.1. According to Strickland, social networking sites can get a person out of jail. I disagree because James Karl Buck was very lucky to still be able to use his cell phone to send out a tweet after being detained. The standard procedure when being detained is that the police officers will confiscate all belongings such as your phone, wallet, cameras and other electronic devices. This will disable a person from communicating easily with other people. As a proof, the first thing police officers do is handcuff the person they are arresting. While handcuffing them, the officer will read the Miranda Rights to the arrestee (What procedure must the police follow while making an arrest n.d.). At the police department, the arrestee's cell phone and belongings will be confiscated thus eliminating any chances of communicating with other people via social networking sites.