Gerundio e infinitivo
by Genesis Vargas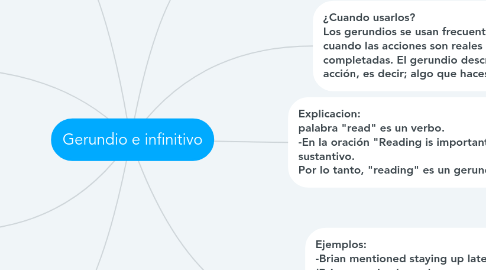 1. ¿Que es un gerundio? Es un sustantivo hecho de un verbo. Para formar un gerundio agregas "ing" al verbo.
2. ¿Cuando usarlos? Los gerundios se usan frecuentemente cuando las acciones son reales o completadas. El gerundio describe una acción, es decir; algo que haces.
3. Explicacion: -En la oración "She reads several books a week" ("Lee varios libros por semana"), la palabra "read" es un verbo. -En la oración "Reading is important" ("Leer es importante"), la palabra "reading" es un sustantivo. Por lo tanto, "reading" es un gerundio.
4. Ejemplos: -Brian mentioned staying up late. (Brian mencionó quedarse despierto hasta tarde.) -They suggested not keeping the luggage. (Sugirieron que no quedarse con las maletas.) -We started working on this yesterday. (Empezar a trabajar con esto ayer.)
5. ¿Que es us infinitivo? Un infinitivo es la forma básica del verbo agregandole "to".
6. ¿Cuando usarlos? Los infinitivos se usan frecuentemente cuando las acciones no son reales, es decir; cuando son generales, o son futuras.
7. Ejemplos: -She promised to stop smoking. (Prometió dejar de fumar.) -We agreed never to talk about it again. (Acordamos nunca volver a hablar de ello.) -They asked us to leave. (Nos pidieron que nos fuéramos.)
8. Diferencias: -Usar un gerundio sugiere que te estás refiriendo a actividades o experiencias reales. -Usar un infinitivo siguiere que estás hablando de actividades o experiencias potenciales o posibles.