New Lifestyle Personal Training
by Ana Camelo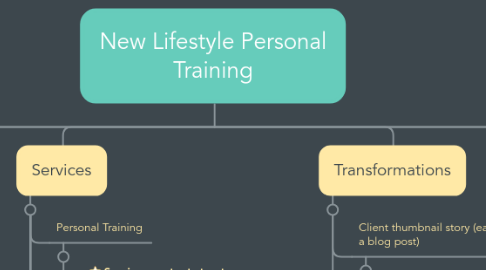 1. Home
1.1. Hero content (an image and sentence that show the core of Lifestyle Personal Training)
1.2. List and short description of main services (high level)
1.2.1. Personal training
1.2.2. Group classes
1.2.3. Bootcamp
1.2.4. Joga
1.2.5. Nutrition
1.2.6. Thai Yoga Massages
1.3. Are you ready to start your Lifestyle transformation? Contact Us.
2. Contact
2.1. Contact Details
2.1.1. Phone, mobile, email, address
2.2. Contact Form
2.2.1. name, email, subject, message
3. Transformations
3.1. Client thumbnail story (each story would be a blog post)
3.1.1. Structure for each success story:
3.1.1.1. Intro - How/when/where the customer found you?
3.1.1.2. Problem - What was the problem the customer wanted to resolve?
3.1.1.3. Solution - What was the way to approach the problem?
3.1.1.4. Results - Solution results (would be great having percentages or numerical information)
3.1.1.5. Testimonial - User testimonial
3.2. Testimonial carousel
4. Services
4.1. Personal Training
4.1.1. Services content structure
4.1.1.1. Service overview
4.1.1.2. How to get started
4.1.1.3. Ideal for what kind of customers?
4.1.1.4. Prices/memberships/subscriptions
4.2. Group Classes
4.3. Pre & Post-natal Classes
4.4. Bootcamp
4.5. Joga
4.6. Nutrition
4.7. Thai Yoga Massages
5. About
5.1. About Jamee George
5.1.1. From shortened text about you.
5.2. About Lifestyle Personal Training
5.2.1. One paragraph about what it is, who it is for, why is it different, etc.
6. Footer
6.1. Privacy policy
6.2. Cancellation policy
6.2.1. A cancellation within 18 hours of a booked session will result in a charged session due to late notice and the unavailability to fill the time block. If the session can be filled no charge will be made. Taxes included in prices. Payments can be made via online transfer, cash, or cheque.