Technologies Curriculum
by Heledd Smith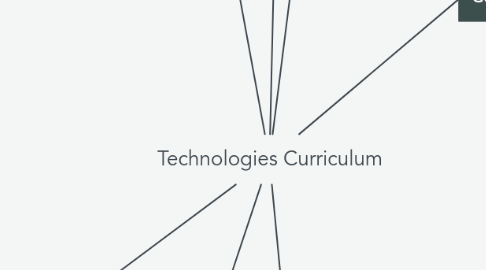 1. Subjects, Strands and Substrands
1.1. Subject: Design and Technologies
1.1.1. Strand: Knowledge and Understanding
1.1.1.1. Technologies and Society
1.1.1.2. Technologies Contexts
1.1.2. Strand: Processes and Production Skills
1.1.2.1. Investigating and Defining
1.1.2.2. Designing
1.1.2.3. Producing and Implementing
1.1.2.4. Evaluating
1.1.2.5. Collaborating and Managing
1.2. Subject: Digital Technologies
1.2.1. Strand: Knowledge and Understanding
1.2.1.1. Digital Systems
1.2.1.2. Representation of Data
1.2.2. Strand: Processes and Production Skills
1.2.2.1. Collecting, Managing and Analysing Data
1.2.2.2. Digital Implimentation
1.2.2.3. Creating Solutions by:
1.2.2.3.1. Investigating and Defining
1.2.2.3.2. Designing
1.2.2.3.3. Producing and Implementing
1.2.2.3.4. Evaluating
1.2.2.3.5. Collaborating and Managing
2. Cross-Curriculum Priorities
2.1. Aboriginal and Torres Strait Islander Histories and Cultures
2.1.1. Aboriginal and Torres Strait Islander histories are used to explore a range of traditional, contemporary and emerging technologies.
2.2. Asia and Australia's Engagement with Asia
2.2.1. Students use Asia and Australia's engagement with Asia to explore how technologies processes and production relates to various cultural, social and ethical issues. Students also explore the relationship between human activity and the diverse environments of Asia, and how these interactions are significant across the world.
2.3. Sustainability
2.3.1. Technology focus on the knowledge, understanding and skills that can be used for effective sustainability action. Students begin to understand that actions are both individual and collective in nature across local, regional and global communities.
3. General Capabilities
3.1. Literacy
3.1.1. Students develop literacy as they communicate ideas, concepts and proposals to a variety of different audiences, using technologies. Students use a variety of different representations, including written, pictorial and computational.
3.2. Numeracy
3.2.1. Students interpret and use mathematics knowledge, including statistics, number and measurement, and skills in a range of real life and technology contexts. Students use software to work with concepts including geometry, scale and proportion.
3.3. Information and Communication Technology
3.3.1. Digital Technologies: Students begin to understand the characteristics of data, digital systems, audiences, procedures and computational thinking. Students use digital systems to find solutions.
3.3.2. Design and Technologies: Students develop key ICT skills and use a range of software and digital hardware to design ideas and create solutions.
3.4. Critical and Creative Thinking
3.4.1. Students develop their critical and creative thinking through finding solutions to challenging problems. Students reflect on the decision-making process by engaging in computational thinking. Students think critically and creatively about possible, probable and preferred futures.
3.5. Personal and Social Capability
3.5.1. Students develop their personal and social capabilities as they work in collaborative environments and through working cooperatively in teams. The Technologies develop students social awareness and increased their understanding of diversity by researching how different needs are required by different communities and environments.
3.6. Ethical Understanding
3.6.1. Students begin to consider their role and responsibility in creating and using different technologies. Students begin to understand the social, environmental, economic and ethical impact technologies have.
3.7. Intercultural Understanding
3.7.1. Students consider how technologies are used in diverse communities at a local, national, regional and global level. Students learn about the interaction between technologies and society.
4. Curriculum Aims and Objectives
4.1. Design & Technologies
4.1.1. Students design, produce and implement solutions for a range of Technologies contexts, using a range of materials, tools, systems, components and equipment.
4.1.2. Students use tools and equipment creatively, competently and safely.
4.1.3. Students understand the roles and responsibilities of different occupations in Design and Technologies, and can discuss how they contribute to society.
4.2. Digital Technologies
4.2.1. Students are able to use digital systems confidently to transform data to information in an efficient way.
4.2.2. Students are able to creatively communicate ideas and information using digital systems.
4.2.3. Students understand the impact digital systems can have on individuals, societies, economies and environments.
5. Year Level Bands
5.1. ACARA
5.1.1. Pre-Primary - Year 2
5.1.2. Year 3 - Year 4
5.1.3. Year 5 - Year 6
5.2. SCSA
5.2.1. Pre-Primary
5.2.2. Year 1
5.2.3. Year 2
5.2.4. Year 3
5.2.5. Year 4
5.2.6. Year 5
5.2.7. Year 6
6. Cross-Curricular Links
6.1. English
6.2. Mathematics
6.3. Science
6.4. Humanities & Social Sciences
6.5. The Arts
6.6. Health and Physical Education
7. Student Diversity
7.1. Students with Disabilities
7.1.1. Policies
7.1.1.1. Disability Discrimination Act 1992 and Disability Standards for Education 2005. Both documents require education and training providers to support the rights of students with disabilities.
7.1.2. Curriculum Adjustments
7.1.2.1. Necessary in some cases to provide equitable opportunities, including allowing students to access age-equivalent content.
7.1.3. Practical Adjustments
7.1.3.1. Practical adjustments- modified tools. Materials or equipment to create solutions.
7.1.4. Assessment Adjustments
7.1.4.1. Assessment adjustments- to ensure student achievement and learning is correctly measured.
7.2. EAL/D students
7.2.1. Additional time and support for learning.
7.2.2. Teaching should explicitly address their language needs.
7.3. Gifted & Talented students
7.3.1. Use additional content descriptions to allow students to work with more depth and breadth, including content from years to come.
7.3.2. Provide content that relates to the cross-curriculum priorities as well as the general capabilities, to allow for high order thinking as well as critical and creative thinking.