About Me: Marta Makowski
by Marta Makowski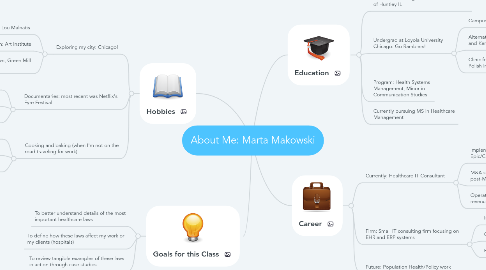 1. Education
1.1. Suburbs of Chicago: small semi-rural town of Huntley IL
1.2. Undergrad at Loyola University Chicago: Go Ramblers!
1.2.1. Campus Ministry
1.2.2. Alternative Break Immersions to Mexico and Kentucky
1.2.3. Clinic for Uninsured Patients in West-Town: Polish Interpreter
1.3. Program: Health Systems Management, Minor in Communication Studies
1.4. Currently pursuing MS in Healthcare Management
2. Career
2.1. Currently: Healthcare IT Consultant
2.1.1. Implementation/Optimization of Epic/Cerner in hospitals
2.1.2. M&A strategy and then EHR consolidation post-M&A
2.1.3. Operations Management: clinical and revenue cycle workflows
2.2. Firm: Small IT consulting firm focusing on EHR and ERP systems
2.2.1. Infor's #1 Implementation Partner
2.2.2. Global locations in Spain, India, UK
2.2.3. Headquarters: Chicago and Edison NJ
2.3. Future: Population Health/Policy work
3. Hobbies
3.1. Exploring my city: Chicago!
3.1.1. Best deep dish pizza: Lou Malnatis
3.1.2. Best museum: Art Institute
3.1.3. Hidden Gems: Pilsen, Chinatown, Green Mill Jazz Club
3.2. Documentaries: most recent was Netflix's Fyre Festival
3.2.1. Life Sciences/Healthcare
3.2.2. Food
3.2.3. True crime
3.3. Cooking and baking (when I'm not on the road traveling for work)
3.3.1. Mexican food
3.3.2. Fresh pasta
3.3.3. EVERYTHING Polish (especially pierogi)
4. Goals for this Class
4.1. To better understand details of the most important healthcare laws
4.2. To define how these laws affect my work or my clients (hospitals)
4.3. To review tangible examples of these laws in action through case studies