Week 1 Learning
by Natasha Welbourne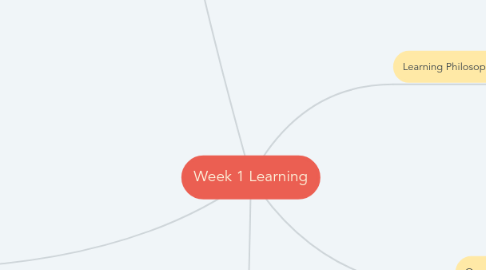 1. Organisation types
1.1. Ownership
1.2. Reach
1.3. Age
1.4. Evolution
1.5. Production focus
1.6. Delivery Channel
1.7. Client focus
2. Organisations in real life
2.1. What are the priorities of L&D in other sectors?
2.2. What other external factors play into L&D (Risk in finance etc) and how do you prepare your team for it
3. Golden Thread
3.1. Foundation: Knowing what an organisation's purpose, strategy and goals are
3.1.1. What organisational objective are you contributing too? What is the purpose of your training?
3.2. Foundation: Understand what makes the organisation work - what's business as usual and what issues can emerge?
3.2.1. Once you know this, explore what business need are you working to address? Why are you doing that activity?
4. Learning Philosophy
4.1. The inspirational statement which outlines the vision for learning for the organisation and why it's vital
4.1.1. Why
4.1.1.1. Why do we do L&D in our org?
4.1.2. What
4.1.2.1. What do we want to achieve by doing L&D?
4.1.3. Who
4.1.3.1. Who needs what kind of training? Does anyone have a particular priority? Who is responsible?
4.1.4. When
4.1.4.1. When can colleagues expect to be trained? Throughout their time at the org or at particular points?
4.1.5. Where
4.1.5.1. Where will people be trained? How can they expect to receive content?
5. Effective Learning
5.1. CIPD principles for determining how effective learning can be facilitated
5.1.1. Learning needs
5.1.1.1. Informed by data and other empirical info
5.1.1.2. Vary per learner - everyone has unique needs and motivations
5.1.1.3. Learning should be applicable and support development of resilience and well being
5.1.2. Review
5.1.2.1. Regular reviews before, during and after training
5.1.2.2. Through both qualitative and quantitative methods
5.1.2.3. Informed by relevant behavioural sciences to support learning
5.1.3. Accessible
5.1.3.1. Learners should be able to access at any time to suit their needs
5.1.3.2. There should be a varied way of accessing learning, on different platforms and methods
5.1.3.3. Builds an environment for learning
5.1.3.4. Space to network and learn from others
5.1.4. Facilitators
5.1.4.1. Space for people to prepare, participate, engage and reflect
5.1.4.2. Learners should be self directed and own their learning - make it fit their context
5.1.4.3. Stress free, clear flowing and purposeful environment