Survey 360 Improvement Blueprint Jeff Hobson Nor Cal Chain Merchandising Manager
by Jeff Hobson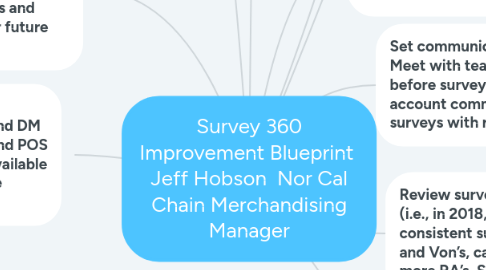 1. Objective: Help train new reps in capturing all available points by focusing on detail
2. Objective: Discover accounts with new opportunities and maximize
3. Sales Rep workwiths: Evaluate workwith results with DM and establish follow-through for DM. Set checkpoint date to see if and when commitments are being honored, reasons not. At this time, establish what POS will be needed for display and desired date of delivery
4. Objective: Improve full book team's standings in survey performance
5. Set communication : Meet with team DMs regularly before survey runs. Review account commitments for surveys with rep and DM.
6. Review survey history: (i.e., in 2018, Team 86 most consistent survey chain was CVS and Von's, can we incorporate more RA's, SM's?)
7. Plan of Action: Confirm all reps, DMs, AMs have a copy of blitz book by supplier and survey expectations from SGWS Portfolio Manager.
8. Objective: Create a sustainable plan to maintain survey account readiness for territories in future
9. Blueprint results: Review survey recaps with sales reps and DMs to celebrate and discover accomplishments and opportunities for future surveys.
10. Survey Account Details: Confirm with sales rep and DM Beam Suntory product and POS deliveries as well as all available components to maximize account survey points.