FROM TOPIC TO TASK: Listing, sorting, classifiyng
by Imelda Utan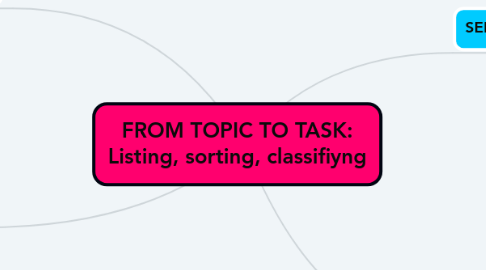 1. SELECTING TOPICS
1.1. Sources of topics
1.1.1. - English textbooks - School curriculum (geography, history, or current affairs) - Topical or seasonal interest - Casual conversation (in coffee breaks, with host family, in bars or clubs) - Outside classroom (meeting with foreigners, email pen friends, chat web based sites)
1.2. Tasks generated from a topic
1.2.1. - Listing - Ordering and sorting - Matching - Comparing - Problem solving - Sharing personal experience - Projects and creative tasks
2. TASKS INVOLVING LISTING
2.1. brainstorming
2.2. fact-finding
2.3. games
2.4. tasks for beginners
2.5. evaluating tasks
2.6. priming and post-task
2.7. summary
3. VISUAL SUPPPORTS
3.1. charts and table
3.1.1. - Give sustained support through several task cycles - Help learners to focus on relevant information when doing listening tasks - Help learners to think of what aspects of the topic to talk or write about, and how to organize information coherently. - begin with general information and go on to the more specific.
3.2. mindmaps
3.2.1. - Have the same advantages as charts but more open, flexible, and can be added to more easily. - Make a good teacher – led task in itself.
3.3. time lines
3.3.1. - Can simple be made from a long piece of thick string or washing line running along one wall of the classroom. - The example: A history of school/ college.
3.4. story lines
3.4.1. - Often drawn on a poster or wide piece of card. - involves deciding what to include and how to draw. - at the end, there is a concrete outcome- something to show to others.
4. TASK INVOLVING ORDERING AND SORTING
4.1. sequncing
4.2. rank ordering
4.3. classifying
4.4. games