Computer System
by Juan David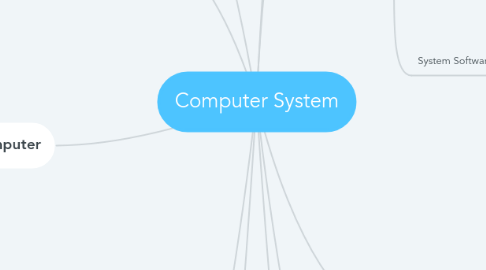 1. Hardware
1.1. External Hardware
1.1.1. Keyvoard
1.1.2. Mouse
1.1.3. Monitor
1.1.4. Printer
1.1.5. And Others
1.2. Internal Hardware
1.2.1. MotherbOARD
1.2.2. RAM
1.2.3. ROM
1.2.4. Video Card
1.2.5. Sound Card
1.2.6. HDD
1.2.7. SSD
2. Software
2.1. Programs that controls the computer system.
2.2. Application Software
2.2.1. Word Processor
2.2.2. Spreadsheet
2.2.3. Apps
2.2.4. Database
2.2.5. Moto Editng Software
2.2.6. Graphics manipulation Software
2.2.7. Video Editing Software
2.3. System Software
2.3.1. Compiler
2.3.2. Linkers
2.3.3. Device Drivers
2.3.4. Operating Systems
2.3.5. Utilities
3. Operating System
3.1. It is a software used in order to enable the computer system to function and to allow users to communicate with it.
3.2. Command line interface (CLI):
3.2.1. Requires users to type in instructions to choose options from menus, open software and so on.
3.3. Graphical user interface (GUI)
3.3.1. Allows users to interact with the computer using pictures or symbols (icons) rather than having to type in a number of commands.
4. Main Components
4.1. CPU
4.1.1. Is the part of the computer that interprets and executes the commands from the computer hardware and software
4.2. HDD, SDD
4.2.1. Is the computer main internal storage, this is where applications software and system software are stored.
4.3. RAM
4.3.1. Is an internal chip where data is temporarily stored when running applications
4.4. ROM
4.4.1. Is a memory used to store information that needs to be permanent.
5. Types of Computer
5.1. PC
5.2. LAPTOP
5.3. SMARTWATCHES
5.4. SMARTPHONES
5.5. TABLETS
5.6. MAINFRAME COMPUTERS
6. Impact of emerging technologies
6.1. Artificial intelligence (AI) Biometrics
6.2. Vision enhancement
6.3. Low-vision enhancement systems (LVES)
6.4. Night Vision Enhancement (NVE)
6.5. Robotics
6.6. Quantum Cryptopraphy
6.7. Computer-assisted translation (CAT)
6.8. 3D and holographic imaging
6.9. Virtual reality
7. Input Devices
7.1. These are hardware devices that allow data to be input into a computer
7.2. Types
7.2.1. Scanners
7.2.2. Touchpad
7.2.3. Keyboard (QWERTY)
7.2.4. Concept Keyboard
7.2.5. Light Pens
7.2.6. Graphic Tablet
7.2.7. Driving Wheel
7.2.8. Touch Screens
7.2.9. Digital Cameras
7.2.10. Cameras
7.2.11. Webcams
7.2.12. Video Cameras
7.2.13. Joystick
7.2.14. Remote Control
7.2.15. Tracker Ball
7.2.16. Mouse
7.2.17. Numeric Keypads
7.3. Sensors
7.3.1. Temperature
7.3.2. Pressure
7.3.3. Light
7.3.4. Sound
7.3.5. Humidity
7.3.6. pH
8. DDE
8.1. Magnetic stripe readers
8.2. Contactless card
8.3. Radio frequency identification readers (RFID)
8.4. Magnetic ink character recognition (MICR)
8.5. Chip and PIN readers
9. Direct data entry devices (DDE)
9.1. Optical mark recognition (OMR)
9.2. Optical character recognition (OCR)
9.3. Barcode reader
9.4. Quick response code (QR)
10. Output devices
10.1. These are hardware devices that allow data to be output from a computer
10.2. CRT Monitor
10.3. Thin film transistor (TFT) monitor
10.4. LCD and LED monitors:
10.5. Multimedia projectors
10.6. Speakers
10.7. Laser Printer
10.8. Inkjet printer
10.9. Dot matrix printers
10.10. 3D Printers
10.11. Actuators
10.12. Motors
10.13. Buzzers
10.14. Lights
10.15. Heaters