Assuring ideas, illustrations, music, visual and written works are protected.
by Amy Igl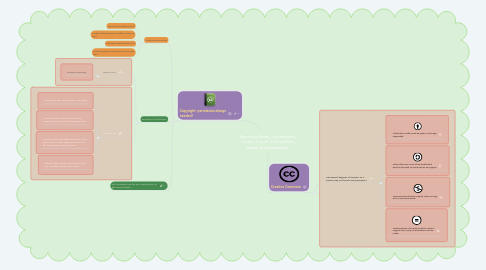 1. Copyright- permission always needed!
1.1. What you cannot do:
1.1.1. reproduce another's work
1.1.2. Create works based on another's work or idea.
1.1.3. Distribute reproduced work
1.1.4. Publicly perform works that are not your own.
1.2. Exceptions for teachers:
1.2.1. TEACH ACT
1.2.1.1. Distance Learning
1.2.2. Fair Use Act
1.2.2.1. Purpose of use: Commercial or Nonprofit
1.2.2.2. Nature of work: Factual use is usually considered more fair than a creative work.
1.2.2.3. Amount of the work used compared to the entire work: Using a larger portion is less fair than using a smaller portion.
1.2.2.4. Effect on the market: Does the use harm the intended market of the work?
1.3. Still confused? Use the Fair Use Evaluator to get some answers.
2. Creative Commons
2.1. Has several degrees of licenses, so a person may not have to ask permission
2.1.1. Attribution-credit must be given is the way requested.
2.1.2. ShareAlike-user must allow distributed work to be used on same terms as original
2.1.3. NonCommercial-work may be used as long as it is noncommercial.
2.1.4. NoDerivatives-The work must be used in original form only, no alterations can be made.