ADDIE
by Rebecca Sutter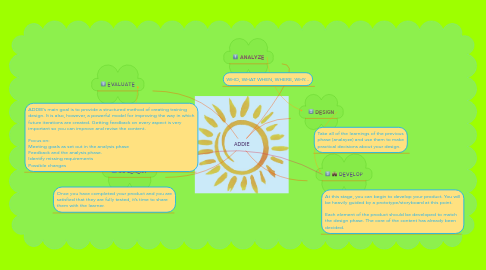 1. DESIGN
2. DEVELOP
3. EVALUATE
4. IMPLEMENT
5. ANALYZE
6. WHO, WHAT WHEN, WHERE, WHY...
7. Take all of the learnings of the previous phase (analayze) and use them to make practical decisions about your design.
8. At this stage, you can begin to develop your product. You will be heavily guided by a prototype/storyboard at this point. Each element of the product should be developed to match the design phase. The core of the content has already been decided.
9. Once you have completed your product and you are satisfied that they are fully tested, it's time to share them with the learner.
10. ADDIE's main goal is to provide a structured method of creating training design. It is also, however, a powerful model for improving the way in which future iterations are created. Getting feedback on every aspect is very important so you can improve and revise the content. Focus on: Meeting goals as set out in the analysis phase Feedback and the analysis phase. Identify missing requirements Possible changes