Covey's 7 Habits of Highly Effective People
by Miguel Zepeda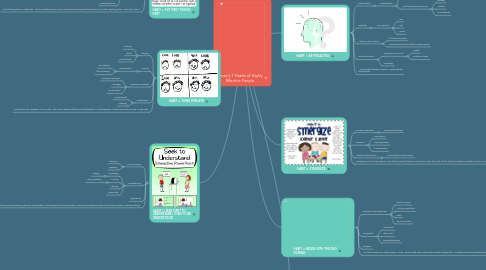 1. HABIT 1: BE PROACTIVE
1.1. Responsibility
1.1.1. response-able
1.1.1.1. Don't blame others
1.1.1.2. Don't blame external sources
1.1.1.2.1. Genetics
1.1.1.2.2. Weather
1.1.1.2.3. Circumstances
1.2. Language
1.2.1. Your response
1.2.1.1. I can
1.2.1.2. I will
1.2.1.3. I prefer
1.3. Make your own Choices
1.3.1. All choices are yours
1.3.2. Choose things that will result in positive results
1.4. Circle of influence
1.4.1. Things you can control
1.4.1.1. Health
1.4.1.2. Problems at work
1.4.2. Awareness
1.5. I am proactive because I maintain a good attitude and set goals
2. HABIT 2: BEGIN WITH THE END IN MIND
2.1. Personal Mission statement
2.1.1. Plan for success
2.1.2. What you want to be
2.1.3. Goals
2.1.4. Secure the future
2.2. Imagination
2.2.1. Visualization
2.2.2. Clear vision
2.2.3. Desired destination
2.3. Endgame
2.4. I do habit 2 every time I start a project In class. I know exactly what I want to do and how I will get there. This helps me reach my desired goals
3. HABIT 3: PUT FIRST THINGS FIRST
3.1. Priorities
3.1.1. Balanced existence
3.1.2. Don't overextend
3.1.3. Focus on highest priorities
3.1.4. Organization
3.2. Physical creation
3.3. Life management
3.3.1. Purpose
3.3.2. Values
3.3.3. Roles
3.3.4. Personal priorities
3.4. I put first things first on a daily basis. I like to prioritize things in my life and do the most important things first. If I can't do everything, then I don't try to force it.
4. HABIT 4: THINK WIN-WIN
4.1. Integrity
4.1.1. Feelings
4.1.2. Values
4.1.3. Commitments
4.2. Maturity
4.2.1. Consideration
4.2.1.1. Your feelings
4.2.1.2. Others feelings
4.3. Abundance mentality
4.3.1. Enough for everyone
4.3.2. Courage
4.3.3. Consideration
4.4. Collaboration
4.4.1. Mutual benefit
4.4.2. Satisfying
4.5. I get into win win situations a lot in my life. I try to make decisions that are mutually beneficial. I do this because I have become more mature as I get older.
5. HABIT 5: SEEK FIRST TO UNDERSTAND, THEN TO BE UNDERSTOOD
5.1. Communication
5.1.1. Listening
5.1.2. Speaking
5.2. Understanding
5.2.1. Evaluating
5.2.1.1. Judging
5.2.2. Probing
5.2.2.1. Asking questions
5.2.3. Advising
5.2.4. Interpreting
5.3. Experiences
5.4. When someone is explaining something to me, I wait until they are done explaining and then ask questions. This helps get all of the information I need uninterrupted and faster. It also helps me better understand things.
6. HABIT 6: SYNERGIZE
6.1. Creative Cooperation
6.1.1. Discover more things
6.2. Teamwork
6.2.1. New insights
6.2.2. New approaches
6.2.3. More expertise
6.3. 2 heads are better than 1
6.3.1. More problems will be solved
6.4. I synergize in almost of my classes. I work with the people that's are around me in order to try and find the solution to whatever problem we have. This helps me finish things quicker and is mutually beneficial.
7. HABIT 7: SHARPEN THE SAW
7.1. Self renewal
7.1.1. Physical
7.1.2. Social
7.1.3. Mental
7.1.4. Spiritual
7.2. Self growth and change
7.3. Revitalize yourself
7.3.1. Recharge
7.4. I sharpen the saw every day. I walk about a mile every day and go to the gym 4 times a week. I also try to spend time with my friends after school. Things like this help me recharge and stay motivated in school.