Following Mr. Jesus... RecreationalChristianity.com
by Holger Hubbs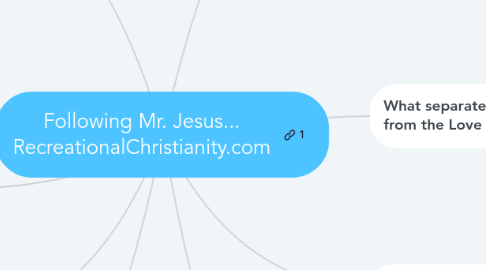 1. Foreword
1.1. Intention
1.1.1. A modern and practical application of ancient scriptural information.
1.2. Motiviation
1.2.1. Why do we seek?
1.2.1.1. We suffer, unless we are distracted by pleasure.
1.2.1.2. We feel uncomfortable within ourself.
1.2.1.3. We are unfamiliar with our inner landscape.
1.2.2. What are we really looking for?
1.3. Obstacles
1.3.1. The words "Bible", "God", "Jesus" can stir up a lot of resistance and confusion if we are not open and willing to learn; willing to examine what we believe and hope.
1.4. Deeply rooted habits
1.4.1. Since decades we think and feel on behalf of a separate autonomous self, we believe ourself to be.
1.4.2. Being identified with what makes sense to us, we overlook the obvious -- the nature of our own mind.
2. What Is The Bible?
2.1. The Bible is a tool to bring about change in the human being.
3. What is Jesus?
3.1. Jesus is our pattern to Salvation
3.1.1. Practical peace of mind in daily living.
3.1.2. The ending of suffering.
4. Where are we stuck?
4.1. We fear for our life when it comes to the examination of our own thoughts and feelings.
4.2. We don't apply the Bible to our here and now; we don't take it to heart by applying it to ourself.
4.3. After reading the Bible for decades we are too full of assumptions and second-hand knowledge.
5. Where did we start?
5.1. We started with the mental activities of believe and hope.
5.2. Believe and hope are important stepping-stones.
5.3. Experience is higher, is more real, more significant than believe and hope.
6. What is the message of the Bible?
6.1. Do not be afraid, for you will not be put to shame; do not be humiliated, for you will not be disgraced. For you will forget the shame of your youth, and remember no more the reproach of your widowhood. 5For your husband is your Maker—the LORD of Hosts is His name—the Holy One of Israel is your Redeemer; He is called the God of all the earth....
6.1.1. Do we make the effort to understand the words -- mental pictures -- being used?
6.1.2. Husband, maker, redeemer?
6.1.3. Widowhood?
6.1.4. Are we sincere and honest enough to admit: as of right now I don't know what it means!
6.2. Strengthen the limp hands and steady the feeble knees! 4Say to those with anxious hearts: "Be strong, do not fear! Behold, your God will come with vengeance. With divine retribution He will come to save you." 5Then the eyes of the blind will be opened and the ears of the deaf unstopped.…
6.2.1. For the unprepared mind it is easy to perceive the Bible as gloomy, dark, scary, depressing...
6.2.2. But Jesus immediately spoke up: "Take courage! It is I. Do not be afraid."
6.3. But seek His kingdom, and these things will be added unto you. 32Do not be afraid, little flock, for your Father is pleased to give you the kingdom. 33Sell your possessions and give to the poor. Provide yourselves with purses that will not wear out, an inexhaustible treasure in heaven, where no thief approaches and no moth destroys.…
6.3.1. FATHER
6.3.1.1. The creator, the cause of the phenomena of life!
6.3.2. KINGDOM
6.3.2.1. non-material / spiritual
6.3.2.1.1. 20When asked by the Pharisees when the kingdom of God would come, Jesus replied, "The kingdom of God will not come with observable signs. 21Nor will people say, 'Look, here it is,' or 'There it is.' For you see, the kingdom of God is in your midst."
6.3.2.2. our natural state of power and dominion
6.3.3. HEAVEN
7. What separates us from the Love of God?
7.1. 38For I am convinced that neither death nor life, neither angels nor principalities, neither the present nor the future, nor any powers, 39neither height nor depth, nor anything else in all creation, will be able to separate us from the love of God that is in Christ Jesus our Lord.…
8. What are we really looking for?
8.1. Peace of mind in daily living.
8.2. Now this is eternal life, that they may know You, the only true God, and Jesus Christ, whom You have sent.
8.2.1. Grace and peace be multiplied to you through the knowledge of God and of Jesus our Lord. 3His divine power has given us everything we need for life and godliness through the knowledge of Him who called us by His own glory and excellence. 4Through these He has given us His precious and magnificent promises, so that through them you may become partakers of the divine nature, now that you have escaped the corruption in the world caused by evil desires.…
9. What do we get?
9.1. His divine power has given us everything we need for a godly life through our knowledge of him who called us by his own glory and goodness.
9.1.1. The language is symbolic.
9.1.2. Our thinking is like an interpreter: patient, skilled and sensitive.
9.1.3. What we are seeking we have been given already; but we miss the obvious until we examine our own mind more closely.
9.1.3.1. Word by word! Not lost in "context", but fresh and open like a little child.
9.1.3.2. Do I really know the words I am reading?
9.1.3.2.1. Who is the character "Jesus" in the Bible? 2000 years ago the name "Jesus" was very common, like Joe, today.
9.1.3.2.2. A subtle shift in perspective is needed...