SCIENCE FORM 2-HUMAN HEALTH
by Irdina Zulaikha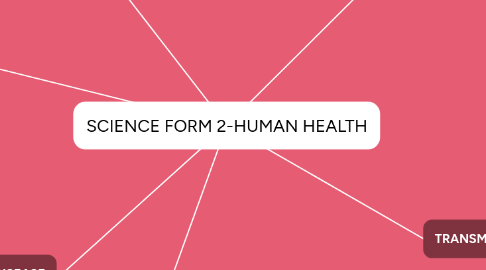 1. Third line of defence. ♡fight pathogens by producing antibodies.
2. INFECTIOUS DISEASE
2.1. Caused by infection of pathogens
2.2. Disease that can be transmitted to another people.
2.3. Example -flu -ringworm -tinea
2.4. How does it spread?
2.4.1. -pathogen is the organism that cause disease. -pathogen=virus,protozoa,fungi. -through vectors and mediums such as air,water,contacts and vector.
3. NON-INFECTIOUS DISEASE
3.1. Cause of genetic factr or lifestyle.
3.2. Disease that cannot be transmitted to another people.
3.3. Example-cancer -hypertension -diabetes -cancer
3.4. How does it spread?
3.4.1. It cannot be spread.
4. BODY DEFENCE
4.1. POLLUTANTS & MICROORGANISMS CONSTANTLY ENTER THE BODY THROUGH-
4.1.1. -respiratory system . -disgestive system. -excretory system. -skin.
4.2. First line of defence. ☆microorganism can only get into the body if there is a wound /if the skin injured. ☆mucous membrane
4.3. Second line of defence. ◇white blood cells engulf &digest the pathogens using enzymes through phagosytosis.
5. TRANSMISSION OF DISEASE
5.1. Transmissions through airbone disease.
5.1.1. 1-Droplet transmission. 2-Dust transmission.
5.1.2. CAN BE PREVENTED BY; #covering our mouth and nose when sneeze,cough and more. #avoid spitting everywhere.
5.2. Transmission through water.
5.2.1. -Usually occurs in areas that do not have clean up tap water supply.
5.2.2. Example of disease - Cholera Typhoid fever
5.2.3. CAN PREVENTED BY; -boil drinking water properly. -washing hand with soap.
5.3. Transmission through vectors.
5.3.1. Animal that transfer pathogens. Rats Flies
5.4. Mechanism to avoid transmissions of infectious disease
5.4.1. 1.primary stage. 2.secondary stage. 3.tertiary stage
5.5. Transmission through contact.
5.5.1. 1.ringworm 2.tinea
6. BODY IMMUNE SYSTEM.
6.1. 1.passive immunity 2.active immunity
6.2. 1.antibody. ♤protein produced by white blood cells. 2.antigen. ♤foreign substance