Want To Be More Productive? Start This Simple Daily Habit
by Danny Forest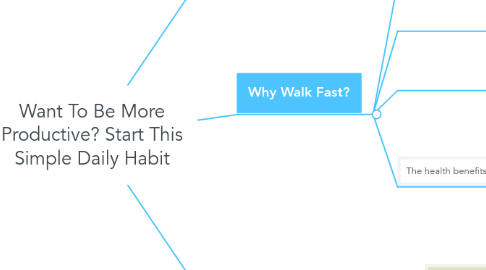 1. Walk faster
1.1. Save time and increase your productivity by walking faster
2. Why Walk Fast?
2.1. Walking fast could teach your brain to work at a different pace.
2.2. Most people who walk fast and strategically are really productive people.
2.3. Fast walkers understand the value of time, and it transfers that understanding to other areas, like work.
2.4. The health benefits to walking fast include:
2.4.1. Raises your heart rate to a higher heart rate zone
2.4.2. Increases fitness and endurance
2.4.3. Increases muscle flexibility
2.4.4. Tones muscles
3. When To Walk Fast?
3.1. Do that when you are simply going from a point A to a point B.
3.2. Any time there's a destination in mind.
3.3. Keep your leisure walk at a speed you're more comfortable with.