A Simple 2-Step Process to Help You Find the "Best-Sellers" on Medium
by Danny Forest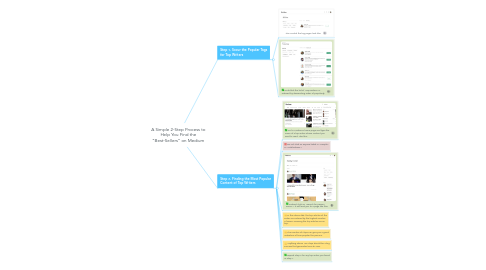 1. Step 1. Scour the Popular Tags for Top Writers
1.1. This is what the tag pages look like:
1.2. Note that the list of "Top writers" is ordered by descending order of popularity.
2. Step 2. Finding the Most Popular Content of Top Writers
2.1. Go to Medium's home page and type the name of a top writer whose content you want to read. Like this:
2.2. Do not click on anyone listed in "People" or "Publications."
2.3. Instead, click on "Search for person name'." It will lead you to a page like this:
2.4. In the Stories tab, the top articles of the writer are ordered by the highest number of views, meaning the top articles are on top.
2.5. The number of claps can give you a good indication of how popular the piece is.
2.6. Anything above 10K claps should be a big success that generated over $1,000.
2.7. Repeat Step 2 for any top writer you found in Step 1.