80/20 Virtual Wholesaling
by Matt Viebrock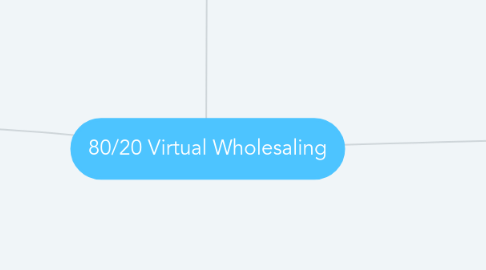 1. 2. Going virtual vs. staying local
1.1. Staying Local
1.1.1. Pros
1.1.1.1. You know which areas are more desirable to renters and homebuyers (or at least you should) and can personalize your investing strategies based on firsthand knowledge from living there.
1.1.1.2. You already know the local real estate laws (or at least you should).
1.1.1.3. With first hand market knowledge, you have a better idea of the going sales and rental rates for homes in the area.
1.1.1.4. You can honestly tell a motivated seller that you live in the area and want to make the community a better place.
1.1.1.5. You can connect with the locals more easily.
1.1.1.6. You are more likely to have personal connections that can provide you with vendor and private money recommendations.
1.1.1.7. You can drive by the property and meet with the seller or your tenants, if needed.
1.1.1.8. You understand the quality of rehab needed and what's expected inside and outside the home.
1.1.2. Cons
1.1.2.1. It's can be harder for you to scale because you're limiting yourself geographically = less opportunities..
1.1.2.2. Prices may be too high (or low) in your market to make the deals make sense.
1.1.2.3. Your market may be too cyclical or not ideal for doing fix & flips and/or rentals.
1.1.2.3.1. Always consider the economic and demographic factors of where you're investing - and especially who the major employers are.
1.1.2.3.2. If you're going to be a buy and hold or creative financing investor, then you need to be cautious of investing in areas with:
1.1.2.4. There may not be enough buyers or renters in your area.
1.1.2.5. You may have issues securing financing, especially when first starting because the price of the houses in your area.
1.1.2.6. You're likely doing less volume with more profits. This roller coaster of income can be hard to manage.
1.1.2.7. You may spend thousands of dollars on marketing without getting a deal because the numbers just don't make sense in your market (or you don't yet know how to make them work)
1.1.2.8. Rentals aren't always as profitable.
1.2. Going Virtual
1.2.1. Pros
1.2.1.1. No geographic limits = unlimited opportunities
1.2.1.2. Unlimited opportunities = ability to do higher volume
1.2.1.3. The ability to buy in more affordable markets.
1.2.1.4. You have the power to decide which market makes sense to jump into.
1.2.1.5. Not being a local sometimes makes it easier to talk to sellers. Don't have to worry about pissing of your neighbors that you see everyday! (HUGE PLUS for those of us that are more introverted and have a harder time talking to people!)
1.2.1.6. The power of new technologies is making it easier than ever before to be able to manage an REI business from anywhere in the world so long as you have a laptop, fast & stable internet connect, and cell phone or VOIP line.
1.2.1.7. Ability to scale your business without being the one on the ground, checking the properties out yourself. You can more easily build a real estate investing machine so that the day-to-day can largely run without you.
1.2.1.7.1. These houses can be rented now and held in case you want to live or vacation there down the road.
1.2.1.8. Forces you to "80/20" your REI business so it runs without your day-to-day involvement. It's extremely difficult to run a virtual REI business if you're a "Brute Force Bob" trying to do everything yourself.
1.2.1.9. Can be easier to secure financing.
1.2.2. Cons
1.2.2.1. Different states have different housing laws and regulations, and it takes time to know what you're getting into.
1.2.2.2. It takes a lot of time and effort to set up a system and a good team you can trust to be your "boots on the ground" and your eyes and ears.
1.2.2.3. Less familiarity with the market. Takes a lot of time to properly conduct due diligence of the markets you're considering investing in, that way you don't run into avoidable problems down the road.
1.2.2.4. All real estate is local and takes time to learn the different customs for each area.
1.2.2.4.1. Expect to make mistakes. Be professional, don't be a "know it all," and stay humble. Ask for advice, and apologize if you accidentally step on some toes along the way - it will happen!
1.2.2.5. Limited network of service providers. The normal vendor connections you're used to having in your local market may not be available or easy to identify in other markets. Like an investor-friendly title company, property manager, inspectors, general contractors, a real estate attorney, etc.
1.2.2.5.1. You're going to have to do some digging to find the best ones.
1.2.2.5.2. ASK OTHER INVESTORS FOR REFERRALS TO THEIR VENDORS!!!
1.2.2.6. Day-to-day reliance on others can be difficult if you're not a good manager of people and don't have solid systems and procedures in place so you can track and measure your team's performance.
1.2.2.7. Can be harder to get a firm grasp on the condition of the property.
1.2.2.8. Can be more expensive to manage because you're having to put more systems and people in place to make sure everything runs smoothly.
2. 1. Ways to make money in SFR real estate investing + Lead Generation Idea
2.1. Lead Generation Ideas + "Bird dogging" leads for other investors
2.1.1. Canvassing neighborhoods
2.1.1.1. Door flyers / hangers
2.1.1.1.1. Design ideas
2.1.1.1.2. Where to get them
2.1.1.1.3. How to distribute them
2.1.1.2. Leave sticky notes on doors
2.1.1.3. Door knocking
2.1.1.3.1. Use GoKnock
2.1.1.3.2. Get targeted! Go after properties that are in Pre-Foreclosure, Property Tax Default, Vacant, or just downright ugly
2.1.1.3.3. Script: "Hi there! My name is XXX, and I don't know anything about real estate, but I work for a local company that buys a lot of houses. My boss noticed through public records that you may be in jeopardy of losing your home. Would you like me to have him/her give you a call to see if they can help you avoid that?"
2.1.1.3.4. Don't forget to take your door hangers and sticky notes to leave on homeowners' doors if they don't answer!
2.1.1.3.5. If you don't have door hangers or sticky notes, get some yellow pads, and leave a note on tucked inside the door frame or under their car's windshield wiper - use the same script as above, and put your phone number, and maybe a business card if you have one (although not required)
2.1.1.4. Driving for dollars
2.1.1.4.1. SendFuse
2.1.1.4.2. Deal Machine - D4D app
2.1.2. Bandit signs
2.1.2.1. Blank Double-Sided Yellow 18x24" Corrugated Plastic Signs
2.1.2.2. Beefy Stakes
2.1.2.3. Sharpie Pro Magnum Permanent Markers
2.1.2.4. Get a Google Voice or Vumber. NEVER put your own cell phone on the signs!
2.1.2.4.1. Google Voice
2.1.2.4.2. Vumber
2.1.2.5. Example Bandit Sign (click link)
2.1.2.6. LEGAL ALERT: Bandit signs are called that for a reason, as they're illegal to put out in most municipalities. Make sure to check your local ordinances, otherwise you risk getting calls from the sign police (i.e. code enforcement) and possible fines. That being said, if you do get fined, consider it a cost of doing business.
2.1.3. Putting flyers on cars in parking lots
2.1.4. Car wraps & magnets w/ "We Buy Houses Regardless of Condition Or Equity" + Vumber or CallRail Number
2.1.5. There's a million different other lead generation ideas out there - GET CREATIVE!
2.1.6. Let people know that you work for an active REI, and then NETWORK LIKE CRAZY!
2.1.6.1. Real Estate Agents: ask if they have any deals that they're having a hard time moving, or any any listings that they've recently lost that you could get them paid on if you/your mentor end up buying it
2.1.6.1.1. Offer to split their MLS dues 50/50 with them in exchange for them adding you to their MLS login as assistant. This way you can do "MLS Hacking."
2.1.6.1.2. Search for Expired & Withdrawn For Sale and For Rent listings on the MLS. Then skip trace the owners to get their phone numbers, and text/call to qualify them and schedule a time to see the house and make the offer.
2.1.6.1.3. If you're not a licensed agent, you can also do a search for properties that have been active on the market for 90+ days and make an offer.
2.1.6.1.4. Definitely do Kyle Goode's program at AgentAutoPilot.io - total game changer!
2.1.6.2. Other Wholesalers: ask for their dead leads that you can work. Once you get a warm or hot seller lead, pass it off to an active REI in exchange for a fee or mentorship. (PS - this is a GREAT way to get leads for creative financing deals!)
2.1.6.3. BNI Groups
2.1.6.4. Join your local chamber of commerce
2.1.6.5. Join a local REIA, or start your own if there isn't one in your area
2.1.6.6. Find a local meet up on MeetUp.com: get creative to figure out where you might be able to get leads from
2.1.7. Browsing for dollars
2.1.7.1. Craigslist
2.1.7.2. Facebook Marketplace
2.1.7.3. Facebook Groups - especially neighborhood groups where "garage sale" posts would be made
2.1.7.4. For Sale By Owner websites (like FSBO.com)
2.1.7.5. Zillow - look for 90+ days on market
2.1.8. "Live where you want to live, but invest where the numbers make sense" - The Real Estate Guys Radio Podcast
2.2. Hire a mentor or apprentice under a very successful and active RE investor (active being the key word!)
2.2.1. Mentors are BUSY!!! Don't ask what you can do for them. Get creative and find a way to provide value.
2.2.2. Hands down the absolute best way to learn!
2.2.3. You're going to have to pay your dues one way or another - either by learning the hard way, or by shortcutting the process by getting a mentor. Trust me from experience, this way is MUCH cheaper than getting your education from La Calle University (that's "The Street" in Spanish)
2.2.4. BEST WAY TO FIND A MENTOR: Come with a deal in hand and offer to take a 20% cut - or even give it to them for free - in exchange for them teaching you what they know.
2.2.5. Be prepared to do all the legwork to get the deal done. Doing is the best way to learn!
2.3. Wholesaling / Assigning Contracts (we'll go deep into this)
2.3.1. Great free resources where I learned how to do this from (Make sure to check out all their podcasts as well)
2.3.1.1. BiggerPockets.com (you could learn everything you need to know about REI just from getting on the forums here!)
2.3.1.2. Wholesaling Inc.
2.3.1.3. Sean Terry's Flip 2 Freedom
2.3.1.4. Matt Theriault's Epic Real Estate
2.4. Fix & Flips
2.4.1. Creative Financing (my personal favorite)
2.4.1.1. Acquisition Methods
2.4.1.1.1. Straight seller financing of free and clear properties
2.4.1.1.2. Subject-To
2.4.1.1.3. Master Lease w/ Right To Sublease (a.k.a. "Sandwich Lease") + Option To Buy
2.4.1.2. Disposition Methods
2.4.1.2.1. Rental
2.4.1.2.2. AirBnB
2.4.1.2.3. Fix & Flip
2.4.1.2.4. Assign the contract
2.4.1.2.5. Sell it retail
2.4.1.2.6. Sell on a Lease Option (my favorite)
2.4.1.2.7. Sell on a Wrap Note (my 2nd favorite)
2.4.1.3. Resources
2.4.1.3.1. CreativeCashflow.com - Grant Kemp
2.4.1.3.2. Mitch Stephen
2.4.1.3.3. SubTo.com - Pace Morby
2.4.1.3.4. Blair Halver
2.5. Long-Term Rentals
2.6. Short-Term Vacation Rentals (think AirBnB & VRBO)
2.7. Lease Options
2.7.1. Straight Lease Option
2.7.2. "Sandwich" Lease Option
2.7.2.1. a.k.a. Master Lease w/ Option to Buy
2.7.2.2. Master Leasing + Hassle Free Property Management Seminars - David Tilney
2.7.3. Wholesaling Lease Options
2.7.3.1. Wholesaling Lease Options – Joe McCall
2.7.3.1.1. Also check out his podcast at RealEstateInvestingMastery.com
2.7.3.2. Lease Option Classes - John Jackson
2.8. Note Investing
2.8.1. Note School by Eddie Speed
3. 3. Wholesaling Process Breakdown
3.1. 1. Set up your systems
3.1.1. One Stop Shop for everything you need to know about setting up an REI business (click links)
3.1.1.1. InvestorFuse 80/20 Investor Academy
3.1.1.2. InvestorFuse REI Tech Masterclass
3.2. 2. Lead Generation
3.2.1. Reference C.C. Garland's training inside of Module 3 "Lead Generation Workshop" in this InvestorFuse Fire Yourself Challenge for details on pulling lists, skip tracing, etc.
3.2.2. One Stop Shop for everything you need to know about Marketing and Lead Generation (click links)
3.2.2.1. InvestorFuse REI Modern Marketing Masterclass
3.2.2.2. InvestorFuse REI Lead Conversion Masterclass
3.2.3. Outbound
3.2.3.1. SMS Text Messaging
3.2.3.2. Cold Calling
3.2.3.3. Ringless Voicemail
3.2.3.4. Door Knocking
3.2.3.5. Driving For Dollars
3.2.4. Inbound
3.2.4.1. Door Flyers / Hangers / Sticky Notes
3.2.4.2. Direct Mail
3.2.4.3. Bandit Signs
3.2.4.4. Facebook Ads
3.2.4.5. SEO
3.2.4.5.1. carrot.com
3.2.4.6. PPC
3.2.4.7. Networking
3.2.4.8. Kyle Goode's AgentAutoPilot.io program
3.2.5. Consistency is key! Gamify the lead gen process, and use a Daily Success Report like this one, and shoot for 100 points per day. (click link)
3.3. 3. Follow Up!
3.3.1. The fortune is in the follow up! It takes on average 8-12 touches for us to convert a seller lead into a contract.
3.3.2. Get a CRM to keep track of your leads, or use a free lead management tool like this (click link)
3.3.3. Reach out to your leads at minimum every 2-3 months to follow up.
3.3.4. Here's our follow up process (click link)
3.4. 4. Qualify sellers & set the appointment to see the property
3.4.1. Create a Google Form "Lead Intake Sheet" like this one (click link)
3.4.2. Also check out WholesalingInc.com and Brent Daniels' TTP Cold Calling Script (click link)
3.4.2.1. TTP Cold Calling Script link
3.4.2.2. WholesalingInc.com link
3.5. 5. Make sure to run comps and underwrite the deal
3.5.1. Repairs
3.5.1.1. For quick and dirty repair estimates, multiply the square footage of the property by one of the following Rules Of Thumb
3.5.1.1.1. * No Repairs = $10/SF * Cosmetic Repairs = $15/SF * Cosmetic Repairs + Appliances: = $20/SF * Cosmetic Repairs + Repair 2 Major Systems (Roof/HVAC/W.H./Elec/Plumbing)= $30/SF * Full-Gut Rehab = $40 - $50/SF * Tear-Down & Rebuild = $100 - $125/SF
3.5.1.1.2. For rentals, repairs vary by market, but generally speaking, we'll use the numbers above, and then multiply the final number by 80-85% to get an estimate on what it would take to get a house in rent-ready condition.
3.5.2. If you're going to assign the contract, start with this formula for coming up with your cash offer
3.5.2.1. Maximum Allowable Offer (a.k.a. "MAO") = After Repaired Value (a.k.a. "ARV") x 65-75% (depending on your market) - Cost of Repairs - Your Assignment Fee (we usually start off at $20,000 to give ourselves a buffer to work with when negotiating)
3.5.3. How To Pull Comparable Sales and Rental Comps
3.5.3.1. Ideally you should get all of your comps from your local MLS, but if you don't have MLS access, offer to pay a realtor to run the comps for you.
3.5.3.1.1. Criteria to get at least 3 sold & 3 rental comps:
3.5.3.1.2. If you don't have MLS access, look up sold properties on:
3.5.3.1.3. If no comps are available, we average out the Zillow Zestimate, Redfin's estimate, Eppraisal.com's estimate, and the estimate from TotalViewRealEstate.com
3.5.3.1.4. If no comps are available, we average out the Zillow Zestimate, Redfin's estimate, Eppraisal.com's estimate, and the estimate from TotalViewRealEstate.com
3.5.3.1.5. For Rent Comps, check MLS, Facebook Marketplace, Zillow, Redfin, and RentOMeter.com
3.5.4. For creative financing and/or lease option offers, call/text me - Matt Viebrock - at (512) 757-7467, or email me at [email protected] I charge $250 to do a full underwriting deal analysis, plus a 10% cut/ownership of the deal, or $1,000, whichever is greater if it goes to closing. That way I can coach you through them step by step.
3.6. 6. Make sure to confirm the appointment with the seller, this way they don't flake out on you
3.6.1. Day Appt. Scheduled, send text: "Hi SELLER, I have your appointment confirmed and in my calendar. Looking forward to meeting so I can buy the property from you!"
3.6.2. 2 Days Prior to Appt., send text: "Hi SELLER, this is just a reminder that I'm looking forward to buying your property at APPT. DAY & TIME. If something were to come up, how will you let me know that you can't make it so we can reschedule?"
3.6.3. 24 Hours Prior to Appt., send text: "Hey SELLER NAME, this is just a friendly reminder that I'm looking forward to meeting with you tomorrow at APPT. TIME to buy your property. We're still on for our appointment, right?"
3.6.4. 2 Hours Prior to Appt., send text: "Hey SELLER NAME, this is YOUR NAME. I just left my place, and I'm on my way for our meeting in about an hour and a half at PROPERTY ADDRESS. Will you be there when I get there? Looking forward to meeting with you so I can buy the property, see you soon!"
3.7. 7. Go on the seller appointment
3.7.1. Don't forget to bring at least 4 contracts! - one to write up, another so you can give the seller a copy once you've reached an agreement, and 2 back-ups in case you made a mistake and have to re-do something.
3.7.2. Great example of how to run a seller appointment (click link)
3.7.3. DON'T focus on the house, and don't get straight down to business!
3.7.4. DO focus on the seller first. Spend the first 30-45 min. building rapport. Find things in their home that you can highlight and ask questions about in order to get them talking - like pictures of their family, cool items that you share a common interest in, etc. People don't care how much you know, they only want to know how much you care about them. Become their friend and consultant, not a salesperson.
3.7.5. After building rapport, ask them to show you around the house.
3.7.6. Try not to say much of anything while you're doing the walk-through. Just touch each area where you see something that might need to be fixed, and then just make a "Hmmm..." noise. As you're doing that, you're signaling to the seller that there's problems with the house - without saying anything - and in their mind the dollar signs are racking up on how much it's going to cost to fix everything. But don't be afraid to ask questions if there's something you need clarification on (like past leaks, cracks in the drywall, etc.), and say "that's no problem, we can get that fixed for cheaper than most people can."
3.7.7. Make sure to take TONS of pictures and do a full video walk-through of both the interior and exterior of the house, verbally stating what room you're in. Here's a link to a video from Grant Kemp that illustrates how to properly do a walk-through (click link)
3.7.7.1. You'll need all of these pictures and videos later when coming up with a scope of work for all the repairs that will need to be done. It's helpful to have them as well so you can send them to contractors to go off of when they're working on drafting their repair bids for you.
3.7.7.2. Also use these to market the property prior to closing.
3.7.8. After the walk-through with the seller, share the comparable sales with the seller, go over the repairs needed, and present your offer.
3.7.8.1. Here's a great video explaining how to properly do that (click link)
3.7.8.2. "Present & Get Consent" Script (click link)
3.7.9. Negotiate and get the contract signed.
3.7.10. Thank the seller for their time, and set a time to follow up with them to go over next steps. Make sure to follow up with them at least once a week until closing.
3.8. 8. Get the contract to the closing attorney or title company
3.9. 9. Begin the 80/20 disposition process to find a buyer
3.9.1. Here's our entire dispositions process (click the link)
3.10. 10. Transaction Coordination: Work with the title company / escrow agent to make sure that all title issues in Schedule B and C of the title commitment are cleared prior to closing. Check in with the seller and make sure they're doing okay and provide value to them, offer to help find movers, a storage unit, etc. PROVIDE REFERRAL WORTHY SERVICE TO YOUR SELLERS!!!
3.11. 11. Once you've found a buyer and gotten a contract signed with them, then you have 2 options for closing the deal: or if you're assigning the deal, get them to sign your Assignment Of Contract Form, and deposit their non-refundable finders fee with the escrow agent.
3.11.1. Assign the deal to the end-buyer
3.11.1.1. Go with this route if your title company will allow it, and if your assignment fee is $15,000 or less.
3.11.1.1.1. MAKE SURE TO ASK YOUR TITLE COMPANY IF THEY CAN DO A "BLINDED" SETTLEMENT STATEMENT, that way the seller only see's their side of the settlement statement and therefore don't see your fee. If they'll do that for you, then the dollar amount of your assignment fee doesn't matter since the seller won't see it.
3.11.1.2. Here's what our Assignment Of Contract Form looks like - make sure to run it by your attorney (click link)
3.11.2. Double-Close
3.11.2.1. You'll need to line up either private money or "transactional funding" via a hard money lender to actually close on the deal yourself with the seller, and then turn around and close with the buyer within 1-2 days after closing with the seller.
3.11.2.1.1. This is sometimes the only way title companies will let you close a wholesale deal.
3.11.2.1.2. You'll have to pay 2 sets of closing costs though, so make sure to write it into the contract with your end-buyer on the B-C transaction that they have to reimburse you for all closing costs that you paid on the A-B transaction with the buyer.
3.11.2.1.3. This also allows you to completely conceal how much you're making on the deal from both the buyer and the seller. So it's a good idea to consider going this route if you're fee is going to be greater than $15,000.
3.12. 12. End the 80/20 disposition process (see #9 above) - take down signs and lockboxes, and so on.
3.13. 13. Make sure you or one of your representatives goes to closing with the seller, gives them a meaningful closing gift, and gets a video testimonial that you can post to FB, Instagram, YouTube, your website, etc. Also, sign up for GetMoreReviews.com and have them fill out an online review there that blasts the review out to all the major review sites and helps your company get ranked higher up in Google's search engines (click link)
3.14. 14. Post-Closing
3.14.1. Ask the seller for at least 3 referrals to other people they know that may be looking to buy or sell within the next 12-24 months! = FREE LEADS
3.14.2. Put your seller on a multi-touch drip campaign to follow up with them to see how their doing and ask for referrals.
3.14.3. Follow up with your buyer to get "after pictures" once the place is fixed it, and ask if you can use them in your marketing. Ask for referrals from your buyer!
3.14.4. Repeat the process