Last EIC Accelerator Call of 2020
by Vasile Stoica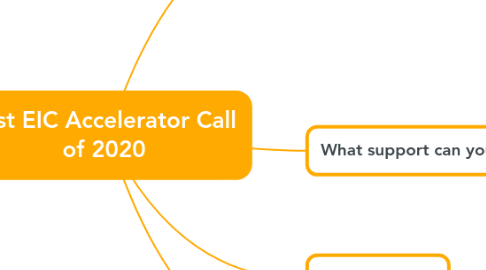 1. Who should apply?
1.1. SME's
1.1.1. including young companies and start-ups
1.1.2. any sector
1.1.3. no set topics
1.1.3.1. radically new ideas underpinned by a business plan for rolling out marketable innovation solutions and with ambitions to scale up
1.1.4. single companies (as opposed to consortia) can apply
1.1.5. must be established in an EU Member State or a Horizon 2020 associated country
2. When to apply?
2.1. 07 October 2020 - grant only or blended finance
3. How to apply?
3.1. Submit your proposal on the Horizon 2020 Funding &Tenders Portal
4. What support can you get?
4.1. between € 0.5 and € 2.5 million in the form of grants
4.2. blended finance in the form of an optional investment in equity in addition to the grant, to single for-profit SMEs
4.3. Business acceleration services and coaching
5. Source: Horizon 2020 Funding & Tenders Portal, 2020/09