Francisco Leiva, Generalista 3D
by Francisco Leiva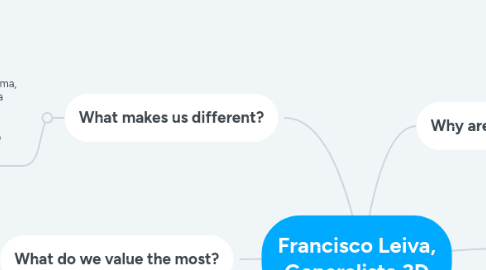 1. Why are we here?
1.1. Porque queremos revolucionar la estética del modelado de ambientes y personajes 3D en Ecuador y el mundo.
2. What is our personality?
2.1. Creativo, accesible, diferente, rebelde o forajido, innovador.
3. What makes us different?
3.1. Queremos que el 3D se vea de otra forma, no simplemente como una herramienta para mostrar modelos, sino como una forma de explorar nuevas y diferentes realidades de lo que podría ser nuestro mundo digital.
4. What do we do and how do we do it?
4.1. Creamos ambientes, personajes y animaciones con una estética diferente. Basándonos y comparándonos con los expertos de cada área y revolucionando sus ideas podemos crear nuevas formas de ver al 3D.
5. What do we value the most?
5.1. El trabajo justo y reconocido. Queremos poder llegar a millones de personas en todo el mundo y para esto es importante poder ser reconocidos por tener un trabajo diferente y una forma de pensar innovadora en el área.
6. What are we here for?
6.1. Para crear interesantes y diferentes ambientes y personajes en 3D para videojuegos, películas, series y publicidad que llegue a millones de personas alrededor del mundo.