Media Sectors
by Gemma Rogers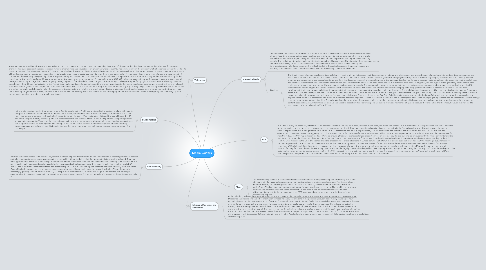 1. Interactive Media
1.1. The interactive media sector is described as fluid because it has many overlaps and blurred distinctions between other sectors. Convergence gathers pace - the boundaries between interactive media and other forms of digital media become more blurred particularly as TV broadcasters look to multi platform '360 degree' commissioning models. The market for interactive media contributes to a number of large markets.The biggest of these are e-commerce and online advertising. The UK's interactive media industry is worth several billion pounds annually but its products support a far larger economy. It is difficult to define this sector because of the pace of change and the many companies involved in interactive media who more accurately fit within other sectors.
1.2. Gaming:
1.2.1. The 3 main stages of games development are as follows: 1. begins with market research and developments in national and international operations. 2.teams of people work to produce design documents from which all the elements that contribute to the final product are drawn and sets down all possible paths the games can take players and any of the mechanics of gameplay which are relevant. If a story, narrative elements and storyboarding also takes place. 3. working from this design document, the technical aspects of the game are decided and the game code, animation, graphics audio production and special effects. The technical expertise then turns the creative products into paths for gamers to enjoy. Teams work on the project in a system of production. With games, the risk is great as the game may not be able to grab audiences or investors may lose money. However, games can be successful globally. The video gaming sector is important in terms of sales because more games are being purchased worldwide and the UK companies are contributing to that success. Games have an established structure, with studios and production houses developing third party games on behalf of publishers or for themselves. In-house development studios are by many publishers, independent studios carry out commissioned work and gain a fee for their work. The publishers own the rights and will market and distribute the games. A computer game is the work of a variety of companies which have an influence on the final product - the two main activities are games development and games publishing. The license holders are very important as they act as publishers in their own right and the industry refers to them e.g. Microsoft, Sony and Nintendo - as First Party Publishers. Games can also be published onto PCs which have no formal licensing and so is a popular option for smaller companies. Two major developments that have impacted Gaming recently are the internet and the emergence of online multi-player gaming. Gamers can now access the Internet through computers and portals such as Xbox Live. Secondly, Wireless platforms, where the new generation of mobile phones and other handheld devices have opened up a market for wireless transmitted interactive content, especially games. I think there are positive and negative aspects of this. Positive aspects are that its involves a new range of gamers because they are on handheld devices, however, this may lead to less people buying portals such as Xbox, PS3 etc.
2. Film
2.1. In the film industry we constantly refer to these six components: Development, production, facilities, distribution, exhibition and export. So in this industry it means production companies are often set up for production and then close down once the production was completed. There are approximately 400 registered companies in the film industry however this varies depending on the amount of production that is being worked on at a time. In these companies, around 43% is production, 13% are distribution and largest sector is exhibition with 44%. The UK film industry contributed to the economy with a staggering £3.1 billion in 2004. The UK film industry offer the world with feature films, a co-production partner and a provider of services to the international film industry. In 2007 the UK film production made £747 million ensuring that it was the fourth largest production year on record. They did this by using co-producers with the films Harry Potter and the Half Blood Prince and the Chronicles of Narnia: Prince Caspian. On the other hand we made films such as Brideshead Revisited and How To Lose Friends and Alienate People solely by the UK. 516 films were released in the UK in this year and had the largest number of digital screens in Europe coming in at 296 which is double the number we had in 2006. Meaning a 58% increase over the past 10 years and 21% accounted for the releases and 29% of the market by value. The cinematic release of a film is what establishes its reputation and over half of the UK's film revenue come from DVD retail and I think this is because most people find it expensive to go to the cinema to watch a movie, majority wait for it to be released on DVD so they can only pay a small amount of money for it. FIlm theft in this era is very high, usually people illegally download and copy films meaning they are not paying for them losing the company profit. With this adding onto the fact people dont go cinema to watch movies overall for the UK film industry is losing out on a huge amount of money. Two production companies are Buena Vista which is a subsidiary of Disney and Sony pictures, two production companies are DreamWorks and 20th Century Fox and two film exhibition companies are
3. Music
3.1. The music industry consists of companies and individuals that make money by creating and distributing music. The jobs that are in the music industry can range from music publishers, producers and engineers.The 3 major labels in the music industry are these corporate labels: Universal Music Group, Sony Music Entertainment and Warner Music Group. The live music arrangements and promotions are mostly controlled by LiveNation which is the largest promoter and music venue owner. Some issues that are occurring in this music industry are caused by the widespread digital distribution of music and since 2000 sales have dropped substantially while live music has become very popular.
4. Photo Imaging
4.1. In the photo imaging industry they employ around 43,100 people and 51% of these are based in the south of England with majority occupied in London/South East with 38%. The rest of the employees are distributed in Scotland, Wales, Northern Ireland and the remaining regions of England, with the highest concentrations in the South West reading in at 13% and the East of England - 12%. The photo imaging industry is made up of 8,700 companies which two thirds of which are sole trading or freelance photographers with an outstanding 68%. The rest of the companies are split up into image producers, photo retail, picture libraries, manufacturers and support services such as equipment hire and repair. As a whole 91% of companies employ five people or fewer. Meaning these companies are really small and this benefits them as they dont have to pay as much people because they only employ 5 or less people.
5. Radio Industry
5.1. It is hard to define what the radio sector is anymore as the range of platforms for distribution of audio content is increasing additionally media and telecommunications are converging across the board making it hard to define what the radio sector is because it is so broad. There are three types of radio which are the following: publicly-funded radio, commercial radio and the community and voluntary radio sector. NPR is a public funded radio station and produces and distributes news and cultural programming. A commercial radio that is well known is BBC Radio 1 and is a british national radio station and broadcasts popular music and news reports. Meridian Radio is a voluntary radio station for Queen Elizabeth Hospital, my dad volunteers to develop and produce his own radio show for the publics viewing. The radio sector is increasingly growing and now employs over 22,000 people more then terrestrial TV. Employers range in size from the BBC and larger commercial radio stations to community radio stations run mainly by volunteers. This shows the scale of how popular the radio sector actually is.
6. Tv Industry
6.1. There are nine terrestrial broadcasters which include the BBC, ITV, Channel 4, Five, S4C, SMG and UTV. They have a set of obligations that they have to meet for the public and for instance channel 4 has quite specific obligations to certain minority programming and educational programming where as the BBC has a right to inform the public of what is happening around the world - its in their agreement. There is approximately 300 cable and satellite broadcasters and this is dominated by international companies such as Sky Disney and Viacom. However, there are a huge ranch of broadcasting channels that target niche audiences to target a wide range of audiences and interests. There is also community TV companies which cater to local interests and have around 18 licences and this sector is growing rapidly. There are approximately 850 independent production companies and these make products such as X Factor and Big Brother which which is by far the largest part of the industry sector and these programmes are the best-known programmes on TV. They make around £100-200 million per year and employ thousands of people in the course of these year. In this day and age the TV sector is going through a period of rapid and distinctive change. There are 5 major challenges they are facing right now which are the following: Growth of broadband in the UK home, globalisation of the TV and video market, audience fragmentation and the move of advertising to the internet, audiences seek programmes rather than channels and schedules and the growth of the independent production companies. The fact that now 'content is king' is an issue for the industry is quite a big thing. I dont stick by a schedule and watch certain channels at certain times, I choose to watch the programmes that interest me on what ever channel it is on, this is a big issue as these broadcasters are loosing viewers as maybe they only have one interesting programme on a week, this means the audience (like me) will only watch that channel for the certain programme. This looses them profits meaning they cant create high quality programmes to entice the audience to watch their channel.
7. Publishing Magazines and News/Press
7.1. In the publishing industry there are a variety of sectors which are Books, Journals, Newspapers, News agencies, Magazine and business media, Directories and mailing lists and other information services. Its a very exciting time in the publishing industry as its rapidly changing as new technologies are creating a new generation of people. Theres such things as eBooks and Kindle that are available to the new generation, they can now read wherever they wish and this means its a very exciting time for publishers to reach to this new audience. The industry consists of a majority of smaller companies and 88% of these companies have less than 10 employees. However the 3% with 200+ employees have over half working in the industry on their payroll. The main location for the publishing industry is located in London and the South East. England follows then the South West, Scotland and North West. One of the main concerns in the publishing industry is the fact that its hard to fill vacancies as there is a skill shortage in fact its reported 36% are finding it hard to fill jobs. People dont have the right skills such as technical skills, strategic analysis of e-publishing, and creativity skills.