Four steps to referral and assessment for Assistive Technology
by Daniel Shugars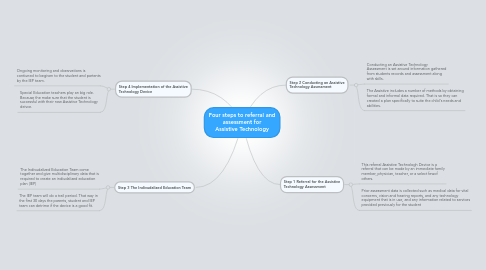 1. Step 3 The Indivudalized Education Team
1.1. The Indivudalized Education Team come together and give multidisciplinary data that is required to create an indiudalized education plan (IEP)
1.2. The IEP team will do a trail period. That way in the first 30 days the parents, student and IEP team can detrime if the device is a good fit.
2. Step 2 Conducting an Assistive Technology Assessment
2.1. Conducting an Assistive Technology Assessment is set around information gathered from students records and assessment along with skills.
2.2. The Assistive includes a number of methods by obtaining formal and informal data required. That is so they can created a plan specifically to suite the child's needs and abilities.
3. Step 1 Referral for the Assistive Technology Assessment
3.1. This referral Assistive Technologh Device is a referral that can be made by an immediate family member, physician, teacher, or a select fewof others.
3.2. Prior assessment data is collected such as medical data for vital concerns, vision and hearing reports, and any technology equipment that is in use, and any information related to services provided previously for the student
4. Step 4 Implementation of the Assistive Technology Device
4.1. Ongoing monitoring and obesrvations is contiuned to begiven to the student and partents by the IEP team.
4.2. Special Education teachers play an big role. Because the make sure that the student is successful with their new Assistive Technology deivce.