Interscope Records
by Donovan Jenkins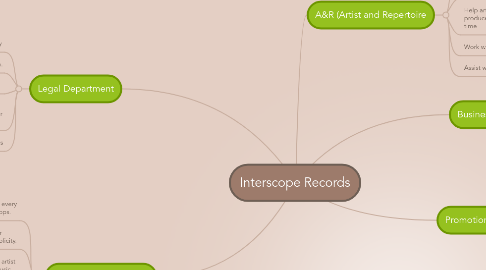 1. Business Affairs
1.1. Takes care of bookkeeping
1.2. Payroll
1.3. general finance
1.4. Deals with the business side of things
2. A&R (Artist and Repertoire
2.1. Expert in one genre of music
2.2. Finding talent in the genre there an expert in
2.3. Help artist find the right producer and schedule studio time
2.4. Work with artist to choose the best songs
2.5. Assist with marketing and promotion
3. Legal Department
3.1. responsible for contracts between artist and company
3.2. They do contract negotiation.
3.3. Any legal action such as lawsuits
3.4. Also responsible for contracts between record label and other companies
3.5. All other contractual obligations
4. Promotion Department
4.1. Build relationships with other companies such as radio, and etc.
4.2. Get the companies artists heard on radio
4.3. Makre sure to get videos showed in MTV, and VH1
4.4. Sale there artist to the public
4.5. Help artist perform in concerts
5. Publicity Department
5.1. Getting the word out about the new and established artist
5.2. Arranges articles on newspapers about the artist
5.3. Broadcast opportunities on radio stations
5.4. Broadcast opportunities on television
5.5. They pitch album reviews and also interviews
6. Marketing Department
6.1. overall marketing plan for every ablum the record label drops.
6.2. helps coordinates plans for promotions, sales, and publicity.
6.3. make customers aware of the artist record, and get high in the music charts.
6.4. building artists website, and get the artist out there in the social network sites
6.5. Producing point of sale such as brochures, advertisment and merchandise.