MTV Networks
by Nina Gibson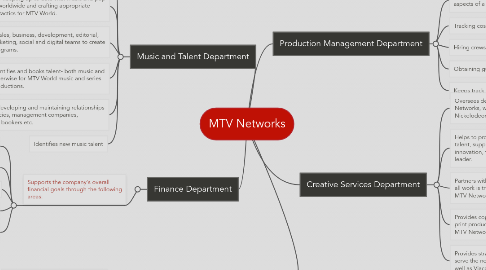 1. Music and Talent Department
1.1. Oversees the acquisition of new music content including music video's
1.2. Responsible for keeping up to date with music and pop culture trends worldwide and crafting appropriate strategies and tactics for MTV World.
1.3. Works with ad sales, business, development, editorial, production, marketing, social and digital teams to create and execute programs.
1.4. Identifies and books talent- both music and otherwise for MTV World music and series productions.
1.5. Responsible for developing and maintaining relationships with labels, agencies, management companies, publishers, talent bookers etc.
1.6. Identifies new music talent
2. Production Management Department
2.1. Oversees the business and financial aspects of a television production.
2.2. Tracking cost
2.3. Hiring crews and makeup artist
2.4. Obtaining guest releases and premise permits
2.5. Keeps track of writing budgets
3. Business and Legal Affairs Department
3.1. Supports the company by structuring, drafting, and negotiating a variety of arguments.
3.1.1. Real estate
3.1.2. Litigation and employment/employee benefits
3.1.3. Keeping track of corporate finance
3.1.4. Handles mergers and acquisitions
4. Creative Services Department
4.1. Oversees development of brand strategies for MTV Networks, which include such stations as MTV, Nickelodeon, Comedy Central and Spike.
4.2. Helps to promote the one-of-a-kind culture that values and fosters talent, supports diversity, and works continuously to merge innovation, technology, and entertainment to be a worldwide leader.
4.3. Partners with all MTV Networks' departments to ensure that all work is true to the cutting-edge tone an ethos that defines MTV Networks.
4.4. Provides copy, design, video, multimedia, mechanical, and print production on a diverse range of products in all areas of MTV Networks' departments.
4.5. Provides strategic creative solutions from start to finish to serve the needs of MTV Networks' corporate divisions as well as Viacom.
5. Finance Department
5.1. Supports the company's overall financial goals through the following areas:
5.1.1. Accounts Payable
5.1.2. Accounts Receivable
5.1.3. Credit and Collection
5.1.4. Financial Planning
5.1.5. Bank Reconciliation