Event Industry- Part 2
by Jasmine Wiggins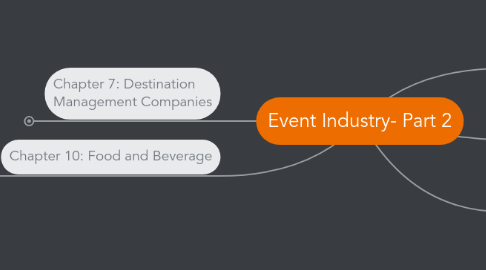 1. Chapter 6: Service Contractors
1.1. Definition Service Contractor -Anyone who provides a product or service for the exhibitors or show management during the actual show or conference -Historically referred to as "decorators" - Involved in every aspect of the show from move-in to running the show, to teardown and move-out
1.1.1. Service Contractors Responsibilities -Also called the Official Show Contractor or Exposition Services Contractor -Hired by event management and exhibitors -General duties include: *Installing and dismantling *Creating and hanging signage and banners *Laying carpet *Providing booth/stand furniture
1.1.1.1. General Service Contractor -Material Handling, or "Drayage." *Delivery of exhibit materials from the dock to an assigned exhibit space, removing empty crates, returning crates at the end of the event for re-crating, and delivering materials back to dock for carrier loading. *Drayage charge – the cost of moving exhibit materials within the hall, based on weight. Charge calculated in 100 pound units (or hundredweight, abbreviated cwt). Usually a minimum. *Drayage form – form for exhibitor requesting handling of materials.
1.1.1.1.1. General Service Contractor -Most important services offered is to hire and manage labor: *They have standing contracts with unions and tradespeople. *They know how to hire enough labor to move a show in and out based on its requirements. *They move the freight in and out of the facility. *They manage the flow of trucks in and out. *They oversee the storage of crates and boxes.
1.1.1.2. It is important to understand the various terms involved in drayage, and this may separate service contractor, or included with the general services contract for the show/exhibition.
1.2. Trade Unions Tradespeople may be involved in the show Learn of the local conditions involving trade unions. You may be limited in some basic work tasks to use the unions exclusively. Trade unions do serve valid purposes
1.2.1. Evolution of Service Contractor Changing to meet the needs of client and environment: Increasing their scope of services to center an exhibit on providing GSC services in-house Many facilities are providing GSC services in-house Realizing that exhibition is the driving force of trade shows Exhibitions are more specific about wants and needs Exhibitors want service contractors to help them get the best return on investment to justify expenses Competition between service contractors and EACs has encouraged more specialized, streamlined, and efficient services
1.2.1.1. Evolution of Service Contractor -Event marketing consulting/production *Corporate event programs *Private trade shows *Hospitality events -New Technologies *Floor plans * Material Handling *Web Site development -Expanding into event marketing -Developing: *Corporate events and programs *Multi-event exhibition programs *Private trade shows *New product introductions *Hospitality events *Multi-event exhibit programs *New product introductions *Touring expositions
1.2.1.1.1. Organization of Service -Contracting Company *Sales: typically divided or broken up into national sales and local sales or special events. Exhibitor sales will provide each exhibitor with an inventory of the supplies available and the cost of each item. *Logistics: this is the department that determines the flow and delivery of booth materials. *Drayage and warehouse: transportation of materials, booth, exhibits, etc., along with their temporary storage in the host city. *Event technology: this department oversees the planning and subsequent installation of the output of the production department. *Event services: exhibitor kits, on-site coordination, registration. *Production: woodworking, props, backdrops, signs, electrical, lighting, metal work, and so on. Accounting and finance: account receivable, accounts payable, payroll, and financial analysis.
1.2.2. For example, one GSC now provides exhibiting companies with the same service representative before the trade show opens, during the show, and after the show for reconciliation and billing.
1.3. The primary issue with trade unions is whether the community is located in a "right to work" state/province.
1.4. Exhibitor Appointed Service Contractors Work specifically with the exhibiting company through the year In the areas of: Installation and dismantle Décor Exhibit design and storage Same duties as specialty contractor but only for a specific exhibitor, not the show manager Exclusives services – those that can only be provided by an official service contractor appointed by show management Many facilities have very specific guidelines rewarding the use of EACs
1.4.1. Relationships Between Contractor and Event Organizers Show Organizers hire the General Service Contractor Hiring process begins with Request for Proposal (RFP) Partnership develops as show planning progresses General Service Contractor suggests marketing themes, design layout, floor plans, color schemes General Service Contractor and Show Organizers select specialty service contractors Maintain history of show development, production, and exhibitor needs
1.4.1.1. Resources in the Service Contractor Industry Canadian Association of Exposition Management (CAEM) Exhibit Display Producers Association (EDPA) Exhibition Services and Contractors Association (ESCA) Exhibitor Appointed Contractors Association (EACA) International Association for Exhibition Management (IAEM) National Association of Consumer Shows (NACS)
1.4.1.1.1. Future Trends Healthy relationships between service contractors and planners will continue to be crucial. Competitive pricing and flexible contracts will build lasting relationships with suppliers. Preferred supplier programs are gaining more and more importance. Service contractors can play a key role in the "greening" of meetings and its sustainability. Service contractors will develop relationships to produce meetings and events in multiple locations.
2. Chapter 7: Destination Management Companies
2.1. Introduction A DMC is a professional management company specializing in the design and implementation of events, activities, tours, staffing, and transportation utilizing extensive local knowledge, expertise, and resources. A DMC offers, but is not limited to, guest tours, special events within the meeting, VIP amenities, transportation, staffing for conferences, entertainment, décor, on-site registration, and housing.
2.1.1. DMCs work cooperatively with airlines, hotels, resorts, convention centers, alternative venues, and transportation companies. DMCs refer to the entire activities and services for a client as a "program." DMCs are also an important element in incentive travel.
2.1.1.1. Services Provided by DMCs: -Hotel and event venue selection -Creative itineraries -Special event and creative theme concepts -Event production -Sight-seeing options -Team building activities -Meeting support services -Transportation planning and delivery -Dining programs -Entertainers -Speakers -VIP services -Staffing services -Budgeting and resource management *Meeting and event planners work closely with DMCs to provide recommendations for destination resources that will best fit and satisfy the goals for the gathering.
2.1.1.1.1. DMC's vs. DMO's *DMO's work with interests of community and private companies that provide services. *DMC's get leads on new accounts from planners that have gone through a DMO. *Two or more DMC's provide proposals. *Responding to clients RFP's take considerable time.
2.1.1.2. DMC services facilitate metworking among attendees, celebrating accomplishments, or the introduction of new ideas and/or products.
2.2. DMC may also go by the title of professional congress organizer or group operator.
2.3. Business Structure of DMC's -Must have a strategically located office -DMC's must be legally insured for business liability and standard coverage (workers comp, auto insurance). -DMC's compete in a relationship driven industry and must keep up with contacts.
2.3.1. DMC Organization Independent Operator – Good when only a limited or specific service is needed for the success of the event. Multi-services Operator – Typically larger with established networks of service offerings. Often the operator has staff and offices in different locations to better suit their clientele. Destination Management Networks – pool resources to achieve economies of scale. In some cases, particularly with DMC networks, it makes sense to employ professional representation firms to call on particular market segments.
2.3.1.1. Business Model of DMC's Clients and Customers are defined as those who plan meetings, exhibitions, events, conventions, and incentive travel programs. The "Client" is a representation of the customer, company, or organization who purchases the DMC's services. The "Planner" is a person who represents the customer, company, or organization who works directly with the DMC on programs or events. The customer, client, and planner can be three separate entities or "one and the same."
2.3.1.1.1. DMC Clients -Corporate Accounts *National Sales Meetings *Training Meetings *Product Introductions *Dealer/Customer Meetings -Association Accounts *Industry Trade Shows (Food, Construction, Aircraft, etc) *Professional Trade Shows and Conferences *Fraternal Organizations (VFW, Lions, etc) *Educational Conferences *Political Conventions
2.3.1.2. Most meeting and event planners consider the DMC as a local extension of their own office while in the destination.
2.4. The DMC Process -The Sales Process *Business Opportunities ~Specialization `Association `Corporate meetings and events `Incentive travel `International travel *Identifying New Business Opportunities ~Sales and Marketing Plans `Industry trade show attendance `Community sales efforts and networking industry events `Utilization of representation firms `Newsletters, brochures, and collateral materials `Partnerships and memberships in DMC industry groups
2.4.1. -Request for Proposal (RFP) *Project Specifications *Research and Development *Creativity and Innovation *Budgets *Response Time *Competition -Project Specifications *Group size *Choice of hotel / meeting space allotment *Dates / Types of services required *Attendee demographics *Approximate budget *Past history / current deadlines
2.4.1.1. -Pricing *Total estimated costs for services *Staff time necessary before, during and after program *Amount of DMC resources necessary *Supplier choice and availability *Time of year and local business activity *Costs of taking staff off of market during season -Questions to ask *Revenue potential / value of future relationship *Amount of proposal work *How many companies and competitors are bidding *Success rate of you and your competitor *What are the odds of winning contract *How profitable will it be?
2.4.1.1.1. -Program Development *Move from active selling to program operations *Confirm with suppliers *Response to client changes and requests *Project manager is assigned *Staff, supervisors, tour guides, escorts are hired and briefed
2.5. Unlike hotels and resort, convention centers, and restaurants , a DMC does not require an extensive capital investment to start up and operate its business
2.6. -Production of events *Cocktail receptions and networking events *Breakfasts, luncheons, and dinners *Dining events at unique venues *Gala dinner events *Extravagant theme parties *Outdoor and indoor team-building events *Events for staff to meet and mingle *Events for sales staff to meet and mingle with clients *Events on final night of incentive program to "fire up." *Events to promote casual networking
2.6.1. -Wrap-up and Billing *Final invoice reflects the contractual agreements *Additions or deletions indicated *Try to get planners approval of billing on site *Follow-up evaluations of DMC services by client *Debriefing of staff
2.6.1.1. Finding and Selecting a Destination Management Company -Careful Considerations: *How long the company has been in business *What are the experience levels of the management and staff *What are the personalities of the management team *Is the DMC an affiliated member of a professional organization *Is the DMC adequately bonded *What is they quality of their references
2.6.1.1.1. Destination Management Company Resources -DMC's provide recommendations on: *Products *Reputation *Experience *Relationships *Suppliers and Vendors *Credit and Buying Power
3. Chapter 8: Special Events Management
3.1. Definitions Relating to Special Events Special Event – A one-time event that is staged for the purpose of celebration; a unique activity. Special Events Company – A company that may contract to put on an entire event or parts of one. Special Events Production Company – May present special effects and theatrical acts, may hire speakers as part of their contract.
3.1.1. It all Begins With a Relationship Planner must understand goals, needs and desires of the client. Must work within parameters of the location. Must have clear lines of communication. Examples: Art festivals, Film festivals, etc Need understanding of community infrastructure, merchandising and promoting, developing sponsorships, and working with media. A planner and client must have clear lines of communication between.
3.1.1.1. History and Background -Disney Imagineer – Robert Janni, invented the Main Street Electric Parade as a "special event." -Special Events include: *Civic Events ~Founders Day *Mega-Events ~Olympics ~World's Fair *Festivals and Fairs ~Community event ~Marketplace of ancient days *Expositions ~Where the suppliers meet buyers ~Education *Sporting Events ~Super bowl ~World Series *Social Life Cycle Events ~Wedding ~Birthday *Meetings and Conventions ~Political National Convention ~National Restaurant Association convention in Chicago *Retail Events ~Long-range promotional event ~Store opening *Religious Events ~Papal Inauguration ~Easter *Corporate Events ~Holiday parties ~Annual dinner
3.1.1.1.1. Planning Tools -Flow Charts and Graphs: a flowchart scheduling an event's activities helps guide attendees and guest and makes the execution of the event flow smoothly. -Set-up and Break: these provide the event manager with an opportunity to determine tasks that may been overlooked in the initial planning process. -Policy Statements: developed to guide the decision-making process. *Human resources *Sponsorships *Security *Ticketing *Volunteers and paid staff
3.2. A special event can bring organizations together for the purpose of fund-raising, establishing a city or community as a local, regional, or national destination, and to stimulate the local economy.
3.3. Merchandising & Promotion of Special Events -Promotional Mix Models *Advertising *Direct Marketing *Interactive/Internet Marketing *Sales Promotion *Publicity/Public Relations *Personal Selling -Each of these elements of the model has a distinctive role in attracting an attendeeto the special event. Each takes a variety of forms, and has certain advantages.
3.3.1. Distinctive Roles of Promotion Mix Models -Advertising – Any paid form of non-personal communication about an event. *Direct Marketing – A form of advertising that communicates "directly" with target customer with intent of generating a response. -Sales Promotion – Marketing activities that provide value or incentive with the intention of stimulating sales.
3.3.1.1. Distinctive Roles of Promotion Mix Models -Publicity: is the component that is not directly paid for, nor has an identified sponsor. *Not directly paid for, nor has an identified sponsor. -Social Media: has exploded as a preferred strategy for promotional. *Viral marketing *Facebook *Blogging *Linked In *Ning *Twitter
3.3.1.1.1. Distinctive Roles of Promotion Mix Models -Public Relations *Purpose is to systematically plan and distribute information in an attempt to control or manage the image or publicity. -Personal Selling *Person-to-person attempt to persuade
3.4. Media Coverage for Special Events -Generating media coverage (television, radio, print) is the most effective way to attract attendance -Understand what makes for good TV, radio, or print and what does not -The biggest way to get coverage is through publicity – "free" promotions offer credibility that advertising cannot
3.4.1. Working with the Media -Schedule earlier in the day to make evening news -Friday is best day of the week – slower news day -Saturday and Sunday may be limited due to smaller news crew -Provide Advance notice: *Three days via press release – phone follow-up *Seven days for interviews
3.4.1.1. Understanding The Target Market -Know the customer/consumer -Know the consumer's options and choices *Higher costs *Higher quality -Define the audience -Direct planning, program, schedule, and expenditures toward that group -Demonstrate the positive economic impact
3.4.1.1.1. Preparing for the Special Event -Secure a venue -Obtain permits *Parade, liquor, sanitation, sales, fire safety -Involve government agencies *Use of space, health department, security, and police *Work in person as much as possible -Involve the Health Department if food / beverage -Meet all parties in person -Secure all vendors and suppliers -Recognize complexities of dealing with public sector
3.5. Preparing for the Special Event -Develop Basic Business Support Functions *Financial Accounting Systems ~General ledger, accounts payable and receivable, reporting and payroll *Human Resource Support – paid and volunteer ~Recruiting, personnel records, job classifications/descriptions *Accommodations ~Talent, media, officials, support staff, audience/guests *Registration and Ticketing *Scoring and Results
3.5.1. The Special Event Budget -Rental Costs *Venue and Space *Equipment -Security Costs *Public (police) *Private Security Firms *Equipment - detectors
3.5.1.1. The Special Event Budget -Production Costs *Entertainment/Talent *Audio-visual, Lighting, and Sound *Utilities – Electric, Water, Gas *Décor, Signage, Banners, Pipe and Drape, Carpet -Labor Costs *Staff, Greeters, Registration, Ticketing *Union contractors, Carpenters, Electricians, Riggers -Marketing Costs: the costs associated with attracting attendees make up a large portion of the budget. -Talent Costs: before an event, it is essential that a planner do a projection of all costs and revenue. Any discrepancies or new cost should be handled at the point the occur. There should be no cost surprises at the end of an event.
3.5.1.1.1. Breakdown of the Special Event -Participant - interviews -Media and the press – ask about coverage -Staff and management – involve them in feedback -Vendors – how can the event be improved? -Submit documentation as needed to insurance companies and government agencies -Final report
3.5.2. Profitability requires understanding the six key elements involved in the cost of an event. The basic items that make up the costs for a special event include the categories that follow.
4. Chapter 9: Planning and Producing MEEC Gatherings
4.1. Setting Objectives Creating Meeting and Event Objectives Objectives are the basis of Planning Process Objectives should be -Clear -Concise Measurable Objectives drive Program Planning Focus on attendees What will be their Return on Investment (ROI)?
4.1.1. Setting Objectives Who is the Group? Why are they here? What is the Objective of the meeting? -Impacts virtually all of meeting components *Site selection *Food & Beverage *Transportation *Room Layout and Set-Up *Program Content -Three Reasons People Attend Meetings *Education *Networking *Conduct Business
4.1.1.1. Importance of Education -Return on Investment (ROI) and expectations of attendees *Event (education) must be justified *Meaningful program content *Attendance based on quality of event/education -Technology advances provide additional challenges and opportunities *Web and video-conferencing *Distance learning *Virtual tradeshows *CD-ROMs and DVDs of presentations
4.1.1.1.1. Professional Certifications -Associations provide current information and continuing education in a particular field *Continuing Education Units (CEUs) ~Lead to certification or licensing ~Demonstrates level of competency in the profession *Good source of revenue through application and testing fees, study materials, re-certification -Certified Meeting Professional (CMP) *Most recognized designation in meeting and conventions *Administered by Convention Industry Council (CIC)
4.1.1.2. A key component of MEEC is to provide an environment conducive to education.
4.2. A key point is that program planning, especially for association meetings, begins months or years before the actual event.
4.3. Developing Smart Objectives Objectives Need to Be S.M.A.R.T. -S-pecific: only one major concept is covered per objective. -M-easurable: must be able to quantify or measure that you have, or have not, achieved the objective. -A-chievable: is it possible to accomplish the objective. -R-elevant: is the objective important to the overall goals of the organization. -T-ime-based: the objective should include when the objective must be completed.
4.3.1. Developing Smart Objectives -Examples of Meeting Objectives *Generate attendance at specific levels *Create a program by a certain date *Conference for specific attendees *Complete designs, plans or graphics for meeting by a certain time
4.3.1.1. Site Selection First establish meeting objectives Determining site is typically a group decision Factors to consider: -Rotation of location -Trade Publications -Location of majority of attendees -Cost for planner and attendees -Mode of travel -Type of hotel or meeting facility *Conference centers designated to hold meetings by International Association of Conference Centers (IACC)
4.3.1.1.1. Request for Proposal (RFP) Disseminated to preferred sites (often via Internet) -Submit directly to hotels and facilities -Submit to local CVB to distribute to properties -Submit to Destination Marketing Association International Web site RFP allows hotels to examine economic impact of meeting and decide to create a bid Fam Trips are another method to promote a destination
4.3.1.2. Factors to consider in site selection are the rotation of locations and the location of the majority of the attendees.
4.4. Budgetary Concerns Step 1 - Establish goals -Should incorporate the SMART approach -Set by planner, association, corporate mandate -Determine financial expectations of event -Three possible financial outcomes: *Break-even *Profit *Deficit
4.4.1. Step 2 - Identify Expenses -Indirect cost *Overhead or administrative items -Fixed cost *Expenses incurred regardless of number of attendees -Variable cost *Cost based on the number of attendees
4.4.1.1. Step 3 – Identify Revenue Sources -Estimating expenses and revenues can be accomplished b first calculating a break-even analysis- in other words, how much revenue must be collected to cover expenses
4.4.1.1.1. Cost Control Cost controls are tool for monitoring budget Make sure facility knows who has signing authority -The person from the organization that can make additions or changes to the order Accurately estimate amount of meals ordered Outsourcing rather than keeping someone on staff full time
4.5. Control in MEEC Designing and Implementing a Survey -Simple, easy to complete -One concept per question -Avoid professional jargon, acronyms, abbreviations -Easy first; difficult, personal last -Personal or proprietary in ranges -Keep anonymous -Include meeting contact information; enables mailing -Number all questions -Readable – design fonts, graphics, and colors kept visibly simple -Identify speakers by name -Station someone to collect forms or have clearly marked collection boxes
4.5.1. Program Implementation Factors to Consider -Program type -Content, including track and level -Session scheduling -Speaker arrangements -Refreshment breaks and meal functions -Ancillary events -Evaluation procedures
4.5.1.1. Program Implementation Program Types -General or Plenary Session: a general or plenary is primarily used as a venue to communicate with all conference attendees at one time in one location. -Concurrent Session: is a professional development or career enhancement session presented by a credentialed speaker who provides education on a specific topic in a conference-style format. -Workshop or Break-Out Sessions: are more intimate sessions that offer a more interactive learning experience in smaller groups. -Roundtable Discussion Groups: are small, interactive sessions designed to cover specific topics of interest.
4.5.1.1.1. Program Implementation Program Content -Average attendee – 3 to 6 sessions a day -Developed months in advance -Must be specifically designed, not a "one-size-fits-all" model. -Create tracks and levels -Speakers can design session special
4.6. Refreshment Breaks and Meal Functions -Important to provide breaks -May be more productive to keep attendees in facility rather than eating outside -Refreshment breaks foster connections -Cocktail receptions and dinners – be careful with alcohol consumption
4.6.1. Speaker Arrangements -Volunteer speakers – reduce expenses, are knowledgeable, may increase attendance, build relationships. -Volunteer speakers also may not adequately prepare, not be a good presenter, may have personal agenda. -Paid speakers – more reliable
4.6.1.1. Speaker Arrangements Speaker Guidelines Should Include: -Background information -Date and location of meeting -Special events speaker may attend -Date, time, location of room -Presentation topic and duration -Demographic and estimate of attendees -Room set and A/V availability -Request for short biography -Names of other speakers -Remuneration policy
4.6.1.1.1. Speaker Arrangements Speaker Guidelines Should Include: -Dress code -Location of speaker ready room -Instructions for preparing final abstracts -Instructions / format for handouts -Transportation and lodging information -Maps and diagrams of hotel or facility -Deadlines for all materials to be returned -Guidelines for speaking to group -Presenter Contract -Tape, CD-ROM and internet waiver
4.7. Managing Speakers On Site -Especially important at large events -"Pre-convention: session activities such as on social media (Facebook, Twitter, etc) Ancillary Activities
4.7.1. Registration -Valuable data gathering before meeting -Registration fees: for association meetings, member typically receive a discount of the cost of registration. -Pre-registration:: is the process of registering attendees weeks or months is advance of an event. This benefits the planner in several ways. It provides information about who will be attending a meeting or event. It also can help the meeting planner determine room capacities for educational sessions and can help the session speaker to estimate the number of people who may attend a session. -On-site registration: registration is one of the areas often outsourced by the meeting planner, especially for large events. It is a complex process the requires much training on the part of the registration attendants.
4.7.1.1. Housing -Attendees arrange for their own room -Group rate is arranged at multiple locations -Meeting sponsor handles all housing arrangements -Third party Housing Bureau
4.7.1.1.1. Meeting and Event Specification Guide -APEX Initiative -Specifications Guide three parts: *Narrative: general overview of the meeting or event. *Function Schedules: timetable outlining all functions that compose the overall meeting or events. *Function Set-up Orders: specifications for each separate function that is part of the overall meeting or events. This is used by the facility to inform setup crews, technicians, catering and banquet staff, and all other staff regarding what is required for each event.
4.7.1.2. Having attendees make their own hotel reservations is the easiest method. The last three options require that the meeting planner establish a rate for all attendees.
4.8. Ancillary Activities must be provided, and it is important that they are appropriate to the age, gender, and interests of the guest.
5. Chapter 10: Food and Beverage
5.1. Introduction Caterer -Foodservice vendor, often specializing in banquets and theme parties -Exclusive food and beverage provider at a facility Food & Beverage Functions -Impacts overall impression of event -Important component of experience -Major expense of meeting -Importance of cuisine must be emphasized
5.1.1. Questions to Ask -Who will I work with planning the event? -Who will be on site during the event? -When can I expect your written proposal? -What is your policy regarding deposits and cancellations? -When is the final payment due? -Are there other charges for setup, delivery, overtime, etc.? -Do you take credit cards? Do you take personal checks? -When must I give you my final guarantee? -What percentage is overset above the guarantee? -What is the sales tax, and what are your gratuity and/or service charge policies? -What are the chef's best menu items? -What are your portion sizes? -Will wine be poured by the staff or placed on the tables? -How many staff will be working the event? -What are your substitution policies for vegetarian plates and special meals? -Could you pass wine or champagne as guests arrive? -How many bartenders will be used during the cocktail hour? -Do you provide table numbers? -What size tables do you have? -What are the options for linen, chair covers, china, stemware, flatware, and charger plates? -What decorations do you provide for tables, buffets, and food stations? -Are you ADA compliant? -Can you provide a podium, mike, and overhead projector?
5.1.1.1. Questions to Ask (Continued) -How many staff will be working the event? -What are your substitution policies for vegetarian plates and special meals? -Could you pass wine or champagne as guests arrive? -How many bartenders will be used during the cocktail hour? -Do you provide table numbers? -What size tables do you have? -What are the options for linen, chair covers, china, stemware, flatware, and charger plates? -What decorations do you provide for tables, buffets, and food stations? -Are you ADA compliant? -Can you provide a podium, mike, and overhead projector?
5.1.1.1.1. Catered Events One host or sponsor One bill -Same meal (except special dietary consideration) -Mandatory gratuity: 15% to 22% *Distribution varies widely among companies -Can be held at any location *Off premises *On premises -Planner locked into facility catering department
5.2. The quality of the food and beverage functions can impact the overall impressions of a meeting.
5.3. Off Premise -Outsourced *Destination Management Companies (DMC) ~Local company, knows local: venues, caterers, suppliers ~A one-stop shop for the planner -Challenges *Transportation ~Additional costs – additional coordination *Weather ~Always a challenge ~Back-up plans required
5.3.1. On Premise -Conference Centers *Complete Meeting Package (CMP) includes: ~All meals, guest rooms, and AV included in one price per person ~Continual breaks ~Cafeteria-style service ~Special private banquets upon request -Convention Centers and Stadiums *Concession sands *Foodservice generally contracted out ~Often have exclusive contracts *Restaurants *Special event catering
5.3.1.1. Catered Events - Hints -Conduct site inspection -Choose menu items appropriate to your group *Age/Gender *Profession/Ethnic background *Purpose of event -Custom menus *Skill level *Product availability -Stay on top of food trends
5.3.1.1.1. Types of Functions -Continental Breakfast -Full, Served Breakfast -Breakfast Buffet -Refreshment Breaks -Brunch -Buffet Lunch -Box Lunch -Full, Served Lunch -Receptions -Dinner Buffets -Full, Served Dinner -Off-Site Event -Theme Party
5.4. For an off-premise event, the first step for a meeting planner would be to create an RFP and send it to event managers or caterers in the area. The RFP would include basic information, such as the objective of the event, information on the company, workable dates, number of attendees and approximate budget.
5.5. Menus Always popular ideas: -Seasonal Food – locally grown, in season, flavor at peak -Ethnic Foods – add Asian, Middle-Eastern and South American -High Quality Ingredients – name brands, specialty items -Fresh Ingredients – no frozen, canned, or dried -New/Unusual Ingredients – from exotic far away places -Safe Foods – organic or pollution/pesticide free -Creative Presentations – if it looks good, it tastes good -Excellent Service – prompt, friendly, courteous service
5.5.1. Food Consumption Patterns -General Guidelines *Know the history of the group *Know the demographics of the group ~Age/Gender ~Profession ~Socio-Economic background
5.5.1.1. Food Consumption Patterns -General Guidelines *Know the purpose of the food function ~Reunion and networking ~Opening to another session ~Working session ~Refreshment/Entertainment *Guests generally eat more during the first hour of a reception ~Average seven hors d'oeuvres the first hour
5.5.1.1.1. Menu Restrictions -Servers should know the ingredients and preparation method of all food items *Allergies *Diet and health concerns *Religious restrictions -Vegetarians *Type 1 – no meat but will eat poultry and fish *Type 2 – "lacto-ovo" - no meats, poultry, or fish ~By-products OK – cheese, eggs, milk *Type 3 – "vegans" no animal source at all ~No by-products, including butter and honey
5.6. Amenities/Gifts -Match the gift to the person *Note their lifestyle or restrictions *Provide something they will like or use -Avoid *Cut fruit and cut cheese/Unpackaged crackers -Consider alternatives *Pretzels and beer/Cookies and milk *Room service gift certificate *Bottled water *Spa massage or gift shop certificate
5.6.1. Beverage Events -Refreshment Breaks *A part of the educational programming *Recommend 30 minutes ~Re-focus attention ~Personal business – phone calls, e-mail ~Mental rest, stretch, and restroom *Non-alcoholic drinks and snacks -Receptions *A part of Special Event Programming *Socializing and networking *Alcohol and food options
5.6.1.1. Beverage Events -Reasons for a Beverage Event – Socializing and Networking -Categories of Liquor *Beer – soft spirit *Wine – soft spirit *Spirits – hard liquor ~Well Brands – less expensive "house" liquor or brand ~Call Brands – mid-range price, specially requested ~Premium Brands – high-priced, high-quality "Top Shelf"
5.6.1.1.1. Selling Methods -Categories of Liquor *Per Bottle: common for open bars and poured wine at meal functions. *Per Drink: also called "consumption bar." *Per Person: this method is more expensive for the planner but involves less work and hassle. *Per Hour: this method often includes a sliding scale, with a higher cost for the first hour. *Flat Rate Charge: the host pays a flat rate for the function based on the assumption that each guest will drink two drinks per hour for the first hour and one drink per hour thereafter. *Open Bar: guest do not pay for their drinks; a host or sponsor pays for them. *Cash Bar: guest buy their own drinks, usually purchasing tickets from a cashier o exchange with a bartender for a drink. *Combination Bar: a host purchases tickets and gives each attendee a certain number (usually two). *Limited Consumption Bar: pricing by the drink. Cash register used.
5.7. The meeting planner may also offered the opportunity to send in-room amenities to meeting VIPs.
5.8. Hospitality Suites Places for attendees to gather outside of established meeting events and times Sponsored by: -Hosting organization -Chapter of the organization -Exhibitor -Non-exhibiting company -Allied association -Candidate for office in the organization
5.8.1. Hospitality Suites -Times *Morning: continental breaks *Afternoon: snacks and sodas *Evening: Liquor and snacks -Space Assignments and Approval *Control space so competitors are not next to each other *Organization gives approval for suite *Guard against "Underground" Suites – not assigned, approved, or known about
5.8.1.1. Liquor Laws -Vary from state to state and determine: *Times of sale *Days of sale *Size of bottles sold -Four types of illegal sales *Sale to minors *Sale to intoxicated persons *Sales outside of legal hours *Improper liquor license
5.8.1.1.1. Rooms -Setups *Critically important *Affects: ~Flow of service, F&B, mood of guest *Includes: ~Includes order and placement of tables, chairs, décor, equipment, audio-visual, staging, and dance floor *Communicate exactly what to do through: ~Banquet Event Orders (BEO) ~Room layout software programs
5.8.1.1.2. The way the room is set up is a critically important area to be familiar with. How the room is set up can affect the flow of service, the amount of food and beverage consumed, and even the mood of the guests.
5.8.1.1.3. Room Rental Charges If the event is part of meeting with a room nights, it is easier to negotiate away the room charge from the hotel.
5.8.1.1.4. Aisle space: aisles allow people to move easily around the room without squeezing through chairs and disturbing seated guests
5.8.1.1.5. Tables: remember to deduct space taken up for furniture before calculating the number of people.
5.9. Tablescapes -Tabletop is the "stage" of the event *Centerpiece: do not block sight lines across table *Cover: place setting including flatware, china, glassware *Napery: all table linens: tablecloths, napkins, overlays, table skirting *Other decor
5.9.1. Future Trends Gradual and sustained efforts to embrace and integrate "green" products and practices. More focus on big / bold flavor profiles. Trend toward fresh, local / specialty foods. Trend toward clean / slick / simple presentations and efficient service.