Admissions Process (Post Prequal)
by Bryant Hamilton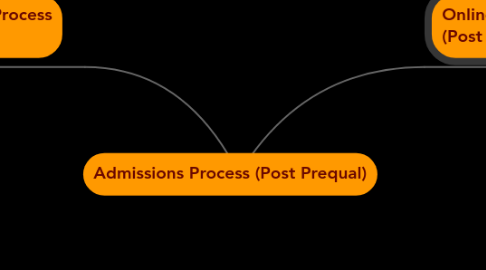 1. Online Admissions Process (Post Prequal)
1.1. Days 1-5
1.1.1. Loose Script for New Verified Leads
1.1.1.1. The First 5 Minutes: Connect Icebreaking, Rapport Building, Branding and SOP
1.1.1.2. Learn "Their" story: Collect We need to really understand the student's story. Where they have been, where they are today and where they hope to be in the future. (Past, Present, Future)
1.1.1.2.1. "Am I included?": Make the conversation about the student. Don't just talk about yourself.
1.1.1.3. The "Student's Journey" Present Relating the student's story back to them; Past , Present and then including Full Sail as a guide to reach their Future goals
1.1.1.4. "Do I belong?": Confirmation Verbalize why the Student is a good fit Have student verbalize why they are a good fit
1.1.1.5. I'm here to help: Next Steps Walk Student to through next steps (if a good fit, to the app)
1.1.2. Bullet Points
1.1.2.1. Evaluation Period & OSL
1.1.2.1.1. Another great benefit will be your Student Liaison, which is like a personal coach to help you through your first class and beyond. Since you're applying for online undergraduate courses, the first class is offered as an "evaluation" period. This gives you an opportunity to experience our education first hand and to make sure that it works well with your lifestyle and schedule. Your Student Liaison will assist in confirming you're on the right educational track throughout your first class and to make sure that it's a perfect fit. How does that sound? What is an evaluation period? Our Evaluation Period gives you three weeks to experience the University first hand. You'll get to know our online classroom, test your time-management skills and explore our student resources. The first class is for credit and once completed, your financial aid package will be applied allowing you to progress into your major. If additional questions: Once your application and FAFSA are complete, a member of our Financial Aid will be able to answer your questions in more detail.
1.1.2.2. Make Recommendation
1.1.2.2.1. Thank you very much for sharing so much of your story. Based on_______, I believe that you would be a great fit for the University. How do you feel about everything? GREAT!!! Well based on our conversation I am going to recommend you for Admissions and the (start date)!!!
1.1.2.3. Tuition/FA
1.1.2.3.1. Now let's discuss how you plan to pay for your education. Financial aid is the most common way that our students cover tuition. Did you plan on using FA? Great!!! Well the total investment for the first academic year is _______. This includes books and all materials. If you qualify, the government will award funding each academic year and that will be applied to the remaining cost of tuition. (In other words, if you qualify, you're going to use your Financial Aid to cover one academic year at a time; first Freshman, then Sophomore, then Junior ...and so on.) To determine how much aide you qualify for you're going to complete the FAFSA or Free Application For Student Aide. Once you complete the FAFSA, a member of our FA Team will be able to provide a breakdown of how much of your tuition will be covered by Pell Grants (which you don't have to pay back) and Stafford loans (low interest Student loans) if you qualify. In addition, we currently have up to $9500 in scholarships available to eligible Students to help cover any remaining tuition balance. Does that make sense? Great!!! Well here is how our process works, I am going to help you complete the application today and get you set up with the FAFSA. This way you'll have an opportunity to review your complete FA picture and ensure that everything works for you.
1.1.2.4. Application
1.1.2.4.1. Now, I am going to request that your application fee be included in financial aid. This way you are not out any funds up front, while determining your financial aid benefits and overall funding picture. OK? Do you have your email up in front of you? I'm forwarding you an email with a special link that contains the application. I'd like you to work on this now; it should only take a few minutes. Complete the application and on the last page, click the submit button. Let me know when you reach that page. (If Student cannot complete the application, secure a commitment to doing so in the future). (*Attempt to also secure GIPI)
1.1.2.5. Next Steps
1.1.2.5.1. Now, I am forwarding you a second email outlining the information we discussed today and a link to the FAFSA. You'll want to complete that as soon as possible so that our FA team can review your FA picture. You can also expect one of my colleagues to reach out to answer any questions that you may have as your proceeding through the next steps of the FAFSA. Thank you again for sharing your story with me. I am excited that you're taking the first steps to follow your passion. Please don't hesitate to reach out with any questions.
1.1.3. Complete Interview Checklist
1.1.3.1. First, create the Complete Interview Interaction Log/Activity. If student completed app with you on the phone: Walk them to the FAFSA Site. Fill out D/I Window accordingly. If military student: Create the Military Information activity. Email Student applicable Post Interview Email template. (Located in the Agent-X folder in the O Drive.) Add student to your Hot list.
1.1.4. Voicemail Scripting
1.1.4.1. Generic Pending Interview Voice Mail
1.1.4.1.1. Hi ___! This is ___ from Full Sail University. I'm part of your Online Admissions Team. Our number here is 407-679-6333. We wanted to speak with you about your interest in our ____ Degree Program. Please give us a call back, any time before 9PM EST, and ask to speak with a member of your Online Admissions Team. Once again our number is 407-679-6333. Thanks, and have a great day!
1.1.4.2. 24 Hour Voice Mail
1.1.4.2.1. Hi ____! This is____ from Full Sail University. I'm part of your Online Admissions Team. I see you had a conversation in regards to our DEGREE NAME HERE,I wanted to see how you felt your interview went. It looks like you were recommended for enrollment so congratulations! I also wanted to make sure you received our email. Give us a call back any time before 9 PM Eastern Standard Time at 407-679-6333, again our number is 407-679-6333.Thanks and have a great day!
1.1.4.3. Follow Up Voice Mail (For Students who were already interviewed/Future Interests)
1.1.4.3.1. "Hi ___, we understand you expressed some interest in our programs and you're doing your research. We want to be able to provide you with a complete financial picture so you can make an educated decision regarding your college future. I'd like to assist you and help get you in contact with our Financial Aid Dept so that we can run through your potential benefits and determine the next best step for you. Please call us back at 407-679-6333 so we can talk to you about next steps. Again, that's 407-679-6333. Thank you!"
1.1.4.4. Application Received Voice Mail
1.1.4.4.1. Hi ____, this is ____ . I'm part of your Online Admissions Team here at Full Sail University. Our number is 407-679-6333. Congratulations! I'm calling because we have received your Application for enrollment for our____program! We wanted to go over the next steps in your enrollment process. Please contact us anytime before 9 PM EST and ask to speak with anyone on your Online Admissions Team. Once again our number is 407-679-6333. Thanks and have a great day!
1.1.5. Dispositions
1.1.5.1. Complete Interview Activity
1.1.5.1.1. Call - Interview Completed Subject Line: OAG Interview or MOAG Interview Comments: App Rec'd: Y/N Degree: Story: Military: Y/N Obstacle: Start Date: Time Commitment: Recommendation: Will have computer/internet: Open to private loans/FA covered:
1.1.5.2. Military Info. Activity
1.1.5.2.1. Documentation of General Info - Info Documented Subject Line: Military Info Comments: Current Military Status: Have you used benefits before? Do you know what benefits you want to use? Best time to reach?
1.1.6. School Status/Closing Activities
1.1.6.1. School Status
1.1.6.1.1. One of the following should be used after an interview; depending on how far you are able to make it through the conversation and the Student's interest level. A. Interviewed: to be used when 1. Anytime we get through at areas of focus, time commitment, and the tuition portion in the presentation 2. We get through the above section of the presentation and the Student is unsure if they want to apply. B. Pending Applicant: to be used when 1. We interviewed them, we've discussed areas of focus, time commitment, and tuition/FA and the student is READY TO APPLY TODAY OR SOON. Bottom Line: Both of these Status's are considered an "Interviewed" Student. The distinction just helps us to determine which is more ready to apply.
1.1.6.2. Closing the Activity
1.1.6.2.1. Ensure the activity is closed as "Interviewed" when making it at least to the areas of focus, time commitment, and tuition/FA info part of the presentation. This is the most important field in determining who completed the interview with the Student. We should use this regardless of the Students interest level. The criterion is strictly based on how far we make it through the presentation. If we divulge the majority of the info the Student needs to make a decision, then we should close the activity as interviewed.
1.1.7. Flow Chart for Interview/Pending Applicant's
1.2. Days 6-20
1.3. Days 21-55
2. Campus Admissions Process (Post Prequal)
2.1. Days1-5
2.1.1. Loose Script for New Verified Leads
2.1.2. Bullet Points
2.1.3. Complete Interview Checklist
2.1.4. Voicemail Scripting
2.1.5. Dispositions
2.1.6. School Status/Closing Activities
2.2. Days 6-20
2.3. Days 21-55