How influential was the Roman Catholic Church in medieval Europe?
by Elijah Isaac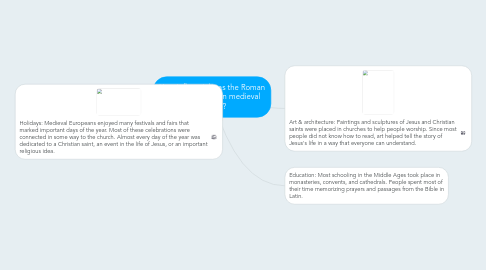 1. Holidays: Medieval Europeans enjoyed many festivals and fairs that marked important days of the year. Most of these celebrations were connected in some way to the church. Almost every day of the year was dedicated to a Christian saint, an event in the life of Jesus, or an important religious idea.
2. Education: Most schooling in the Middle Ages took place in monasteries, convents, and cathedrals. People spent most of their time memorizing prayers and passages from the Bible in Latin.
3. Art & architecture: Paintings and sculptures of Jesus and Christian saints were placed in churches to help people worship. Since most people did not know how to read, art helped tell the story of Jesus's life in a way that everyone can understand.