Green Infrastructure as a Building Service (meeting 21/9/2015)
by Sara Kassam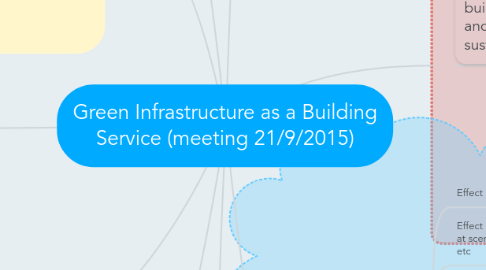 1. Meeting Attendees
1.1. Apologies: Munish Datta (M&S), Richard Sabin (Biotecture), Angus Cunningham (Scotscape), Mitch Cooke (Greengage)
1.2. Alan Fogarty, Cundall
1.3. Susie Diamond, Inkling LLP
1.4. Briony Turner, ARCC Network
1.5. Shelley Mosco, University of Greenwich
1.6. Sara Kassam, CIBSE
2. AIM: This taskgroup aims to bring together a group of experts to provide leadership and knowledge on green infrastructure in a building services context. It will gather, inform and disseminate practice in this area, looking at the role of building-level green infrastructure in a wider setting, creating greater awareness and interest in the issue, and link to those involved in making cities more sustainable and resilient.
2.1. OBJECTIVE 1: To broaden knowledge and awareness of the strategic and practical issues around the integration of green infrastructure into buildings.
2.2. OBJECTIVE 2: To use all communication channels including social media to disseminate useful, applicable knowledge in an accessible way.
2.3. OBJECTIVE 3: To seek collaborations with other groups, networks and societies within and outside of CIBSE.
2.4. OBJECTIVE 4: To interface with research community, working with relevant bodies to 'translate' research into practical advice.
3. Research
3.1. Green Wall Centre, Staffordshire University
3.2. Green Roofs & Living Walls Centre, University of Greenwich
3.3. Green Roof Centre, University of Sheffield
3.4. Craig Knight, University of Exeter (psychology of working environments)
4. Industry contacts
4.1. Richard Sabin, Biotecture
4.2. Angus Cunningham, Scotscape
4.3. Mark Laurence, Vertology
4.4. Armando Raish, Treebox
4.5. Paul Garlick, Mobilane
4.6. Alistair Moore, Hedera Screens
4.7. Scott Anderson / Steve McIntyre, ANS Global
4.8. Kevin Hobbs, Flora Fanatica
4.9. Nathan Cook, MMA (wire mesh system)
5. Who else should be involved?
5.1. RIBA
5.2. RICS
5.3. Landscape Institute (links with external landscape architecture)
5.4. BIFM (maintenance of systems)
5.5. Decision makers who commission use of plants (HR, property, projects teams etc)
5.6. A Studio Architects?
6. KEY ISSUES
6.1. Effect of plants on productivity/wellbeing
6.2. Effect of plants on HVAC systems / how to look at scenarios, model benefits, simulate impacts etc
6.3. Microclimate modelling, tall buildings in cities, urban heat islands and heat canyons
6.4. Maintenance of living walls
6.5. Irrigation, grey water recycling etc
6.6. Particulate matter PM10s, VOCs, air purification, winter garden approaches
6.7. Effects on business / revenue / marketing
6.8. Which plants are best for which people/climates/environments/seasons
6.9. Which plants are good for biodiversity
7. INTERESTING PROJECTS
7.1. Edible walls
7.2. Hanging urban farms
7.3. Algae walls (Martin Pauli, Arup)
7.4. Incredible Edible, pop up farms
7.5. Links with biodiversity enhancements e.g. NUS Macadam House (most clients choose evergreen rather than deciduous)
7.6. Lots of research on the effects of greenery in airports exists
8. ACTIVITIES
8.1. Events
8.1.1. Get involved in Green Sky Thinking Week 2017
8.1.2. Hold breakfast tours of building level green infrastructure open to all - an industrial partner presents a case study and challenges a research partner to fulfill a knowledge/evidence gap (responsive events)
8.2. Website
8.2.1. Pages on the CIBSE website bringing together information and links in one place
8.3. Research
8.3.1. ARCC can make a research call if gaps in knowledge are identified by industry
8.3.2. NERC has a small amount of responsive funding capacity, could access funding for a systematic literature review for industry?
9. NEEDS
9.1. Evidence of benefits / quanitified business case
9.2. Support for building services engineers / M&E on design and operation
9.3. Bringing together information locked away in different disciplines, organisations, research projects without much interface
9.4. How to model/incorporate into building refurbishments