Standards/Objectives of ELL Programs
by jamie dickson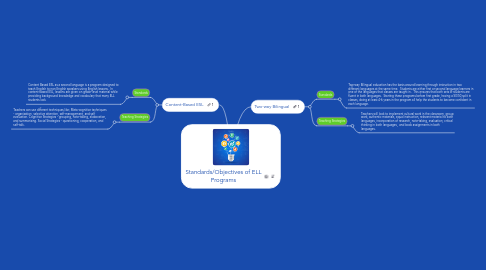 1. Content-Based ESL
1.1. Standards
1.1.1. Content Based ESL as a second language is a program designed to teach English to non English speakers using English lessons. In content-based ESL, lessons are given on grade-level material while providing background knowledge and vocabulary that many ELL students lack.
1.2. Teaching Strategies
1.2.1. Teachers can use different techniques like; Meta-cognitive techniques - organization, selective attention, self-management, and self evaluation. Cognitive Strategies - grouping, note-taking, elaboration, and summarizing. Social Strategies - questioning, cooperation, and self-talk.
2. Two-way Bilingual
2.1. Standards
2.1.1. Two-way Bilingual education has the basis around learning through instruction in two different languages at the same time. Students are either first or second language learners in one of the languages that classes are taught in. This ensures that both sets of students are fluent in both languages. Starting these programs before first grade, having a 50/50 split in classes, doing at least 4-6 years in the program all help the students to become confident in each language.
2.2. Teaching Strategies
2.2.1. Teachers will look to implement cultural work in the classroom, group work, authentic materials, equal instruction, relevant material to both languages, incorporation of research, note-taking, evaluation, critical thinking in both languages, and book assignments in both languages.