Green Team
by Julia Siple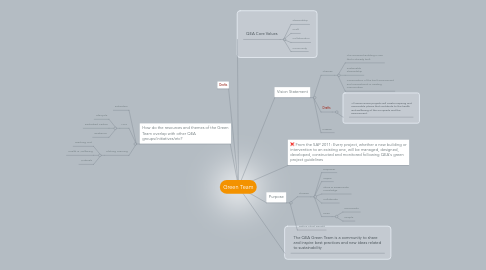 1. The QEA Green Team is a community to share and inspire best practices and new ideas related to sustainability
2. Drafts
3. Vision Statement
3.1. Themes
3.1.1. The Greenest Building is one that is already built
3.1.2. Sustainable Stewardship
3.1.3. Conservation of the built environment and reinvestment in existing communities
3.2. Drafts
3.2.1. All Quinn Evans projects will create inspiring and memorable places that contribute to the health and wellbeing of the occupants and the environment.
3.3. Passion
4. Purpose
4.1. Themes
4.1.1. Empower
4.1.2. Inspire
4.1.3. Share & Disseminate Knowledge
4.1.4. Collaborate
4.1.5. Learn
4.1.5.1. Documents
4.1.5.2. People
4.2. Define Client Benefit
5. From the SAP 2011: Every project, whether a new building or intervention to an existing one, will be managed, designed, developed, constructed and monitored following QEA's green project guidelines
6. QEA Core Values
6.1. Stewardship
6.2. Craft
6.3. Collaboration
6.4. Community
7. How do the resources and themes of the Green Team overlap with other QEA groups/initiatives/etc?
7.1. Edcuation
7.2. HCS
7.2.1. LifeCycle
7.2.2. Embodied Carbon
7.2.3. Resilience
7.3. Lifelong Learning
7.3.1. Teaching Tool
7.3.2. Health & Wellbeing
7.3.3. Materials