Cassandra's Biography
by Cassandra Marentes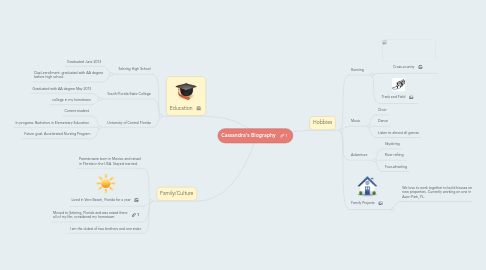 1. Hobbies
1.1. Running
1.1.1. Cross-country
1.1.2. Track and Field
1.2. Music
1.2.1. Choir
1.2.2. Dance
1.2.3. Listen to almost all genres
1.3. Adventure
1.3.1. Skydiving
1.3.2. River rafting
1.3.3. Four-wheeling
1.4. Family Projects
1.4.1. We love to work together to build houses on new properties. Currently working on one in Avon Park, FL.
2. Education
2.1. Sebring High School
2.1.1. Graduated June 2013
2.1.2. Duel-enrollment: graduated with AA degree before high school.
2.2. South Florida State College
2.2.1. Graduated with AA degree May 2013
2.2.2. college in my hometown
2.3. University of Central Florida
2.3.1. Current student.
2.3.2. In progress: Bachelors in Elementary Education
2.3.3. Future goal: Accelerated Nursing Program
3. Family/Culture
3.1. Parents were born in Mexico and raised in Florida in the USA. Stayed married.
3.2. Lived in Vero Beach, Florida for a year
3.3. Moved to Sebring, Florida and was raised there all of my life; considered my hometown
3.4. I am the oldest of two brothers and one sister.