ESPN
by Angela Stewart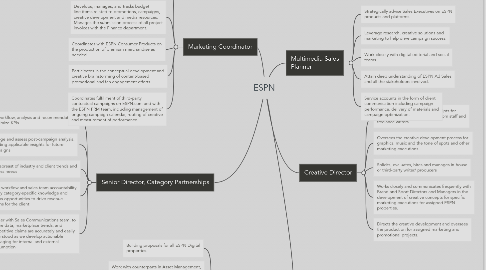 1. Creative Director
1.1. Directs and occasionally writes scripts for advertisements and promotions from staff and freelance writers
1.2. Oversees the creative development process for graphics, music and the tone of spots and other marketing executions.
1.3. Solicits, evaluates, hires and manages in-house or third-party writer/ producers
1.4. Works closely and communicates frequently with Brand and Sport Directors and Managers in the development of creative concepts for specific marketing executions for assigned ESPN properties.
1.5. Directs the creative development and oversees the production for assigned marketing and promotional projects.
2. Digital Sales Planner
2.1. Building proposals for all ESPN Digital properties.
2.2. Work with counterparts in Asset Management, Marketing and Sales to strategically price and mix inventory to maximize revenue for ESPN
2.3. Communicating with Accounts Executives and Clients regarding proposal revisions, campaign optimization, over/under-delivery and re-allocations.
2.4. Work with the Sports Management & Marketing Teams to track and update sales package information
2.5. Coordinating with Account Management team on campaign implementation.
3. Senior Director, Category Partnerships
3.1. Drive workflow, analysis and recommendations to maximize KPIs
3.2. Manage and assess post-campaign analysis, including applicable insights for future campaigns
3.3. Keep abreast of industry and client trends and business needs
3.4. Design workflow and sales team accountability to apply category-specific knowledge and business opportunities to drive revenue solutions for the client
3.5. Partner with Sales Communications team, to ensure data, marketplace trends, and competitive claims are accurately and easily understood as we develop actionable messaging for internal and external consumption
4. Marketing Coordinator
4.1. Manages project / campaign calendars and drives the proactive communication and adherence to key event deliverables, timelines, and approvals.
4.2. Develops, manages, and tracks budget line-items related to promotions, campaigns, creative development and media resources. Manages the submission process of all project invoices with the Finance department.
4.3. Coordinates with ESPN Consumer Products on the production of premium merchandise as needed
4.4. Participates in the conceptual development and creative brainstorming of content-based promotional and fan engagement efforts.
4.5. Coordinates fulfillment of third-party contractual campaigns on ESPN.com and with the ESPN FRM team, including management of ongoing campaign calendar, routing of creative and measurement of performance.
5. Multimedia Sales Planner
5.1. Strategically advise Sales Executives on ESPN products and platforms.
5.2. Leverage research, creative solutions and marketing to help drive campaign success.
5.3. Work closely with digital editorial and social teams
5.4. Attain deep understanding of ESPN Ad Sales and all the stakeholders involved.
5.5. Service accounts in the form of client communication including campaign performance, delivery of materials and campaign optimization.