Blooms Taxonomy - Steven Magazine (Preparing for New Learning Management System from No LMS)
by Steven Nathaniel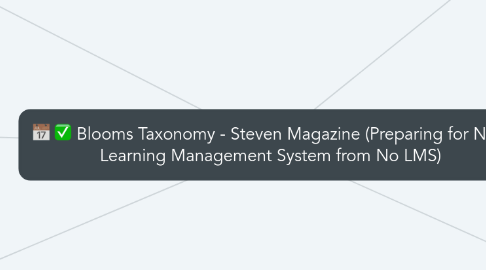 1. Creating
1.1. Articulate: A eLearning content creation tool that allows you to create online course material. 30 Day Free trial to familiarize yourself with using the tool. Also a great return on investment converting ILT courses into online courses within new LMS.
2. Remembering
2.1. Sharepoint: A heavily used platform that supports collaboration and content management in preparation of new learning management system implementation (LMS). The follow system will allow for a centralized repository of information.
3. Understanding
3.1. OpenSesame: A eLearning content provider that makes online learning accessible and easy to implement. Free training material is available to download and walk through the process of implementing a new LMS system for FREE
4. Applying
4.1. Moodle: An OpenSource learning management system platform will allow you to test how LMS work and function. It's essential to determine what works best for your organization coming from an organization with no LMS.
5. Evaluating
5.1. Survey Monkey: This tool can be utilized to gather needed information to pursue a learning management system. Also this will allow for a better Request For Proposal (RFP) that prioritizes objectives to satisfy your end users.
6. Analyzing
6.1. LMS Blog: LMS products are forever evolving and it's essential to staying up with products that are typical Software As A Service (SAAS). Clients and providers update this Blog site with experiences, lesson learned, and new advancements to analyze information prior to LMS purchase.