FOOD ALLERGY CANADA (founded in 2001 and operated as Anaphylaxis Canada until 2015, when the organization's name was changed to Food Allergy Canada)
by Michelle Nahrgang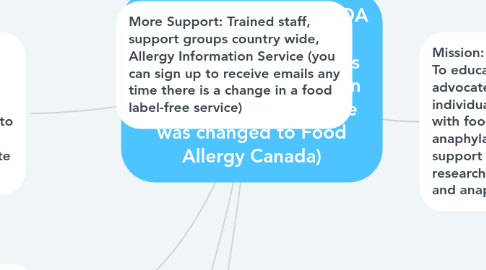 1. Mission: To educate, support and advocate for the needs of individuals and families living with food allergy and the risk of anaphylaxis, as well as to support and participate in research related to food allergy and anaphylaxis.
2. Advocacy: Help to create a stronger voice for Canadians with food allergies. Food Allergy has relationships with the media, government, travel industry, food companies, they have made Canada a more safe and inclusive place to live. Food labelling legislation has been passed to have all allergens listed consistently on packaging.
3. Online Education: Food Allergy Canada offers Webinars, Resources for families, educational settings, a Newly Diagnosed Support Centre, Training Courses for parents, teachers, students, etc., WhyRiskIt Website for Teens,
4. Offline Education: Workshops and Courses (specific to audience- parents, student, educators, food manufacturers, daycare providers, teens, etc.)
5. More Support: Trained staff, support groups country wide, Allergy Information Service (you can sign up to receive emails any time there is a change in a food label-free service)
6. Programs & Services Offered: Allergy Aware (allergyaware.ca - an online course for educators, parents, support workers to familiarize themselves with anaphylaxis and what to do in an emergency). Food Service Program: To educate food service providers and front line staff on how to prepare a safe meal for an individual with allergies.
7. Elementary School Program: Food Allergy Canada has developed a program geared toward educators. Resources and lesson plans are available to help teachers educate their students, parents, and to create an allergy-safe classroom.