Identify Critical Information: Important to identify critical information in every lesson so that students pay attention to key points. Technology can help make these key points when using powerpoints or slideshows by attracting attention.
by Jillian Duehren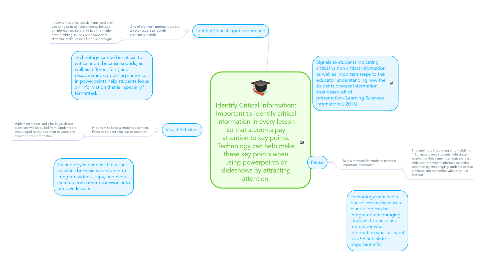 1. Identify Critical input experience
1.1. One of the most important tools a teacher uses is to identify prominent material
1.1.1. Implement sounds, special fonts, and even vanishing print to keep students focused on information. Bold print key information, have rumbling sounds when important slide flip. Make lessons fun to sit through!
2. Pause
2.1. Take a moment for students to retain important information
2.1.1. Implement by integrating empty slide. In 1-2 minute pause students right down everything they remember from the past slide with prominent information. Helps retention by encouraging students to take a minute and remember what they just learned
3. Visual Activities
3.1. Important to keep a students attention. Focused student =Increased retention
3.1.1. Implement videos and clips in which test questions will be pulled from. Students are encouraged to pay attention to video and remember the information!
4. Technology enhance a pause session because a blank slide can be integrated encouraging students to pause and remember what information was just went over! Blank Slide = Important info
5. Technology can be beneficial to critical input because sounds, as well as different font, and disappearing/appearing sentences in powerpoints help students focus on information that is "specially" formatted.
6. Technology is beneficial to visual activities because we are able to integrate videos, clips, and even lectures from other professors into our own lessons!
7. Signals to students indicating critical vs non critical information as well as important steps to the educator understanding how the students process information best based off of presentation-(Learning Sciences international, 2016)