DiLO - Visie 2.0
by Di LO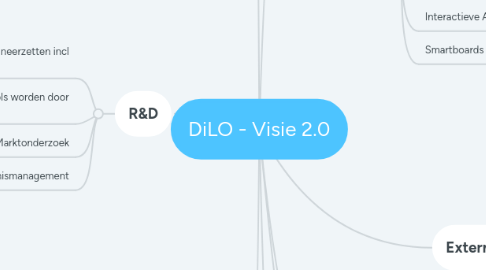 1. Academy
1.1. Toetsen waar de Acdemy heengaat (Yvonne/Debby) en vertalen naar dienstverlening
1.2. LMS (netD) icm/VS learning hub vs content opslaan en aanbieden: visie ontwikkelen en uitvoeren
2. Externe Klanten
2.1. Referenties van klanten ophalen. Waarom waren ze tevreden met hun product / samenwerking?
2.2. Wat is onze top 10 klanten?
2.3. Samen met accountmanagers vragen ophalen..
2.4. Workshops organiseren over thema's en klanten uitnodigen.
3. Interne Klanten
3.1. Faciliteren van Trainers
3.2. Dilo Diensten, collega's verwachten dat bepaalde zaken klaar staan of wij VC leveren op een eigen dilo projectcode
4. Innoveren
4.1. Virtual classroom
4.2. Virtual Reality
4.2.1. immersive learning (zie concurrenten UP / Tinqwise/ RMMBR)
4.3. Samenwerken met co-zone / AIE?
4.4. Performance support
4.5. Learning hub / platformen
4.6. Trainingen vernieuwen Academy (online /blended)
4.7. Tools: welke nieuwe tools gebruiken klanten? Waarom?
4.8. Gamification in e-learning
4.9. Learning app
4.10. Interactieve Academy routebeschrijving
4.11. Smartboards / Beamers
5. R&D
5.1. Learning hub professioneel neerzetten incl platform??
5.2. Welke platformen/tools worden door klanten ingezet?
5.3. Marktonderzoek
5.4. Kennismanagement
6. Bestaande diensten verbeteren
6.1. E-learning/Animaties opnieuw positioneren (intern en extern
6.2. EPSS herpositioneren wel/niet
6.3. Wat kan off shore nog meer bieden
6.3.1. Hoe presenteren we ons ontwikkelmodel / delivery model in de markt?
6.4. Kwaliteiten per product en dienst opschrijven: wat is zo goed aan onze e-learning?
6.4.1. state of the art
6.4.2. hoge kwaliteit
6.4.3. review cirkels
6.4.4. samen met de klant
6.4.5. onderscheid zin/onzin
7. Waarvoor is de DiLO op aarde???
7.1. Digital Learning binnen Academy faciliteren
7.2. Digital learning oplossingen bij klanten inzetten
7.2.1. Oplossingen die direct inzetbaar zijn
7.2.2. Roadmap digital learning strategie?
7.3. Doel: omzet draaien of academy faciliteren?
7.4. Projecten doen of ook detacherings werk? (handjes inzetten)
7.5. Academy Staff rol vs. consultancy rol: 70/30?
8. Partners
8.1. Actief partners zoeken en "samen" de markt bewerken (skillstown, supersky, ???)
8.2. Per dienst/product actieve samenwerking met partner + diensten/producten van partner goed kennen.
8.3. Skillstown voor webinars of ook voor online learning content?
8.4. Animaties + VR : Supersky en/of co-zone
8.5. Co-zone als digital partner: risico: niet altijd de juiste resources tot je beschikking