VERBO MAS GERUNDIO Y VERBO MAS INFINITIVO
by Naz cam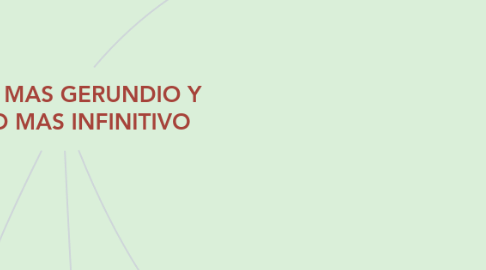 1. Un infinitivo es la forma básica del verbo + "to".
1.1. EJEMPLOS DE INFINITIVOS
1.1.1. "I want to swim." ("Quiero nadar.") "They asked us to leave." ("Nos pidieron que nos fuéramos.") "To be, or not to be – that is the question." ("Ser o no ser - esa es la pregunta.")
2. CUANDO SE USAN LOS GERUNDIOS
2.1. Los gerundios se usan cuando las acciones son reales o completas.
2.2. Ejemplos:
2.3. She stopped smoking. (Dejó de fumar.) I finished doing my homework. (Terminé de hacer mi tarea.) They keep on fighting. (Siguen peleando.) We discussed moving to Florida. (Hablamos de mudarnos a Florida.)
3. QUE ES UN GERUNDIO
3.1. UN GERUNDIO ES UN SUSTANTIVO ECHO VERBO PARA FORMAR UN GERUNDIO AGREGAS "ING" AL VERBO
3.1.1. POR EJEMPLO
3.1.1.1. buying, fishing, running, watching, telling, etc. La palabra "gerundio" tiene su raíz en la palabra latina gerere, que significa "hacer". Podrías decir que esto tiene sentido: el gerundio describe una acción, algo que haces.
3.1.1.2. MAS EJEMPLOS DE GERUNDIOS SON :
3.1.1.2.1. En la oración "I swim every day" ("Nado todos los días"), la palabra "swim" es un verbo. En la oración "I like swimming" ("Me gusta nadar"), la palabra "swimming" es un sustantivo. Por lo tanto, "swimming" es un gerundio.
4. QUE ES UN INFINITIVO