Credit Card Facility Application
by Rachel Horan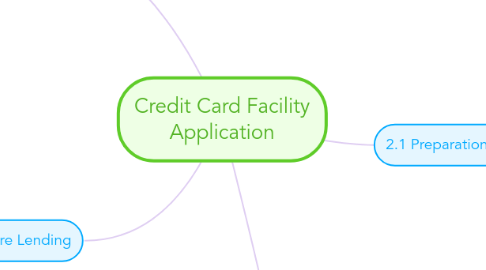 1. 2.1 Preparation and Meeting
1.1. (1) Lead Sources
1.1.1. Customer gets in contact with the BST dedicated Line
1.1.2. Advise a Business Partner will contact them within 24 hours
1.1.3. Complete the Business Banking Short form
1.1.4. Check T24 for any duplicate accounts
1.1.5. contact customer back
1.1.5.1. Identity yourself by name and state you calling on behalf of KBC to dicuss their Business Banking needs
1.1.5.2. Advise customer the call is recorded
1.1.5.3. Advise customer how their details were collected
1.1.5.4. Confirm if the customer wishes to proceed with the call
1.1.5.5. complete eligibily check quickly both answers to the questions must be YES to proceed with the credit Application
1.1.5.5.1. (1) Is your Business operating in the Republic of Ireland?
1.1.5.5.2. (2) Are you a member of a professional body?
1.1.5.6. If customer is eligible
1.1.5.6.1. Create a Corporate Prospect Customer on T24
1.1.5.6.2. Arrange suitable appointment with the customer in relation to a time and location
1.1.5.6.3. Correspondence sent out to customer
1.2. (2) Duplicate Account Check
1.3. (3) Creating Corporate Prospect Customer on T24
1.4. (4) Creating Prospect Customer on SERENA
1.5. (5) Meeting the Customer
2. 2.2 Customer Documentations
2.1. Receiving Documents via Post
2.2. Receiving Documents via Email
2.3. Return from meeting with Documents
2.4. Notification of Document Scanning
2.5. Review of Scanned Documents
2.6. Requesting Additional Documents/ Information from Customer
2.7. Customer Withdrawn Applications
2.8. Sending Customer Letter
3. 2.3 Customer On-Boarding
3.1. If a customer is requesting a non-lending product as part of their application pack they must be on boarded at the first available opportunity. The Business Partner should advise the Business Support Team ([email protected]) that all required customer's documents have been received and that on boarding can be completed.
3.1.1. For procedures on how to Create Individuals, Employees, Enhance Companies and complete AML please see the Business Banking - Customer On Boarding procedures.
4. 2.4 Unsecure Lending
4.1. (1) Credit Application
4.1.1. Credit Criteria
4.1.2. Credit Check (ICB Report)
4.1.2.1. Results of Credit Checks
4.2. (2) Sending for Review of Credit Application
4.2.1. shared drive - S:\SME Banking\Lending\ Business Applications
4.2.1.1. including T24 Number + Business Banking - Credit Application/ Memos
4.3. (3) BST Member/ BP Review of Credit Application (Within BP Delegation)
4.4. (4) Credit Review of Credit Application
4.4.1. Credit Decision - Declined
4.4.2. Credit Decision - Approved with Additional Conditions
4.4.3. Credit Decision - Approved (As is)
4.5. (5) Offer Acceptance Process
4.5.1. Letter of Sanction
4.6. (6) Customer On - Boarding