Mills v. Pate, 225 S.W.3d 277 (2006)
af Jodel Jeremie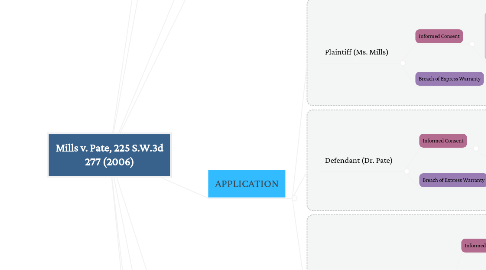 1. Parties
1.1. Joyceline Mills, Appellant
1.2. Dr. John Pate, M.D., Appellee
2. FACTS
2.1. What Happened
2.1.1. In 1999, Ms. Mills told Dr. Pate that she wanted a liposuction procedure.
2.1.1.1. Dr. Pate told Ms. Mills that all the little bulges and sags in her skin would be taken care of through the liposuction procedure.
2.1.1.2. Dr. Pate explained the liposuction technique, the incisions, risks, and complications of surgery and anesthesia.
2.1.1.3. Ms. Mills claims she was told that the quality of her skin would not change after liposuction and that irregularities frequently occurred.
2.1.1.4. Ms. Mills stated that Dr. Pate never told her about any kind of possible risks of the procedure, the potential need for further procedures, that there might be rippling or other irregularities to her skin following liposuction, and never discussed any possible adverse effects with her.
2.1.2. On November 17, 1999, Ms. Mills signed an informed consent form and a permission to perform surgery form.
2.1.2.1. In the treatment section, the informed consent form states: Usually, only one treatment is necessary to improve body contours to both my satisfaction, as well as the patient's satisfaction. In 4 or 5% of my patients (4 or 5 of every 100), a touch-up procedure following the surgery, usually after approximately 6 months, is necessary to maximize the cosmetic benefit. If this touch-up procedure is done at the Surgical Center I do not charge the patient for the touch-up procedure, however the Surgical Center does charge for this procedure, and there may be further anesthetic charges as well.
2.1.2.2. The consent form also listed discomfort, bruising, pigment change, scarring, swelling for up to six months as possible side effects from the liposuction procedure, and also warned of possible serious complications from the surgery.
2.1.3. On December 2, 1999, Dr. Pate performed his first liposuction procedure on Ms. Mills, which consisted of two surgery on her abdomen, hips, flanks, and thighs
2.1.3.1. After six-months, Ms. Mills expressed her dissatisfaction to Dr. Pate and he told her, "pay me to do a thigh lift and I'll touch it up."
2.1.4. On January 9, 2001, Ms. Mills signed an informed consent form for the second surgery and on January 16, 2001, the day of surgery, Ms. Mills signed a form consenting to lower abdominal bilateral hip flank liposuction and the thigh lift.
2.1.4.1. The January 16 consent form for the second surgery specifically disclosed the following risks: "dissatisfaction with cosmetic results ... possible need of future revision to obtain improved results, poor wound healing, recurrence of the original condition, and uneven contour.
2.1.5. Ms. Mills had her last appointment with Dr. Pate on August 30, 2001.
2.1.5.1. Dr. Pate told Ms. Mills that she should have paid him to do a tummy tuck or abdominoplasty.
2.1.6. On January 23, 2002, Ms. Mills notified Dr. Pate of her intent to sue under the Medical Liability and Insurance Improvement Act
2.2. Procedural History
2.2.1. Joyceline Mills filed a medical malpractice suit against Dr. John Pate, M.D. on clams for negligence, lack of informed consent, and breach of express warranty regarding a liposuction and thigh lift procedure.
2.2.2. The 346th District Court, El Paso County, Peter Peca, J., granted physician summary judgment.
2.2.3. Patient appealed.
3. CONCLUSION
3.1. The Court of Appeals of Texas, El Paso affirmed the trial court's judgment that there was no evidence that Dr. Pate failed to obtain Ms. Mills' informed consent to the second surgery.
3.2. The Court of Appeals of Texas, El Paso reversed the trial court's grant of summary judgment as to her common law claim for Dr. Pate's breach of express warranty.
3.3. The Court of Appeals of Texas, El Paso remanded the cause to the trial court for further proceedings.
4. IMPACT
4.1. Key v. Viera, Not Reported in S.W.3d (2009)
4.1.1. In Key v. Viera, Belma Key a petition alleging breach of contract, common law fraud, and negligent misrepresentation against Viera and CSA. She later filed an amended petition alleging breach of express warranty based on the representations made to her by Viera and CSA.
4.1.2. Viera and CSA filed a joint motion for summary judgment asserting that all Key's claims were medical malpractice and negligence claims that should be governed by the MLIIA, were barred by the two-year statute of limitations, and that Key lacked evidence of the express warranty.
4.1.3. Key filed a response to Veira and CSA's motion for summary judgment, however, the trial court granted Viera and CSA's motion for summary judgment. Key filed a motion for new trial, which the trial court denied
4.2. Hunsucker v. Fustok, 238 S.W.3d 421 (2007)
4.2.1. Casey Hunsucker appealed an order dismissing her suit against Abdel K. Fustok, M.D. regarding negligence, fraud, fraudulent inducement, and breach of contract following her breast implant surgery in March 2000.
4.2.2. Hunsucker argued that the trial court erred in dismissing her suit with prejudice for failing to file an expert report, that the award of attorney's fees was erroneous, and that the trial court should have permitted Hunsucker to comply with section 13.01(d) after finding that it was a necessary step for her suit to proceed.
4.2.3. Although Dr. Fustok argued that the trial court abused its discretion in failing to award attorney's fees for appeal and Court of Appeals of Texas, Houston modified the order of the trial court to award Hunsucker attorney's fees in favor of the Dr. Fustok and affirmed the order that dismissed Hunsucker's claims as modified.
5. RULE OF LAW
5.1. Informed Consent
5.1.1. A health care liability claims based on the failure of the physician to adequately disclose the risks and hazards involved in the medical care or surgical procedure rendered by the physician.
5.2. Breach of Express Warranty
5.2.1. A health care liability claim based on a claimed departure from an accepted standard of medical care, health care, or safety of the patient, whether the action sounds in contract or tort.
6. ISSUES
6.1. Whether Dr. Pate was negligent by failing to properly disclose the potential risks and hazards of Ms. Mill's liposuction procedure and the need for future procedures?
6.2. Whether Dr. Pate breached the warranty, as expressed in his representations to Ms. Mill about the quality or characteristics of his services?
7. APPLICATION
7.1. Plaintiff (Ms. Mills)
7.1.1. Informed Consent
7.1.1.1. Ms. Mills claimed that Dr. Pate had failed to adequately disclose information to her regarding the second liposuction and that she would have refused such treatment if he had disclosed the risks and hazards inherent in the procedure.
7.1.2. Breach of Express Warranty
7.1.2.1. Ms. Mills contends the the services that Dr. Pate provided did not conform to the quality of the services described.
7.2. Defendant (Dr. Pate)
7.2.1. Informed Consent
7.2.1.1. Dr. Pate alleged that Ms. Mills had no evidence of duty, breach, causation, or harm relating to the touch-up liposuction and thigh lift.
7.2.2. Breach of Express Warranty
7.2.2.1. Dr. Pate's asserted that Ms. Mills had no evidence to support her breach of warranty claim and that it was simply an attempt to recast her negligence claims.
7.3. Court of Appeals of Texas, El Paso
7.3.1. Informed Consent
7.3.1.1. Dr. Pate did disclose the risks and hazards inherent in the touch-up liposuction procedure, which she complained had not been disclosed to her in the first procedure.
7.3.2. Breach of Express Warranty
7.3.2.1. The evidence from Ms. Mills' deposition testimony raises genuine issues of material fact as to each challenged element of her breach of express warranty claim for the first surgery.
7.3.2.2. While Dr. Pate's representations about the characteristics or quality of services he sold were related to their patient-client relationship, the representations are not inseparable from her negligence claims.
8. IMPORANCE
8.1. A healthcare professional should care about this decision because it highlight the dangers and legal implications of verbal guarantees and representations of quality of service that may either later contradict or exceed the expectations or terms of an agreement or consent form.
9. INFLUENCE
9.1. Plastic surgery has been influenced by this holding. Considering the nature of plastic surgery is heavily based on visual and cosmetic results, surgeons must be vary carefully about any expressed and suggested warranty within their advertising or promotion.
9.2. Oncology is a type of medical practice that has been influence by this holding. Considering oncological treatments sometimes involve the use of immunosuppressants and immune globulins, oncologist must be sure to disclose all potential side effects, risks, and hazards of any medications or procedures in order to prevent potential lawsuits based on the lacking informed consent.