Language Development Theroies
af Erica Whitley Noel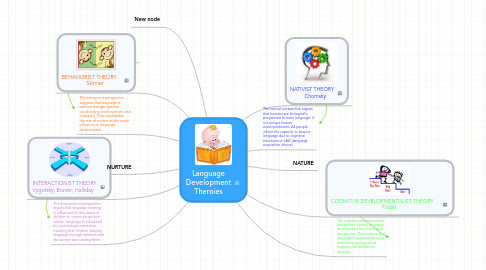 1. NATIVIST THEORY Chomsky
2. The nativist perspective argues that humans are biologically programed to learn language; it is a unique human accomplishment. All people inherit the capacity to acquire language due to cognitive structures or LAD (language acquisition device)
3. BEHAVIORIST THEORY Skinner
4. COGNITIVE DEVELOPMENTALIST THEORY Piaget
5. INTERACTIONIST THEORY Vygotsky; Bruner; Halliday
6. The interactionist perspective argues that language learning is influenced by the desire of children to communicate with others. Language is influenced by sociocultural interaction; meaning that children develop language through relations with the society surrounding them.
7. The cognitive developmental perspective viewed language development from biological perspective. They believe that language is acquired through maturation and grows as cognitive competencies develop.
8. The behaviorist perspective suggests that language is learned through operant conditioning (reinforcement and imitation). They emphasizes the role of nurture as the major influence on language development.
9. NATURE
10. NURTURE
11. New node