Proposal for Uphill Athlete Presentation
af Lisa Kostova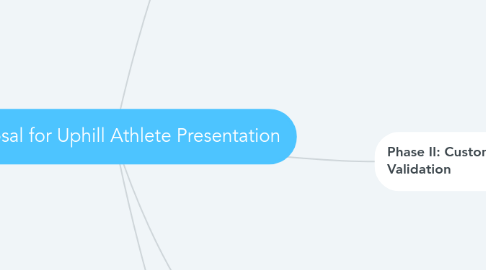 1. Phase II: Customer Avatar Validation
1.1. I: Analysis of Customer Survey Results
1.1.1. Current audience breakdown by avatar
1.2. II: For each Avatar To Validate, conduct 8 Interviews
1.2.1. Conduct 8 interviews / Avatar
1.2.2. Collect Words and organize Feedback after Each Interview - for Needs, Pains, Desires.
1.2.3. Aggregate feedback after all interviews for the Customer Avatar - identify trends, clusters and degrees of intensity
1.2.3.1. Does the Customer Avatar Meet the Validation Exit Criteria?
1.2.3.1.1. YES: Scott and Steve to Decide if they want to Serve this Avatar, If yes, proceed to Product Construction. DELIVERABLE: Validated Customer Avatar Profiles with "marketing power words" for each. MILESTONE 2
1.2.3.1.2. NO: Customer Avatar Not Validated
1.2.4. Pass the key words through a search engine, Amazon and ad analysis filter to create a sub-list of "power marketing words" for the Customer Avatar
2. Phase III: Product Construction, Pricing of Product Tiers
2.1. I. Offer Construction Phase I: Value Stacking Exercise (1/. For each Customer Avatar, starting fitting 1-3 products to their needs, desires and pains. (product candidates at multiple price points). Your current coaching packages will likely be re-engineered with respect to features / value stack and price points.
2.1.1. Pricing Recommendations for Existing Coaching Packages (if not re-designed as part of the new offers)
2.2. II. Cost Evaluation of Each Program / Offer
2.2.1. III. Pricing of Each Program / Offer
2.2.1.1. Package + Pricing Recommendations presented for each offer developed MILESTONE 3
3. Phase I: Hypothesis Building - Identification of Customer Avatars
3.1. Discovery of Customer Avatars within the Uphill Athlete Existing Audience
3.1.1. I: Data Mining
3.1.1.1. Analysis of Forum Posts
3.1.1.2. Analysis of Social Media comments and signals
3.1.1.3. Analysis of Traffic Keywords
3.1.1.4. Analysis of Traffic Sources
3.1.1.5. Analysis of Content (emails, posts) with highest engagement
3.1.1.6. Analysis of Coaching Client Sources and Customer Journey
3.1.2. II: Interviews with Uphill Athlete Key Team Members
3.1.3. III: Customer Survey
3.1.3.1. Construction of Questions
3.1.3.2. Execution
3.1.4. IV: 8-10 Interviews with Existing Coaching Customers and / or Existing Audience Members
3.1.5. V: Construction of Existing Customer Avatars
3.1.5.1. I: Presentation of Customer Avatar Hypotheses (2-7 Avatars) to Scott and Steve with associated words for Needs, Desires and Pains. MILESTONE 1
3.1.5.1.1. Steve and Scott to decide which Avatars to validate
3.2. Scott and Steve to Decide if to pursue: Customer Avatars outside of current Uphill Athlete Audience
3.2.1. Competitor and Market Analysis
3.2.1.1. Construction of Hypotheses for Other Avatars
3.2.1.1.1. Presentation of Customer Avatar Hypotheses (1-3) for Avatars outside the Uphill Athlete Audience to Scott and Steve with associated words for Needs, Desires and Pains. OPTIONAL MILESTONE
4. Phase IV: Product Validation (Enrollment)
4.1. Structure of Enrollment Process and Script (if high-price)
4.2. Enrollment Calls with min 3 enrollments per Program / Offer
4.2.1. First 3+ clients in the new Program(s) MILESTONE 4
4.3. Construction of Profitable New Customer Acquisition Funnel (For New Traffic for a specific Customer Avatar -> ex. "Discounted Book -> offer bump to $37 product -> offer bump to $197 product -> offer bump to $297 product") OPTIONAL
4.3.1. Testing + Optimization of New Customer Acquisition Funnel MILESTONE 4 (OPTIONAL)