Basketball Dreams - Missions Tree
af Michael Gilmore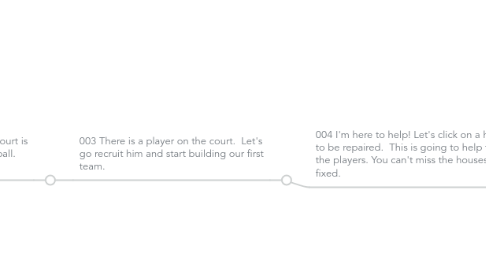 1. Mission 1 - Hi Im Mr. Cornerstone We are working on fixing up the community and bringing basketball glory back to Dunkridge. First things first, the outdoor court needs improvement. How about we start with repairing the [FF0000]COURT SURFACE[-] and [FF0000]NETS[-]?
1.1. 002 Ball Pump Minigame Now that the court is looking better we can play some basketball. Help me pump up some balls.
1.1.1. 003 There is a player on the court. Let's go recruit him and start building our first team.
1.1.1.1. 004 I'm here to help! Let's click on a house that needs to be repaired. This is going to help the community and the players. You can't miss the houses that need to be fixed.
1.1.1.1.1. 005 Let's check out your shooting skills. You have to be able to score to win! Let's play a game of three point shootout.