Kenneth Smith Browsers 2013
af Kenneth Smith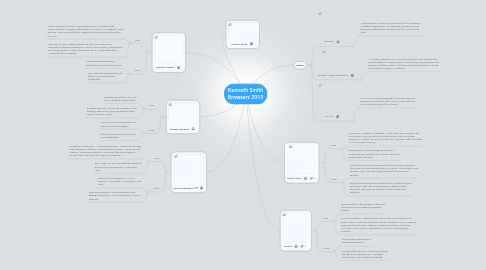 1. Define:
1.1. Browser
1.1.1. A web browser (commonly referred to as a browser) is a software application for retrieving, presenting and traversing information resources on the World Wide Web.
1.2. Browser Plugin (Extension)
1.2.1. A browser extension is a computer program that extends the functionality of a web browser in some way. Depending on the browser and the version, the term may be distinct from similar terms such as plug-in or add-on
1.3. HTML5
1.3.1. HTML5 is a markup language for structuring and presenting content for the World Wide Web and a core technology of the Internet.
2. Market Share
3. Google Chrome
3.1. Pros
3.1.1. Leading support for HTML 5. Fast. Hardware acceleration.
3.1.2. Excellent security. Instant site prediction and loading. Extensions. Syncing. Built-in Flash player and PDF reader.
3.2. Cons
3.2.1. Do Not Track privacy feature is buried and discouraged.
3.2.2. Still some occasional minor site incompatibilities
4. Mozilla FireFox
4.1. Pros
4.1.1. Clean, minimal interface. Fast performance. Innovative tab implementation. Highly customizable. Good HTML5 support. Good security. Most cross-platform support. Social network integration via API.
4.1.2. Syncing for tabs, history, passwords and now Extensions. Graphics hardware acceleration. Built-in PDF viewer. Independent from large vendor. Host of developer tools. Compatible with MacBook Retina displays.
4.2. Cons
4.2.1. Lacks client-side tracking protection like that found in IE9.
4.2.2. This internet browser does not feature voice interaction capabilities.
5. Internet Explorer 10
5.1. Pros
5.1.1. Hardware acceleration. Minimalist interface. Download manager with malware protection. Improved tab function. Many security features. Tracking Protection. Improved standards support. Pinned tabs make sites like apps in Windows 7.
5.1.2. Fast. High HTML5 compatibility. Excellent touch input conveniences. Full-screen view.
5.2. Cons
5.2.1. Behind other browsers in HTML5 support. Only works in Windows 7 and Vista.
5.2.2. Split personality on Windows 8?two very different interfaces. Still missing some HTML5 features.
6. Apple Safari
6.1. Pros
6.1.1. Works On Windows 7 Ultimate. I Wish That When People Left Comments They Would Let People Know What OS System Programs Worked Or Did Not Work On. Reviews Without Details Are Not Worth Leaving.
6.1.2. Everything on the webpage (print) has a nice/crisp look and feel to it. That is about it. Easy/simple interface.
6.2. Cons
6.2.1. While it has a private browsing feature it doesn't give you the option to automatically start in private. The toolbar could us some color. Security is good accept for download security.
6.2.2. Pop up blocker could be better and it is very annoying to have to deal with commercials on different sites when the right pop up blocker would elevate that problem.
7. Opera
7.1. Pros
7.1.1. Opera boasts cutting-edge multimodal features and competitive navigation speeds.
7.1.2. Minimal interface. Turbo feature makes slow connections even faster. Built-in mail and Bittorrent clients. Excellent HTML5 support. Syncing of bookmarks, settings, passwords, history, and more. Mac and Linux versions. Extensions. Live tiles on start page. Themes.
7.2. Cons
7.2.1. The browser has frequent compatibility issues.
7.2.2. Occasionally sites won't display properly, though this is getting rare. Hardware acceleration not enabled by default.