Event Industry-Part 1
af Jasmine Wiggins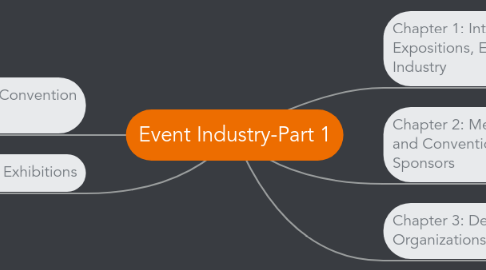 1. Chapter 1: Introduction to the Meetings, Expositions, Events, and Conventions Industry
1.1. Apex: An initiative of the Convention Industry Council (CIC) to create and enhance efficiencies throughout the Meetings, Expositions, Events and Conventions (MEEC) industries.
1.1.1. APEX Forms Available APEX Industry Glossary : the definitive source of terms and definitions for the meetings, conventions, and exhibitions industry. APEX Event Specifications Guide : this template is the industry's official format for delivering information clearly and accurately to appropriate venue(s) and/or suppliers regarding all requirements for an event. APEX Request for Proposals (RFP) Forms: these accepted practices forms are used to create consistent and thorough Requests for Proposals (RFPs) that address core information and unique needs. APEX Housing & Registration Accepted Practices : these accepted practices are for the collecting, reporting, and retrieving of complete housing and registration data for meetings, conventions, and other events; and for housing issues such as housing providers, internet issues, international housing, and disclosure. APEX Contracts Accepted Practices : the original purpose of the APEX Contracts Panel was to review all aspects of industry contracts and develop contract guidelines and, where appropriate, acceptable contract language guidelines. APEX Post-Event Report : a report of the details and activities of an event is called a "Post Event Report" or PER. A collection of PERs over time will provide the complete history for an event. APEX Meeting and Site Profile Report : the report of the Meeting and Site Profiles panel contains consistent and thorough profile formats for sites. It includes five primary location and facility types: hotels, resorts, convention centers, conference centers, and cities.
1.2. What is a Meeting? A gathering for business, educational, or social purposes. Associations often use the term to refer to a combination of educational sessions and exhibits. This can include seminars, forums, symposiums, conferences, workshops, clinics, etc.
1.2.1. Industry Terminology & Practice: Meeting : An event where the primary activity of the attendees is to attend educational sessions, participate in the meetings/discussions, socialize, or attend other organized events. Domestic Meeting, National Meeting Expositions : An event at which the primary activity of the attendees is to visit exhibits on the show floor. Event : an organized occasion such as a meeting, convention, exhibition, special event, gala dinner, etc. Convention : an event where the primary activity or the attendees is to attend educational sessions, participate in meetings, participate in meetings/discussions, socialize, or attend other organized events. Trade Show : an exhibit of products and services targeted to a specific clientele and not open to the public. Seminar : a lecture and dialogue allowing participants to share experiences in a particular field under the guidance of an expert discussion leader. Workshops : a meeting of several persons for intensive discussions. Conference : a participatory meeting designed for discussion, fact-finding, problem solving, and consultation. Clinic : a workshop-type educational experience where attendees learn by doing.
1.2.1.1. Industry Terminology & Practice: Break-out Sessions: small group sessions, panels, workshops, or presentations offered concurrently within the event, formed to focus on specific subjects. Assembly : the process of erecting display component parts into a complete exhibit. Congress : the regular coming together of large groups of individuals, generally, to discuss a particular subject. Forum : an open discussion with an audience, panel, and moderator. Institute : an in-depth instructional meeting providing intensive education on a particular subject. Lecture : an informative and instructional speech. Panel Discussion : instructional technique using a group of people chosen to discuss a topic in the presence of an audience. Incentive Travel : a travel reward given by companies to employees to stimulate productivity.
1.3. Organizational Structure Six Major Division -Lodging : the lodging segment consists of all types of places where travelers may spend the night. -Food & Beverage : this segment actually contains two sub-segments: food service operations and beverage operations. -Transportation : this segment includes any means, or modality that people use to get from one place to another, including walking. -Attractions : this segment of the hospitality and tourism is anything that attracts people to a destination and can be further divided into natural and person-made attractions. -Entertainment : this includes anything that provides entertainment value for a guest such as movie theaters, playhouses, orchestras, band, and festivals. -Shopping : this is an important segment of the hospitality and tourism industry, and an area in which people may spend considerable sums of money, contributing to the local economy.
1.3.1. Why Have Meetings and Event? -People prefer to meet face-to-face -People meet with and learn from peers -Includes all forms of communication - verbal and non-verbal
1.3.1.1. Continue.... Strengthen skills Impact change Observe accomplishments Renew acquaintances Learn new products/services
1.3.1.1.1. What Planners Do -Logistics More than counting coffee cups -Strategic Support the work toward an organization's bottom line Anticipate changes
1.4. Background of Industry -1895: Detroit businessmen from 1st CVB -1910- Predecessor to the American Hotel and Lodging Association is founded - 1916 Predecessor to the American Society of Association Executives is founded -Post-World War II travel and meetings expand. Hotels build and expand state-of-the-art meetingfacilities -1949 Convention Industry Council formed
1.4.1. Industry History -1957: Professional Convention Management Association (PCMA) founded. -1960s: The Conrad Hilton Hotel in Chicago establishes 1st convention service manager position. -1972: Meetings Professional International (MPI) is founded. -1976: 1st academic meeting planning program established at Metropolitan State in Denver. -1979: Georgia State University begins convention services management andmeeting planner classes.
1.4.1.1. Industry History -1985: Certified Meeting Professional (CMP) program established. -1989: U.S. Department of Labor adds job title of Meeting and Convention Planner to National Code Directory. -2000: U.S. Bureau of Labor Statistics adds Meeting and Convention Planners (13-1121) category to Standard Occupational Classification.
1.5. Scenario Planning Use when: Uncertainty is high Many costly surprises have occurred Insufficient new opportunities Quality of thinking is deemed to be low Common language is desired Major differences of opinions exist Competitors use scenario planning
1.5.1. Scenario Planning 6- step process for formulating strategies in uncertain conditions: -Consider general scenarios -Examine the organization's market -Assess the organization's internal core capabilities -Put the pieces together -Identify tactical initiatives to support strategic directives -Implement
1.5.1.1. Predictions for the Future A steady market Year over year increases External issues and trends Conservation and environmental concerns Labor shortages Budget increases Technology availability Webcasts Globalization
1.6. Employment Event Planner : put together special events. Meeting Planner : organizes meetings and other gatherings for companies, corporations, and associations. Wedding Planner : a wedding planner assists the parties in selecting the site, décor, photographer, and other needed vendors, and is often there on the day of the event to ensure smooth operations. Hotel or Conference Sales : the majority if sales and convention or catering services positions in hotels and conference centers deal with groups, and MEEC covers most of those groups. Restaurant Sales : food and beverage venues employ significant numbers of people on their group sales staff. Entertainment / Sporting Venue Sales : these off-site venues are often good alternatives for experiential learning. Destination Management : function as the "local experts" for companies and associations in organizing gatherings and events, arranging and supervising transportation, and securing entertainers. Hotels : hotels are one of the primary locations where MEEC events are held. Convention Centers : these venues included dedicated facilities. Exposition Services Contractors Destination Marketing Organizations : DMOs serve to represent a wide range of MEEC companies and to market the destination to business and leisure travelers.
1.6.1. MEEC Relationship What affects or impacts meetings: -The Meeting Sponsor -The Facility -The Destination -All Others Who Provide Services for Meetings
1.6.1.1. Summary: Chapter 1 discusses how MEEC is multifaceted and exciting, and offers diverse career opportunities. MEEC is also very large and incorporates many facets of the hospitality industry. It has tremendous economic impact.
2. Chapter 2: Meeting, Exhibition, Event, and Convention Organizers & Sponsors
2.1. Who Holds the Gatherings? Corporations "Legally charted enterprises that conduct business on behalf of their owners with the purpose of making a profit and increasing the value of the corporation". -Public Corporations – sell stock, have a board of directors, and are owned by stockholders -Private Corporations – owned privately; stock is not sold
2.1.1. Corporations hold meetings to: train key personnel introduce new products or services develop long-term business plans provide publicity honor employees
2.1.1.1. Corporate Meetings -The Decision Makers Persons in the position of key responsibility *Officers *Senior managers in sales and marketing *Senior financial managers and controllers
2.1.1.1.1. Types of Corporate Meeting - Stockholders' Meetings - Board of Directors - Management Meetings -Training Meetings - Incentive Trips - Sales Training and Product Launches - Professional
2.2. In 2006: -Corporate planners spent 53% of their time planning meetings -Only 30% had job titles as meeting planners -24% had titles such as "corporate executive" or "manager" -17% identified as sales and marketing -19% identified as "general administrative"
2.2.1. Professional Associations Supporting the MEEC Industry -Meeting Professionals International -Professional Convention Management Association -Society for Incentive & Travel Executives -Society of Meeting Professionals
2.2.1.1. Who Holds the Gatherings? -Associations *Employ the act of being associated for a common purpose. *Types of gatherings held for association members, conventions, topical conferences, world congresses, topical workshops, and seminars. *Conventions and expositions provide 33% of an association's annual income.
2.2.1.1.1. Top 10 Cities for Conventions/ Conferences/Seminar .Travelers 1.Chicago 2.Las Vegas 3..Orlando 4.Atlanta 5.San Francisco/Oakland 6.Washington, DC 7.San Diego 8.Dallas / Fort Worth 9.Miami 10.Phoenix/Scottsdale & Boston
2.2.1.2. All event professor at Ucf are linked to all professional association involving events.
2.2.1.2.1. Main associations.
2.2.2. The large the corporation the there is a greater for a meeting planner.
2.3. Decision Makers for Association Meetings -Stages of the decision making *Board of Directors or Specific Committee Recommends/Requires a Meeting ~Selection of host city ~Selection of venue *Recommendation to Board by Planner *Contracts negotiated on behalf of the Board by Senior Staff
2.3.1. Types of Associations -Local : most members are located in the metropolitan area where the organization is located. -State : most members are located within the state where the organization is located. -Regional : most members are located with the region where the organization is located. -National : most members are located with the same country as where the organization is located. -International : membership is comprised of people from different nations. -Professional : membership is comprised of person from the same industry. -Not-for-profits or Nonprofit Associations : these organizations have special tax-exempt status granted by the Internal Revenue Service.
2.3.1.1. Types of Association Meetings -Conventions: these are assemblies of people for a common purpose. -Board Meetings : the association's board of directors typically meets several times a year to provide collective advice and direction to the association. This meeting is usually the smallest association meeting held. -Committee Meetings : many association committees will hold smaller meetings to discuss the affairs related to their purpose. -Regional Conferences : organizations with a regional structure often schedule one or more events each year to bring together members who are in the same geographic area. -Training Meetings : associations often offer their members opportunities to upgrade their professional skills and knowledge through meetings targeted to specific topic. -Educational Seminars : association meetings led by an expert and allowing the participants to share their views and experiences.
2.3.1.1.1. Marketing for Association Meetings -Critical for success -Understand members and their needs -Advance notice of dates, locations, topics, program, speakers, and special events -Registration procedures -Promotion communication *Direct mail *Advertisements *Electronic media (e.g., e-mail)
2.4. Who Holds the Gatherings? -Government *City, County, State, or Province *National or International *Agencies, Departments
2.4.1. Types of Government Meetings For the purpose of: -Employee Training -Interdepartmental/Interagency -Agency Employees and the General Public Interested in a Topic -Legislative Hearings and Retreats
2.4.1.1. Government Meetings Decision Makers Managers of agencies Provide funds through departmental budget or locate other sources Dependent upon political interest in agency's mission Attendees Employees of agency – mandatory General Public - voluntary
2.4.1.1.1. Government Meetings -Security *Works with Department of Homeland Security *Coordinates all parties involved *Establishes a security team *Is proactive rather than reactive *Stays informed and alert to incidents
2.5. Government Meetings -Planners: *Staff located throughout the agencies *Some devote all their time to planning *Some handle meetings as extra duties *Many agencies hire independent meeting planning companies
2.5.1. Professional Associations Supporting the MEEC Industry -American Society of Association Executives -Center for Association Leadership -Meeting Professionals International -Professional Convention Management Association -International Association for Exhibition Management -Society of Governmental Meeting Planners
2.5.1.1. Entities that Help Organize Gatherings Exhibition Management Companies -Own and manage shows *Trade Shows – Shows that are business to business, not open to the public *Expositions – Shows that are open to the public -Manage shows for association's sponsoring corporation and government clients -Develop and produce shows
2.5.1.1.1. Exhibition Management Companies Among the largest companies are: -Reed Exhibitions -VNU Expositions -George Little Management These three companies manage 40 of the top 200 shows. Source: 2002 Tradeshow Week Inc.
2.6. Exhibition Management Companies -Decision Makers *Owners and senior managers of company-owned shows *Association Executives and Board of Directors *Profit motive is the driving force ~Too few – too many shows in the market -Attendees *Trade Shows attendee market is defined by trade or profession *Public Shows market is defined by interest and location
2.6.1. Need for Marketing -Marketing to two groups *Exhibitors (sellers) *Members of Trade or Public (buyers) ~Members of trade – internal marketing ~Public – extensive media advertising -Marketing efforts must result in both: *Adequate variety and numbers of exhibitors to satisfy buyers *Enough buyers to satisfy exhibitors
2.6.1.1. Who Holds the Gatherings? Meetings of Industry-Based Organizations -Association Management Companies -Meeting Management Companies -Independent Meeting Managers -Event Management Companies -Professional Congress Organizers (PCO) -Professional Associations Supporting Independent Planners
2.7. Who Holds the Gatherings? -Other Organizations: *Political Organizations *Labor Unions *Fraternal Groups *Military *Educational Groups
2.7.1. The Future of Meetings, Organizers and Sponsors -Shortening meetings -Changing frequency of annual meetings -Creating more value for members -Increasing interactivity of meeting sessions -Merging of sponsoring organizations -Cyber conferences -Virtual trade shows -Outsourcing -Focus on ROI (Return On Investment}
2.7.1.1. Summary: Chapter 2 discusses the types of organizations that sponsor gatherings are as diverse as the types of gatherings held and the people who attend them. People seeking career opportunities with sponsoring organizations will have to use targeting techniques to locate them, although these positions do exist throughout the nation. Major corporations tend to be located in large cities, although many may be located in smaller cities and towns. Their meetings are typically planned at corporate headquarters. With baby boomers approaching retirement age, it is anticipated that their will be an increasing number of employment opportunities in the coming years on both sides of the meeting, event, exhibition, and convention industry.
3. Chapter 3: Destination Marketing Organizations (DMOs)
3.1. What is a DMO? -DMO (Destination Marketing Organization) A not-for-profit organization representing a specific destination and helping its long-term economic development through its travel and tourism industries. *Funded by – transient room taxes, government budget allocations, private memberships, or a combination of all three.
3.1.1. DMOs are Valuable to a Meeting Planner Because They: -Assist with meeting preparation -Encourage visiting of local attractions -Offer unbiased information about services and facilities -Serve as a one-stop shop for local tourist interests -Generally do not charge for their services
3.1.1.1. Misconceptions about DMOs The following are not true of DMOs: -DMOs only book hotel rooms and convention space. -DMOs work only with large groups. -DMOs own and/or run convention centers. -Planners must pay DMOs for their services.
3.1.1.1.1. DMOs can: -Provide access to a range of services and packages -Help locate meeting space -Check hotel availability -Arrange for site inspections -Link planners with suppliers *Motor coach companies *Caterers *Off-site entertainment venues
3.1.1.1.2. DMO will do almost everything to make sure that their customers are pleased.
3.2. Possible Members of a DMO -Hotels -Restaurants -Local Attractions -Convention Centers -Other Vendors
3.2.1. Activities of DMOs -Site Review Process Determines if a site or location can accommodate a meeting's requirements. The DMO sales manager can help gather information about meeting dates, the specifications of preferred facilities, the number of available hotel rooms and meeting rooms, and the logistics of moving the meeting facilities in and out.
3.2.1.1. Activities of DMOs -The "Leads" Process *The DMO sales manager circulates meeting specifications to facilities and lodging entities that can accommodate the needs. The lead sheet can also set specific parameters for the meeting that limit which sites are invited. *The DMO sales manager will then work closely with the meeting planner to decide which facilities and vendors to use. The DMO also may be the planner's representative in the site city for conforming to codes and regulations.
3.2.1.1.1. Activities of DMOs -Site Inspections *Physical reviews of proposed venues and services prior to the actual program. *May occur prior to, or after the proposal, or after the DMC has been chosen. *DMC has an opportunity to develop a relationship with the customer.
3.2.2. DMO will eventually pull them back in for their services.
3.3. Specific Services that DMOs Provide -Help with meeting facility availability. -Function as a transportation network – shuttle service, ground transportation. -Provide information on local events, activities, sights, restaurants, and tours. -Provide housing services and reservations for delegates. -Serve as a liaison to local government officials.
3.3.1. More Specific Services that DMOs Provide -Can provide access to special venues -Assist in the creation of collateral material -Assist with on-site logistics and registration -Can develop spouse tours and pre- and post- meeting events -Provide local speakers -Help secure auxiliary services such as catering, security, etc.
3.3.1.1. Destination Marketing Association International (DMAI) -The world's largest resource for official DMOs. -Mission is to enhance the professionalism, effectiveness, and images of DMOs. -Founded in 1914, originally called the Conventions and Visitor's Bureau (CVB). -Serves over 1,300 professionals from more than 600 DMOs in more than 25 countries.
3.3.1.1.1. DMAI Services -Offers comprehensive year-round education programs. -Publishes a weekly electronic newsletter. -Sponsors DMO-focused research studies through its foundation. -Actively promotes DMOs worldwide. -Links DMOs directly to consumers and meeting planners.
3.4. Destinations Showcase -One-day exhibition and conference by DMAI. -Meeting planners can meet face-to-face with representatives of destinations around the world. -Attendees can attend education sessions, network, explore destinations, and "shop" with RFPs.
3.4.1. DMAI Professional Development Offerings -Annual Convention -Destination Management and Marketing Institute (DMMI) -CEO Forum -Global Executive Forum -COO/CFO Forum -Sales Academy (Parts I & II and Online) -Shirtsleeve Sessions
3.4.1.1. DMAI's Certified Destination Management Executive Program (CDME) -CDME (Certified Destination Management Executive) -PDM Certificate (Professional Destination Management) -DMAP (Destination Marketing Accreditation Program)
3.4.1.1.1. DMAI Foundation -Sponsors and publishes research and resources; for example: *DMO Compensation and Benefits Survey *DMO Organizational and Financial Profile
3.5. Future Trends in DMO's -The role of DMO's will continue to expand -Destination Marketing and Management Org? -Destination marketing, Tourism services and Convention centers merge? -Continuing importance of Face-to-face meetings -Will become more like a Chamber of Commerce 0Continued budget threats -Greatest increase – China & Africa.
3.5.1. To Sum Up: -DMOs have been an integral part of the meetings and convention industry for over 100 years. -DMOs have gone from being destination marketers to destination managers, becoming involved in every aspect of their destinations and therefore enriching the experience for meeting attendees and visitors.
3.5.1.1. Summary: Chapter 3 discusses how DMOs are an integral part of the meetings and convention industry. DMOs have been working diligently to bring meetings and conventions to their destinations and to service these meetings with a variety of free services. The DMAI is the professional association for DMO employees , and it has been providing a wealth of member services to DMOS since 1914.
4. Chapter 4 Meeting and Convention Venues
4.1. Venues in General -Match the venue (location) with the goals and objectives of the meeting (Who are they and why are they here?) -Complete a needs analysis. -Research and Know the physical characteristics/attributes AND the financial requirements of the venue
4.1.1. Hotels -Types of Space: *Board rooms: board rooms typically seat fewer than a dozen people. *Ballrooms *Break-out rooms : vary from a little larger than boardrooms up to about half the size of a main ballroom. *Exhibit space *Temporary structures *Outdoor space *Prefunction space : corridors or lobbies adjacent to meeting rooms may provide a location for ancillary event needs.
4.1.1.1. Hotels -Revenue Sources *Guest Rooms *Guest Room charges ~Restaurants, Bars, and Room Service ~Concessions at Pool, Spa, or Beach ~Telephone and Business Services *Meetings ~Food and Beverage ~Space Rental ~Vendor Commissions `Audio Visual `Entertainment `Decor
4.1.1.1.1. Hotels -Additional Factors *Paying Commissions *Connection to Theme Parks *Attached to a Casino *Seasonality and Fluctuating Occupancy *Time of Week *Coordinating Conflicting Meetings
4.2. Convention Centers -Most are fairly large. -Majority of space – exhibit halls & utilitarian spaces. -Often have built-in stages. -Often described as "cold" and utilitarian. -Most owned by government entities. -Management must consider long and short term marketing.
4.2.1. Convention Centers -Revenue Sources *Rental Fees for Exhibit Space & Meeting Rooms *Catering Services ~"Exclusive" or "Preferred" vendors (parking, buses, audiovisual, power, data-telecom, florists …). ~Debate – which is better and more appropriate to your situation? *Convention Service Fees
4.2.1.1. Conference Centers -Specifically designed to enhance classroom-style learning. -Residential or non-residential -Specialize in small to mid-size meetings -Designed for the comfort of the meeting participant; focused on learning and teaching -Offers Complete Meeting Package – "CMP" -May comply with guidelines of the International Association of Conference Centers (IACC)
4.2.1.1.1. Conference Centers -Designed for comfort of meeting participant -Offers Complete Meeting Package – "CMP" -May comply with guidelines of the International Association of Conference Centers (IACC) -Attrition; fees still apply even if not attending
4.3. Cruise Ships -Captive audience -Variety of styles: *Incentive trips *Special interest cruises *Isolated meetings -Unique meeting space -Complete meeting package pricing * The quality of the planning fir a cruise event has a greater impact on the success of the meeting than it does with any other type of venue.
4.3.1. Specific Use Facilities -Issues: Sharing technical equipment & reliability -Theaters -Amphitheaters -Arenas -Stadiums -Sports facilities -Nightclubs * Most of these facilities are focused on events for the general (ticket-buying) public, and a closed event for an invited audience can be a welcome change for the staff.
4.3.1.1. Colleges and Universities -Available mostly in summer months and at lower cost. -Quality of housing, food, and meeting space not as high as hotel or conference center. -Possibilities: College art museums, Student centers, Campus theatres, etc.
4.3.1.1.1. Unusual Venues -A variety of locations *Parks and nature preserves *Airplane hangers *Garages *Tented parking lots -A variety of challenges *Weather *Permits/licensing *Security/privacy *Restrooms/trash removal *Electricity/sound systems *Accessibility *Catering issues – i.e. disposal of ice
4.4. Function Room Set-ups -Auditorium or Theatre Style *Useful for attendees to interact during event. *Can be in various arrangements of rows. -Classroom Style *Useful for attendees to take notes or tests. *Arranged in various styles with a table. -Rounds *Fosters conversations / good for food service. *Crescent Rounds – not have seats all around
4.4.1. Future Trends -Mass utilization of unique venues. -Size and composition of convention centers. -Adding space that can double as business or entertainment venues.
4.4.1.1. Summary: Chapter 4 discusses how obtaining accurate information is essential to planning successful meetings. The most important component of dealing with any facility is the development of an open. honest, and trusting relationship with all parties involved. Unfortunately, there are facilities that will take advantage of that relationship. The key to working with any venue is fourfold: research, understand. communicate, verify.
5. Chapter 5: Exhibitions
5.1. Considerations in Planning the Show -Marketing and Promotion (continued) *General Sponsorships. *Special Event Sponsorship *Advertising in the Show Daily *Advertising in the Show Directory *Promotional Items Sponsorship
5.1.1. Considerations in Planning the Show -Technology *The impact of the internet on marketing. *Lead retrieval systems – "swipe" an attendee's card to gather and save info. *RFID – Radio Frequency Identification *CD-ROM's or flash drives as substitute for hard copies of brochures.
5.1.1.1. Considerations in Planning the Show -Risk and Crisis Management *Identifies all potential risks for show management and the exhibitors. *Quantifies each risk to determine the effect it would have it occurs. *Provides assessment of risks. *Provides risk avoidance steps. *Provides risk mitigation steps.
5.1.1.1.1. Why Companies Exhibit -Branding their name in the industry -Annual presentation of product -New product rollout -Opportunities *Meet with potential and existing customers *Learn customers' needs *Meet with trade media *Learn about industry changes and trends, and competitors' products
5.2. Exhibit Design Principles -Considerations: *Traffic patterns *Location of entrance *Food facilities *Restrooms *Location of industry leaders *Location of competitors
5.2.1. Exhibit Design Principles -Standard Booths *10' x 10' (100 sq. ft.) or multiples *Inline -Peninsula – four or more standard booths back-to-back with an aisle on three sides -Island – four or more standard booths back-to-back with an aisle on four sides
5.2.1.1. Exhibit Staff -Most important part of exhibit -Staff must be trained to: *Meet and greet warmly *"Qualify" a visitor and ask the right questions *Conduct product demonstrations that focus attention on the main message
5.2.1.1.1. Measuring Return on Investment -ROI includes expenses such as: *Space rental *Service contractor services *Personnel travel and time *Customer entertainment *Preshow mailings *Freight charges *Photography *Brochure printing and shipment *Promotional items *Training *Post-show mailings
5.3. History -Trade fairs *Began in biblical times; beginning of "public" trade fair for craftsmen and artisans. *Early examples – Leipzig Fair in 1165; Dublin Fair in 1215. -Exhibition *Buyer – seller format in large city in special building (Crystal Palace in London). -Growth of Trade Associations *Trade shows being held at same time as annual meetings *National Association of Exposition Managers (Now – International Association of Exhibitions and Events)
5.3.1. Types of Shows -Private Shows or Trade Shows: *Typically a business-to-business event. *Exhibitor usually a manufacturer or distributor of products by sponsor. *Examples ~National Restaurant Show (NRA in Chicago) ~Consumer Electronic Design and Installation Association ~International Builders Show ~American Society for Cell Biology (ASCB)
5.3.1.1. Types of Shows -Consumer or Trade Shows: *Open to the public and offers products for sale. *Often regional introduction of new products. *Examples ~Gulf Shore Flower, garden and Home Show ~The Kansas Sports, Boat & Travel Show ~The 2010 Michigan Golf Show in Novi Michigan
5.3.1.1.1. Types of Shows -Consolidation Show (Or "Combined" or "Mixed" Show): *Open to both industry buyers and the public. *Hours may vary for each group. *Examples ~Consumer electronics shows ~Automobile industry shows
5.4. Exhibition Management Key Players -Exhibition Organizer *Educational and Entertainment programs *Availability of exhibitor demonstrations and training programs *Special sections for new exhibitors or technologies *Celebrity or industry-leading speaker *Meal programs *Continuing Education Units (CEUs) and industry certification programs *Spouse, guest, and children programs *Internet access and e-mail centers
5.4.1. Exhibition Management Key Players -Facility Manager: *AKA Convention Service Manager or Event Manager *Assist in arranging logistical details *Telecommunications *Dining arrangements *Setup and teardown times *Transportation
5.4.1.1. Exhibition Management Key Players -General Service Contractor: *Floor plan development and design *Aisle carpet and signage *Custom and modular booths *Freight handling and shipping *Storing and warehousing materials *Installation, maintenance, and dismantling *Lighting, electronics, sound, a/v, plumbing *Telecommunications and computer requests *Coordination with specialty contractors
5.4.1.1.1. Considerations in Planning the Show -Location – Major effect on attendance *Same place year after year ~Negotiate good deals ~Attendance is steady ~Typically for association meetings *Move to various locations ~Attracts visitors, guests, spouses ~Varies the local attendance base & allows new attendees *Rotation between specific cities ~Consistency in planning ~Familiarity with variety