The influence of Building Background Strategies on students' motivation when they are integrated to listening activities.
por Jorge García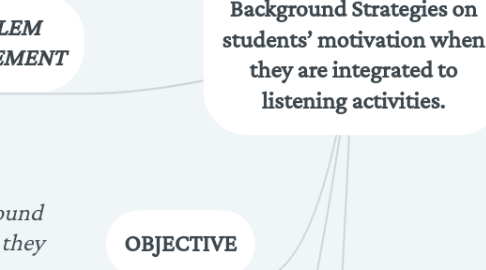 1. Application
1.1. Classes focused on the students' prior knowledge
2. Repeat
3. Reflection
3.1. To provide words To comprehend effectively
4. PROBLEM STATEMENT
4.1. Teaching and learning a foreign language become effective when cognizance is connected to the students' experiences and also prior knowledge
5. OBJECTIVE
5.1. To analyze the effect of Building Background strategies on students motivation when they are incorporated to a listening task.
6. VARIABLES
6.1. Building Background (Queensland's Department of Education)
6.2. Motivation (Brophy, 2005)
6.3. Listening skills. (Howatt and Dakin)
7. METHODOLOGICAL DESIGN
8. Observation
8.1. Observing their response