Mills v. Pate, 225 S.W.3d 277 (2006)
por April Pruski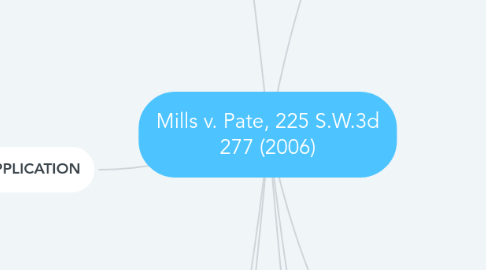 1. FACTS
1.1. Overview
1.1.1. Mills brought suit against Pate under the Medical Liability and Insurance Improvement Act (MLIIA) stating he was negligent when warning her of the relevant risks and failed to obtain her informed consent and breach of express warranty.
1.2. Parties
1.2.1. Ms. Joyce Mills
1.2.2. Dr. John Pate
1.3. What Happened
1.3.1. After hearing a radio commercial, the plaintiff (Mills) met Dr. Pate to perform liposuction of her abdomen, hip, and thighs. Dr Pate stated she was going to have smooth skin and no "pooches." In his medical notes he wrote that he explained the technique, incisions, risks, and complications of surgery and anesthesia. However, Ms. Mills stated Dr. Pate never told her about any kind of possible risks of the procedure but was given a brochure to read. Dr. Pate did not inform Ms. Mills of any possible irregularities that may occur to her skin after liposuction. Prior to the procedure, Mr. Mills signed an informed consent. Post procedure, Ms. Mills was distressed with the results of the liposuction procedure noting skin irregularities. Initially she was told by staff that this was due to swelling. She expressed her concerns to Dr. Pate and was told to pay for a thigh lift and he would perform a touch up her irregularities in the abdominal wall free of charge. Prior to the second surgery, Dr. Pate said she would have smooth skin without ripples or bulges. She again signed an informed consent that disclosed the relevant risks. After the second procedure, Ms. Mills continued to be dissatisfied and met another plastic surgeon who performed an extensive body lift to correct the irregularities from the two operations. She was pleased with the results. Ms. Mills felt that Dr. Pate could have given her the body shape if the liposuction was done correctly. Ms. Mills felt that if her first consult with Dr. Pate she knew a body lift would be required to achieve the result she wanted, she would not have undergone the procedure. Under MLIIA on January 23, 2003, Ms. Mills filed suit against Dr. Pate for medical malpractice alleging negligence to properly warn and obtain her informed consent for probable outcome of liposuction procedure and the need for future treatment and for causing and failing to correct abdominal irregularities. She later amended her petition to include a breach of express warranty claim .
1.4. Procedural History
1.4.1. 1/23/02: Dr. Pate notified Ms Mills' intent to sue 1/23/03: Ms. Mills filed medical malpractice suit against Dr. Pate. She alleged negligence by failure to properly warning and obtain informed consent and breech of express warranty. Jude granted physician judgment and the patient appealed.
2. Issues
2.1. • Is there sufficient evidence that Dr. Pate failed to adequately disclose risks and hazards to Ms. Mills?
2.2. • Is there evidence that Dr. Pate promised results prior to surgies 1&2 that were note received post-procedure?
2.3. • Can a physician be held liable for breach of express warranty if they promise a result but still follow standard of care?
3. RULE OF LAW
3.1. (1) Should the physician be held liable for breach of express warranty if the results of the surgery were not what the patient expected? Express Warranty is a promise or guarantee to the recipient that is reliant of the date or purchase/service. A cause of action against a health care provider in a health care liability claim if the act is a departure from accepted standard of medical care, health care or safety of the patient whether the action sounds in contract or tort. However, if a specific surgical result is promised by a physician, the physician may be a liable for breach of express warranty.
3.2. (2) Should the physician be held liable for failure to adequately disclose the risks and hazards inherent in the liposuction procedure? TEXAS.REV.CIV.STAT.art. 4590i, section 6.02 health care liability claims are based on failure of the physician to disclose or adequately disclose risks and hazards involved in the medical care or surgical procedure rendered by the physician. Patient must prove, they would not have consented to treatment if risks were disclosed
4. ANALYSIS/APPLICATION
4.1. Informed Consent
4.1.1. Plaintiff
4.1.1.1. Ms. Mills claimed Dr. Pated did not disclose risks/hazards which would impact her decision to have treatment. Ms. Mills claims that she would not have had the treatment if she knew about the risks of skin changes.
4.1.2. Defendant
4.1.2.1. Dr. Pate asserted there was no evidence that Ms. Mills lacked evidence to informed consent. Ms. Mills signed a consent form that outlined the specific risks that she complained about.
4.1.3. Court
4.1.3.1. No evidence that Dr. Pate failed to obtain Ms. Mills' informed consent to the second surgery
4.2. Breach of Express Warranty:
4.2.1. Plaintiff
4.2.1.1. The trial court made a mistake in granting summary judgement to this common law claim. Dr. Pate falsely told her she was a viable candidate for the procedure and made claims that her skin would look good. Dr. Pate breached warranty for the quality of the treatment provided that left her with irregularities after both surgeries
4.2.2. Defendant
4.2.2.1. Dr. Pate claimed that Mills was trying to recast negligence claims as a breach of warranty. She had no evidence to support the elements of her claim
4.2.3. Court
4.2.3.1. Based on Sorokolit v. Rhode, Ms. Mills contends that when a physician promises particular surgical results, he may be held liable for breach of that express warranty. In Sorokolit, the physician guaranteed that following breast surgery, the plaintiff's breast would like the breasts in a photograph she selected prior to surgery. The Sorokolit concluded the plaintiff's express warranty claim was not precluded under the act where are physician guarantee a particular result and the claim did not require "a determination of whether a physician failed to meet the standard of medical care. The representations regarding the quality or characteristics of the service on the basis of patient-client relationship are not inseparable from her negligence claims against him and consequently do not require a determination as to whether Dr. Pate failed to meet the accepted standard of medical care for cosmetic surgery. Ms. Mills' breach of warranty claim is not an improper attempt to recast her informed consent claim to avoid requirements of the Act. There is some evidence that Dr. Pate's particular representations were actionable as express warranty claim not conforming to the character and quality of service promised.
5. Conclusion
5.1. Dr. Pate breached Express Warranty was ruled in favor the plaintiff
5.2. Dr. Pate did not breach informed consent ruled in favor of defendant
6. Impact
6.1. Key v. Viera No. 01-07-00587-CV Opinion issued February 12, 2009. Cites that causes of action are not health care liability claims. Patient-client relationship is not inseparable from negligence and do not require a determination to whether Dr. Pate failed to meet the accepted standard of medical care
6.2. Hunsucker v Fustock No. 01-06-00066-CV No. 01-06-00066-CV Plaintiff reached out to Defendant for breast augmentation surgery. She sued for breach of contract and negligence. Defendant agreed to Plaintiff's request for specific technique to be used during surgery. Plaintiff was not happy with results after the procedure and defendant did not use techniques requested. Ruled in favor of defendant citing Mills case.
7. Importance
7.1. Informed consents are critical part of any physicians work flow when consenting patient's to any procedure whether in office injections to procedures. The detailed information if important to include the date, risks including potential complications, benefits, and alternative options. This case specifically demonstrates there is a difference between standard of care and not fulfilled promises. Breach of warranty is different than standard of medical care. Despite obtaining an informed consent, breach of warranty can be determined if a physician makes verbal promises to the patient.
8. Influence
8.1. Health care provides should be careful with the representations and promises made to patients. Detailed informed consent should be filled out by healthcare providers and also explained verbally. In Medical malpractice, breach of express warranty can be used as a valid legal argument in claims.