Joyce MILLS, Appellant, v Dr. John PATE, M.D., Appellee No. 08-04-00335-CV June 1, 2006
por Lindsey Lauder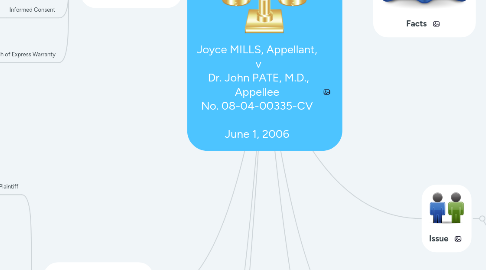 1. Issue
1.1. Negligence by Dr. Pate by Lack of Informed Consent of Procedure and Breach of Express Warranty
1.1.1. Lack of Informed Consent
1.1.1.1. Plaintiff argues that Dr. Pate did not tell of specifically of risks of procedure including possible adverse affects due to her age and smoking. Did not inform patient that additional procedures needed to obtain results pt stated she wanted.
1.1.2. Breach of Express Warranty
1.1.2.1. Plaintiff argues that Dr. Pate stated Ms. Mills was "going to be beautiful after having liposuction." Also, that "All the little bulges and sags in her skin would be taken care of" through liposuction.
2. Facts
2.1. Parties
2.1.1. Joyceline Mills- Appellant
2.1.2. Dr. John Pate, MD - Appellee
2.2. What Happened
2.2.1. December 2, 1999- First surgery on Ms. Mills by Dr. Pate. Consisted of Liposuction of the abdomen, hip, flanks, thighs.
2.2.2. Joyceline Mills filed medical malpractice against Dr. John Pate, MD
2.2.2.1. Claimed Negligence through lack of informed consent, breached expressed warranty
2.3. Procedural History
2.3.1. 346th District Court in El Paso County, Texas under Judge Peter Peca granted physician summary judgement in favor of Dr. John Pate.
3. Rule of Law
3.1. Concerning Summary Judgements
3.1.1. Lear Siegler, Inc. v Perez, 819 S.W. 2d 470, 471
3.1.1.1. No genuine issue of material fact supporting plaintiff present
3.1.1.2. Judgement entitled due to matter of law
3.1.1.2.1. In this case Statue of Limitations was not met
3.2. Statue of Limitations
3.2.1. If the date of the tort is known (in this case day of surgery) that date is used to determine statue of limitation
3.2.1.1. Moreno v, Sterling Drug Inc. 787 S.W. 2d 348, 351
3.2.1.1.1. Date is from when a wrongful act causes an injury, not from when injury is recognized
3.2.2. Plaintiff cannot use different criteria for statue of limitation in order to benefit case in plaintiff's favor.
3.2.3. Health Care liability claim cannot be recast to avoid requirements of Statue of Limitations
3.2.3.1. MacGregor Med. Ass'n, 985 S.W.2d at 38
3.2.3.2. Breach of Warranty claim cannot be an attempt to "recast" informed consent in order to fall within statue of limitations.
3.3. Informed Consent
3.3.1. Hartfiel v. Owen 618 S.W. 2d 902, 905
3.3.1.1. Plaintiff must show that she would not have consented to treatment if she had been informed of the risk of the treatment
3.4. Breach of Express Warranty
3.4.1. Evidence assumed in favor of defendant, burden of proof on plaintiff
3.4.2. Must be no genuine issue of Breach of Express Warranty for Summary Judgement to take place
4. Analysis, Application
4.1. Plaintiff
4.1.1. Statue of Limitations should have been defined and set from date when determined that additional procedures were needed, any date within ongoing procedures as a result of the initial error.
4.1.2. Dr. Pate made verbal comments which Ms. Mills believed were expressed warranties of outcomes.
4.1.2.1. These express warranties and outcomes did not happen or result from the treatment.
4.1.3. Informed Consent was not fully given and patient did not understand possible adverse side effects before first surgery.
4.2. Defendent
4.2.1. Statue of Limitations began when first surgery occured. Even if it began when patient realized and noticed perceived issues suit was still beyond statue of limitations.
4.2.2. Consent was given in writing at the least. Patient's signature is present acknowledging possible risks and adverse effects.
4.2.3. Patient would have proceeded with procedure had she fully known of the possible risks and side effects.
4.2.4. Breach of Express Warranty
4.2.4.1. Burden of Proof on Ms. Mills. Proof not present.
4.3. Court
4.3.1. Upheld Statue of Limitations
4.3.1.1. Fraudulent Concealment not Met
4.3.2. Summary judgement upheld on Statue of Limitations
4.3.3. Summary judgement not upheld on Breech of Expressed Warranty
4.3.3.1. Court held that plaintiff had enough evidence for trial on Breech of Expressed Warranty
4.3.3.1.1. Breech of Expressed Warranty returned to trial court for further proceedings.
5. Conclusion
5.1. The court affirmed the trial court's judgement in that Statue of Limitations were not met
5.1.1. RULE was followed
5.2. Court reversed decision for summary judgement in regards to Breech of Expressed Contract.
5.2.1. Sufficient evidence to hear argument of Breech of Expressed Contract
5.2.1.1. Returned to trial court for proceedings
5.2.1.1.1. RULE was followed
6. Impact
6.1. Moroles v. Doctor's Hosp. at Renaissance, Ltd. 2010 WL 596855, *4, Tex.App.-Corpus Christi
6.1.1. Cited case in defining statue of limitations. Barred a malpractice suit due to passing of time as defined by statue of limitations.
6.2. MacFarlane v. Burke 2011 WL 2503937, *5, Tex.App.-Hous. (1 Dist.)
6.2.1. Cited case in using statue of limitations to grant summary judgement of malpractice case.
7. Importance
7.1. Health Care professionals will care about the following concerning this case:
7.1.1. Ensuring all risks and possible adverse affects are fully understood by the patient both verbally and in writing. This is best for the patient and best legally.
7.1.2. Health care professionals need to be careful about statements concerning outcomes made verbally to patients. Health care providers need to be fully transparent about promises of treatment results made or implied.
7.2. Health Care professionals need to be aware of the statue of limitations as general knowledge should a case arise.
8. Influence
8.1. Health care practices which have been influenced by the holding
8.1.1. When the beginning of statute of limitations is defined
8.1.2. When consent of risk, if not understood by the patient, is relevant.
8.1.2.1. If the patient would have had the procedure after knowing the risk, then this argument is void.
8.1.3. Breech of Expressed Warranty
8.1.3.1. Physicians and Practitioners fully disclose both in writing and verbally, ensuring that patient expresses full understanding, before a procedure and true limitations of procedure.