On a Mission From God Acts 9:1–22
por Scott Kruse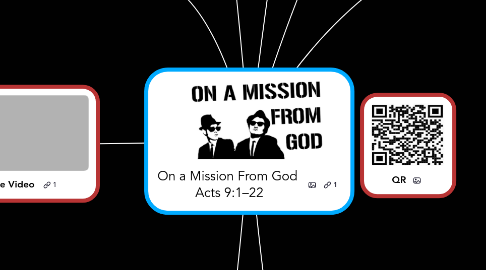 1. Saul
1.1. So dramatic was the change in Saul's life that the Lord even changed his name
1.2. Saul the Pharisee became Paul the apostle
1.3. Saul's conversion to Christianity has such far-reaching implications for the history of the church that it is the only event recorded three times in the book of Acts
1.4. Obey Jesus
1.4.1. Instantly
1.4.2. Completely
1.4.3. Persistently
2. Acts 9:1–10
2.1. Acts 9:1 Meanwhile, Saul was uttering threats with every breath and was eager to kill the Lord's followers.* So he went to the high priest.
2.2. Acts 9:2 2 He requested letters addressed to the synagogues in Damascus, asking for their cooperation in the arrest of any followers of the Way he found there. He wanted to bring them—both men and women—back to Jerusalem in chains.
2.3. Acts 9:3-4 3 As he was approaching Damascus on this mission, a light from heaven suddenly shone down around him. 4 He fell to the ground and heard a voice saying to him, "Saul! Saul! Why are you persecuting me?"
2.4. Acts 9:5-6 5 "Who are you, lord?" Saul asked. And the voice replied, "I am Jesus, the one you are persecuting! 6 Now get up and go into the city, and you will be told what you must do."
2.5. Acts 9:7 7 The men with Saul stood speechless, for they heard the sound of someone's voice but saw no one!
2.6. Acts 9:8-9 8 Saul picked himself up off the ground, but when he opened his eyes he was blind. So his companions led him by the hand to Damascus. 9 He remained there blind for three days and did not eat or drink.
2.7. Acts 9:10 10 Now there was a believer* in Damascus named Ananias. The Lord spoke to him in a vision, calling, "Ananias!" "Yes, Lord!" he replied.
3. I. THREE TRUTHS CHANGED SAUL'S LIFE FOREVER.
3.1. A. Jesus was alive.
3.1.1. Acts 9:5-6 5 "Who are you, lord?" Saul asked. And the voice replied, "I am Jesus, the one you are persecuting! 6 Now get up and go into the city, and you will be told what you must do."
3.1.2. Everything changes when you encounter the Living Christ
3.2. Saul was a lost sinner who needed to be saved.
3.2.1. When God sent Ananias to Saul, Ananias challenged Saul
3.2.1.1. Acts 22:12 (NLT) 12 A man named Ananias lived there. He was a godly man, deeply devoted to the law, and well regarded by all the Jews of Damascus.
3.2.1.2. Acts 22:13 (NLT) 13 He came and stood beside me and said, 'Brother Saul, regain your sight.' And that very moment I could see him!
3.2.1.3. Acts 22:16 (NLT) 16 What are you waiting for? Get up and be baptized. Have your sins washed away by calling on the name of the Lord.'
3.2.2. Saul Was Wrong
3.2.2.1. About Jesus
3.2.2.2. About his spiritual condition
3.3. God had a life-mission for Saul.
3.3.1. The church's greatest persecutor would become its greatest preacher.
3.3.2. The "Hebrew of Hebrews" would become the apostle to the Gentiles (Philippians 3:5).
3.3.2.1. Philippians 3:5 5 I was circumcised when I was eight days old. I am a pure-blooded citizen of Israel and a member of the tribe of Benjamin—a real Hebrew if there ever was one! I was a member of the Pharisees, who demand the strictest obedience to the Jewish law.
3.3.3. The legalistic Pharisee would become the proclaimer of God's grace.
4. II. SAUL OBEYED JESUS INSTANTLY, COMPLETELY, AND PERSISTENTLY.
4.1. Saul followed Jesus instantly.
4.1.1. When Saul met Jesus on the Damascus road, he had only one question
4.1.2. Acts 22:10 10 "I asked, 'What should I do, Lord?'
4.1.3. Instantly, in that single moment
4.1.4. Saul resigned from everything he had been and put himself under the authority of Jesus. Saul immediately obeyed the Lord.
4.1.5. Likewise, now is the time to do whatever God has called you to do.
4.2. Saul also followed Jesus completely.
4.2.1. Everything fades, when you see Jesus.
4.2.1.1. Philippians 3:12 12 I don't mean to say that I have already achieved these things or that I have already reached perfection. But I press on to possess that perfection for which Christ Jesus first possessed me.
4.2.1.2. Philippians 3:13 13 No, dear brothers and sisters, I have not achieved it,* but I focus on this one thing: Forgetting the past and looking forward to what lies ahead,
4.2.1.3. Philippians 3:14 14 I press on to reach the end of the race and receive the heavenly prize for which God, through Christ Jesus, is calling us.
4.3. Saul followed Jesus persistently.
4.3.1. For nearly twenty years
4.3.1.1. Paul traversed the Roman Empire
4.3.1.2. Tirelessly proclaiming the good news about Jesus
4.3.1.3. No level of persecution could shut him up or distract him from his mission.
4.3.2. Paul was put on trial for his life
4.3.2.1. He recounted the day Jesus met him on the road to Damascus with these words
4.3.2.2. "So then, King Agrippa, I was not disobedient to the vision from heaven
4.3.2.3. First to those in Damascus, then to those in Jerusalem and in all Judea
4.3.2.4. Acts 26:19-20 19 "And so, King Agrippa, I obeyed that vision from heaven. 20 I preached first to those in Damascus, then in Jerusalem and throughout all Judea, and also to the Gentiles, that all must repent of their sins and turn to God—and prove they have changed by the good things they do.
5. God is calling you!
5.1. Not all of us are called to be preachers or missionaries, and not all of us will be called in a blinding light
5.2. But each of us was created to do something in God's service
5.3. Diligently seek God's call for your life
5.3.1. When you discover what God wants you to do
5.3.2. Obey him instantly, completely, and persistently
5.3.3. Instantly
5.3.4. Completely
5.3.5. Persistently
6. ILLUSTRATION
6.1. Mel Trotter was a barber by trade
6.1.1. but his real aim in life was to drink himself into oblivion
6.1.2. Trotter says that for most of his adult life he was simply a common drunk
6.1.3. He became so depraved that when his little girl died
6.1.4. he stole the shoes she was to be buried in and pawned them for money to buy more drinks.
6.2. One night, however
6.2.1. Mel staggered into the Pacific Garden Mission in Chicago and found Christ
6.2.2. After becoming a Christian
6.2.3. Mel Trotter not only gave up alcohol but came to have a great passion for reaching men on skid row
6.2.4. So he opened a rescue mission in Grand Rapids,Michigan
6.2.5. In time he went on to found more than sixty more missions stretching from Boston to San Francisco
6.2.6. Mel Trotter is a remarkable testimony to the life-changing power of the gospel.
6.3. God is calling you to serve Him
6.3.1. Instantly
6.3.2. Completely
6.3.3. Persistently
7. QR
8. Video Mission From God