MULTIMEDIA TECHNOLOGY IN EDUCATION
por nur arifah izzati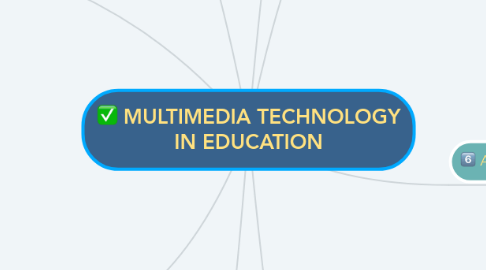 1. What is MULTIMEDIA?
1.1. the combination or using multiple content or media/ use more than one medium of expression or communication.
2. Hardwares
2.1. Computer
2.2. Camera
2.2.1. Still
2.2.2. Video
2.3. Audio
2.3.1. Microphone
2.3.2. Speaker
2.4. Projector
3. Advantages
3.1. making learning process more entertaining
3.2. students will have more interest on the subjet and being more passionate to learn it.
3.3. more attractive as it is not too wordy or being crowded by so many word.
3.4. the learning materials look better as it also contain some images which give relief and stimulate their eye.
3.4.1. in short, not contain words all the way.
3.4.2. http://cemca.org.in/ckfinder/userfiles/files/Section2.pdf
3.5. influence student's mood during learning process
3.5.1. 5 benefits of multimedia learning
3.6. increase the ability of problem solving
3.6.1. 5 benefits of multimedia learning
3.7. students can explore the world
3.7.1. eg: indirectly explore and learn about places they've never been in geography class
3.7.2. 5 benefits of multimedia learning
4. Softwares
4.1. Text
4.2. Interactive
4.3. Audio
4.4. Graphic
4.5. Animation
4.6. Video
5. The Future
5.1. providing local teaching and learning content in the network.
5.2. school will use digital altogether and there are no more teaching and learning analogically
5.3. no books will be used anymore either by teacher or student.
5.4. all students will be technological intellect and no one will face problem in using technology in education.
6. Elements
6.1. Video
6.2. Animation
6.3. Text
6.4. Audio
6.5. Image
7. Disadvantages
7.1. those do not use with technology will need more time to learn computer skills.
7.2. the expenses for computer and projector are quite high
7.3. most school do not have technological resources(hardware,software) as it is a requirement for using multimedia inteaching and learning process.
7.3.1. Advantage and Disadvantages of MULTIMEDIA
7.4. most teacher need more time to prepare materials,to evaluate students and provide task/activities.
7.4.1. Advantage and Disadvantages of MULTIMEDIA
7.5. sometimes, downloaded materials may take time to finish and students have nothing to do during the time.
7.5.1. Advantage and Disadvantages of MULTIMEDIA
8. Challenges in the implementation
8.1. students might use the technology in unbeneficial way while working on task
8.2. some students may need some times to learn computer skills