6 Quotes By Buddha That Will Change How You See The World And Yourself
Danny Forestにより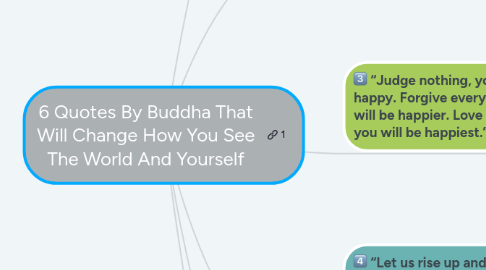 1. "You yourself, as much as anybody in the entire universe, deserve your love and affection."
1.1. How to apply it
1.1.1. Spend time with yourself. Practice self-care. Do things that fulfill your soul. Get rid of people who don't make you feel good.
1.1.2. Self-love means allowing yourself to be happy. Too often, we manipulate ourselves instead of increasing the amount of joy we bring to our lives.
1.1.3. Every day, do things that make you feel good.
2. "Don't respond to rudeness. When people are rude to you, they reveal who they are, not who you are. Don't take it personally. Be silent."
2.1. How to apply it
2.1.1. Never take rude reactions personally.
2.1.2. Practice self-reflection, know yourself, your vision, and your values. Once you know yourself, you won't have to listen to others' perceptions anymore.
2.1.3. Be aware that the core of evil lies deep within the other person and doesn't reflect who you are.
2.1.4. This doesn't mean you shouldn't accept feedback.
3. "Judge nothing, you will be happy. Forgive everything, you will be happier. Love everything, you will be happiest."
3.1. How to apply it
3.1.1. Throughout your days, reflect on your feelings. If you find yourself judging somebody or something, stop for a minute and try to figure out why you feel that way. Does it have to do something with you? Are you insecure? Whatever it is, accept the feeling and let it go.
3.1.2. Forgive others, and especially yourself, for everything that lies in the past. That's the foundation to ensure a joyful future.
3.1.3. Every day, give your best to love. Especially love yourself. Focus on your strengths and positive qualities. Once you love yourself, you will realize how loving others becomes much easier.
4. "Let us rise up and be thankful, for if we didn't learn a lot at least, we learned a little, and if we didn't learn a little, at least we didn't get sick, and if we got sick, at least we didn't die; so, let us all be thankful."
4.1. How to apply it
4.1.1. Every day, take a few minutes to write down what you are grateful for.
4.1.2. No matter how bad you feel, there is always a bright side.
5. "Believe nothing, no matter where you read it, or who said it, no matter if I have said it, unless it agrees with your own reason and your own common sense."
5.1. How to apply it
5.1.1. What worked for someone else doesn't necessarily have to work for you. Don't take advice without reflecting on whether it suits you and your personal needs.
5.1.2. We are all on different paths, and we all have different needs. There is no one-fits-all-solution for anything in life. Not in business neither in relationships, in health, nor any other area of our lives.
6. "It is better to travel well than to arrive."
6.1. How to apply it
6.1.1. Enjoy the process. Find a way to implement little, joyful moments into each of your days. No matter what your end-goal is, make sure to live a life that you can be proud of.
6.1.2. Life is not about achieving a particular goal but about who we become on our way.